Perfect Pie Crust
This perfect pie crust recipe is super easy and it makes an incredibly light and flaky crust that is just right for pies, tarts, and other baked goods. It even makes the perfect topping for savory chicken pot pie.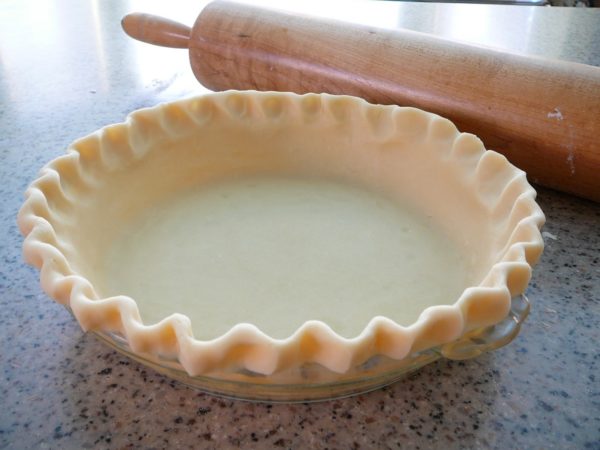 2

cups

flour

1/4

tsp

salt

2/3

cup

butter, very cold

4-5

Tbsp

ice cold water
2

cups

flour

1/4

tsp

salt

2/3

cup

butter, very cold

4-5

Tbsp

ice cold water
In a large bowl, thoroughly combine the flour and salt. With a fork, two butter knives, or a pastry blender, cut the cold butter into the flour mixture until it resembles coarse crumbs.

Toss the crumbs lightly with a fork while slowly sprinkling the flour/butter mixture with ice cold water. Add water slowly and continue to toss until dough just starts to come together.

With hands, form dough into a ball; divide into two equal portions. Form each half into a flat disk and wrap in plastic wrap.

Refrigerate several hour or overnight, before using.
When making pie crust, it is extremely important to keep the ingredients very cold. When cutting the butter into the flour, try to do it without actually totally combining the two ingredients. The goal is to end up with small little pieces of cold butter wrapped in flour – this is what the coarse crumbs called for in the directions should give you. When the crust is baked, those little pieces of butter melt and leave little air pockets which create that flaky texture that is the hallmark of a perfect pie crust. Once you have the butter cut into the flour mixture, toss in only enough cold water to bring the dough together without causing it to get sticky. This easy pie crust is no-fail and it results in a light, crispy, and flaky crust, every time.
For a 1 crust pie:
On a lightly floured pastry board, counter or marble slab, roll one ball of dough into a circle that is a couple of inches larger than your pie pan. Brush off any excess flour and transfer the dough to a pie pan; press dough firmly onto bottom and along sides of the pan being careful not to stretch or tear the crust. Carefully trim crust so that it overhangs the pan by 1/2 to 1 inch. Finish the edge by either fluting or crimping into a decorative pattern. Fill and bake following the directions in your pie recipe.
For a 2 crust pie:
Follow directions for the 1 crust pie, but do not finish the edge. Fill pie according to recipe directions.
Roll out the second ball of dough, then place on top of filling. Trim excess to 1/2″ from edge of pie pan. Seal crusts by crimping or fluting the edges together. Cut several large slits in top crust to vent. Follow pie recipe directions for baking.
Blind baking:
For a baked, unfilled pie crust, follow the directions for the 1 crust pie.
With a fork, prick the bottom and sides of the crust all over before baking. Bake in a preheated 475° F oven for approximately 8 minutes or until golden brown.
Transferring pie dough to pan:
There are two common methods used to transfer a delicate pie dough to the baking pan.
After rolling the dough, fold into quarters; place the point of the dough in the middle of the pie pan and gently unfold to cover the pan. Gently work crust into edges and along bottom to fit.
After rolling dough, gently roll it up around your rolling pin. Place the edge of the pie dough over the pie pan and slowly unroll to release dough into the pan. Gently push the dough into edges and along the bottom being careful not to tear or stretch the crust.
Perfect Pie Crust

,