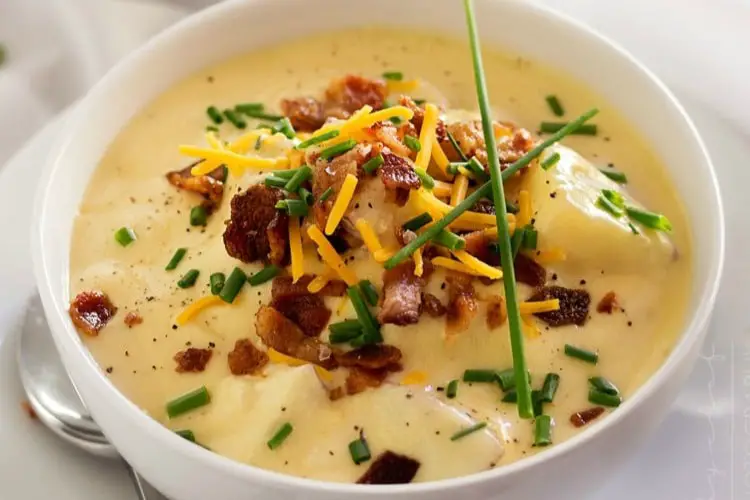 Loaded Potato Soup
This easy potato soup recipe is so incredibly thick and full of yummy flavors that it could easily be called a chowder.  It's the perfect way to fill hungry tummy's on a cold day, but don't let the warmer weather scare you off. We live in Florida, which means very mild winters, but we always make time for soup. In fact, this yummy homemade potato soup is always one of our family favorites. Serve it with some sour cream and crumbled bacon, to help put it over the edge delicious; but, honestly, it really needs no embellishments, it's excellent just the way it is.
If you want to make it a vegetarian soup, simply leave out the bacon and use some vegetarian vegetable stock in place of the chicken stock.
Ingredients:
3 Tbsp butter
1 onion, diced
2 carrots, diced
1/4 cup flour
3 cup chicken stock (use vegetable stock if you want a vegetarian recipe)
6 – 8 potatoes, chopped (the number of potatoes depends on their size as well as how thick you like your potato soup)
1 tsp salt
1 tsp pepper
1/2 tsp dried thyme
1/4 tsp celery seed
3 to 4 cup milk, (again, this will depend on how thick you like your soup)
1-1/2 cup chopped ham (omit if you want a vegetarian soup)
*chopped chives, for garnish
Directions:
In a large soup pot, melt butter over medium-high heat; stir in the diced onions and carrots, and cook until they are tender.
Add flour and stir to coat the vegetables; cook for one minute.
Stir in the chicken stock, potatoes, salt, pepper, thyme, and celery seed. Bring to a boil; reduce heat and cover. Simmer for 20 minutes, or until potatoes are tender.
Add milk and ham, heat until potato soup is hot and ham is heated through.
Top with crumbled bacon, sour cream or cheese. Garnish with some snipped chives, if desired. Serve immediately.
Preparation time: 10 minute(s)
Cooking time: 40 minute(s)
Number of servings (yield): 12
5 :  ★★★★★ 31 review(s)
Potato Soup

,