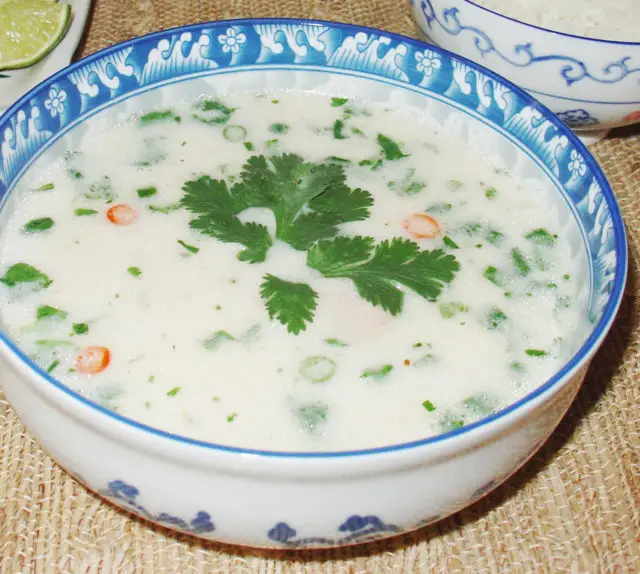 Chicken Thai Soup
Whether you like your soup hot and spicy or you lean more towards the mild side, this Chicken Thai Soup can easily be adjusted to suit your heat preference. This is a delicious Thai red curry recipe that uses coconut milk and fish sauce to help balance the flavors. If you have never had Thai curry, you might want to start with only a small amount and adjust upwards if you want it spicier.
Ingredients:
1 qt (4 cups) chicken broth
3 stalks of fresh lemongrass*
4 cloves of garlic, roughly chopped
3″ to 4″ piece of fresh ginger, peeled and sliced about 1/2″ thick
1 Tbsp vegetable oil
2-1/2 lb boneless, skinless chicken thighs (or breast), cut into 1″ pieces
12 oz pkg of white button mushrooms, cleaned and quartered
1/2 to 1 tsp red curry paste, or more to taste
4 limes, 2 juiced for the soup and 2 cut for garnishing
2 – 14 oz cans coconut milk
3 Tbsp fish sauce
1 red onion, thinly sliced
1 large handful of fresh cilantro, chopped
hot chili peppers or jalapenos
Directions:
* To Prepare the Lemongrass: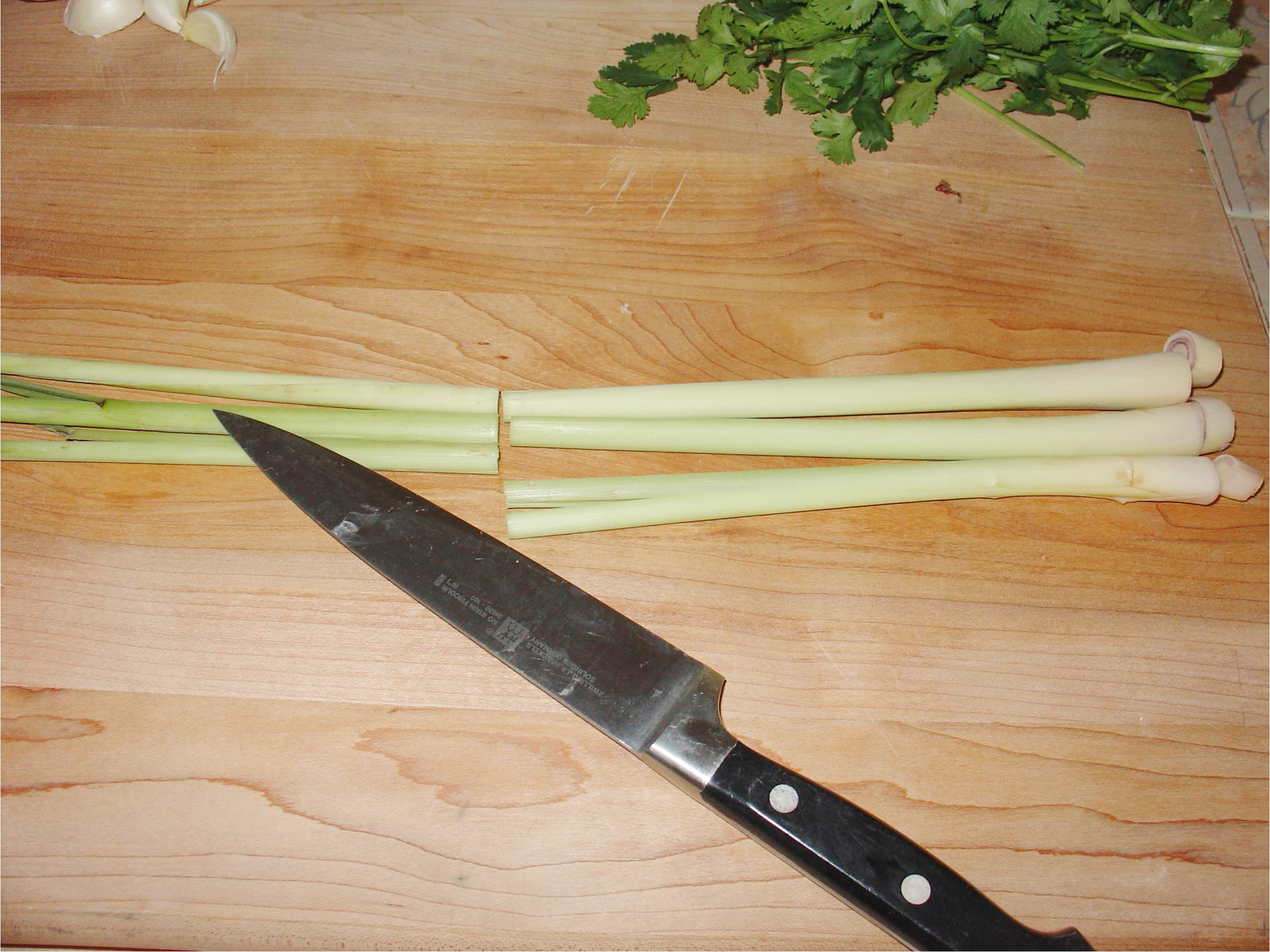 Cut lemongrass stalks approximately in half, discard tops; trim off bottom ends. Remove tough outer layer from stalk.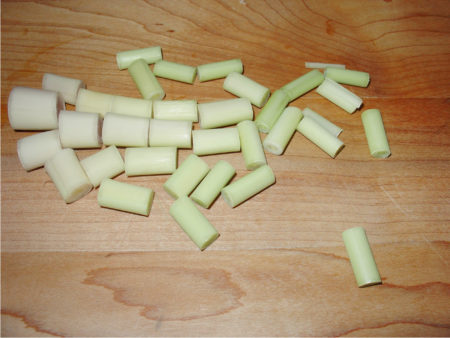 Your lemongrass is now ready to use; simply, cut into pieces approximately 1/2 to 1 inch long.
To Make the Soup:
In large saucepan add the chicken broth, lemongrass, garlic, and ginger. Heat to boiling; reduce heat and simmer for 30 minutes.
After the broth has simmered for about 20 minutes, heat a large saucepan or soup pot over medium-high heat; add the vegetable oil to heat. Add the chicken and cook about 5 minutes. Stir in the mushrooms and red curry paste. Simmer another 5 minutes.
Into the pot with the chicken, strain the chicken broth mixture with a fine sieve. Discard the solids.
Stir in the lime juice, both cans of coconut milk, and the fish sauce. Simmer for 20 minutes.
Add the sliced onion and simmer for another 5 to 10 minutes. Remove from heat and stir in cilantro.
To Serve:
Ladle into individual bowls. Serve with a side of rice and a garnish plate with sliced hot peppers, cilantro, and lime wedges.
Preparation time: 15 minute(s)
Cooking time: 1 hour(s)
Number of servings (yield): 6
5 :  ★★★★★ 23 review(s)
Easy Step-by-Step Chicken Thai Soup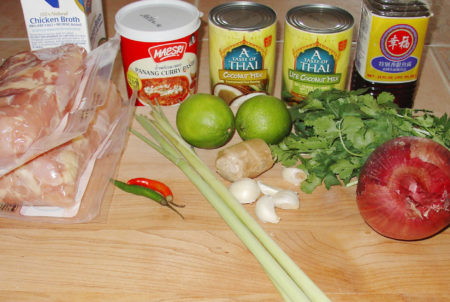 Gather the ingredients you will need to make Chicken Thai Soup. The more peppers and red curry paste you use, the hotter your soup will be. The only item that might be a little difficult to find is the lemongrass, but any Asian grocery should carry it. Definitely try to find it, it adds an important flavor component to the soup.
You can use either regular or lite coconut milk, but your best results will be with the full-fat regular coconut milk. The coconut milk will give your soup the body and thickness you are looking for; however, to save calories, you can use one can of regular and one can of lite coconut milk. I've tried using two cans of lite coconut milk, but the soup lacked the creaminess that gives this soup its flavor and texture.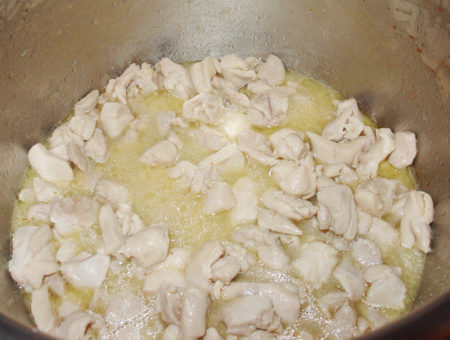 Cook chicken, mushrooms, and red curry paste in large saucepan. Strain the chicken broth, lemongrass mixture and add to the cooked chicken.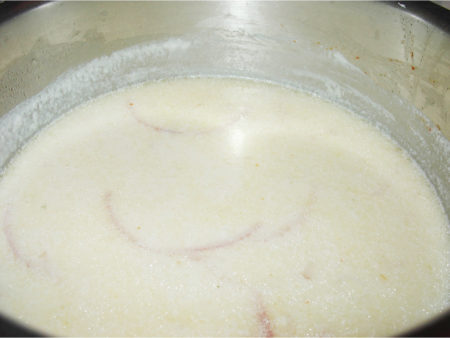 Add the lime juice, coconut milk, and fish sauce. Simmer for 20 minutes. Stir in sliced red onions and simmer another 5 – 10 minutes, just until the onion begins to soften. Remove from heat and stir in chopped fresh cilantro.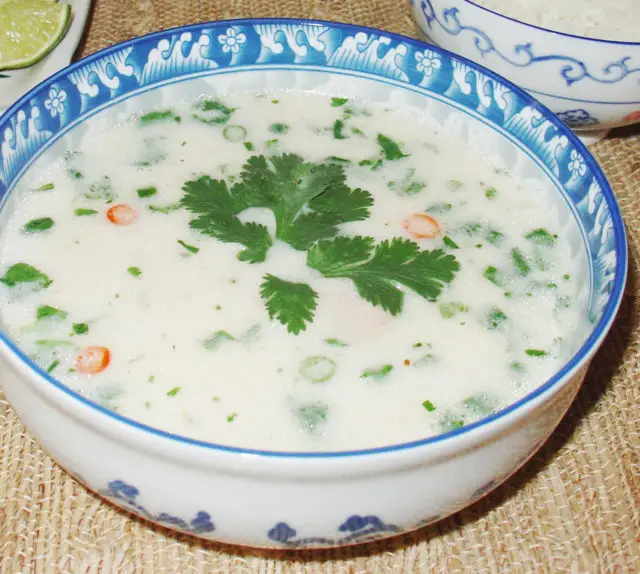 Serve the Chicken Thai Soup with a scoop of rice and a plate of garnishes. The traditional garnish plate would include lime, sliced peppers, and fresh cilantro. I'm using hot Thai chili peppers here, but if you use these be careful – they can get hot. Adding a few to your bowl of soup will really add some heat. You can omit the peppers for the kids or anyone who prefers a milder soup, or you can use a milder pepper such as jalapeno.