Parmesan Chicken Couscous – a quick and easy dinner. One pan cooking and budget friendly. It's a definite win!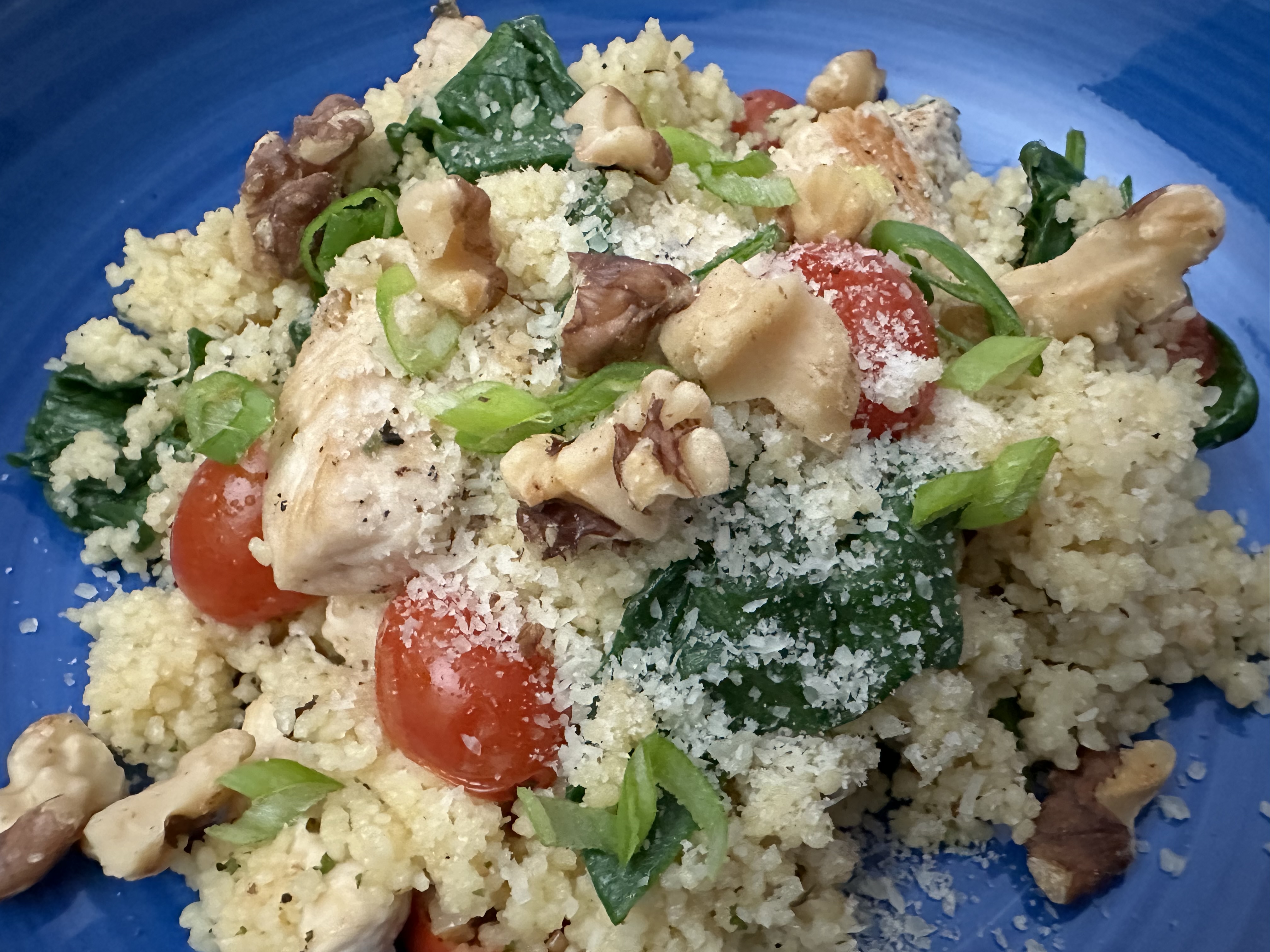 Parmesan Chicken Couscous
If you're looking for a dish that's quick and delicious, this Parmesan Chicken Couscous is the perfect solution! It's also extremely versatile. I sometimes like to use chicken broth instead of water to make the couscous, or maybe just a pinch of red pepper flakes if you like a little spice.
What You'll Need for Parmesan Chicken Couscous:
1/2 cup walnuts, halves
4 tsp olive oil
1 large chicken breast, cut into 1″ cubes
salt and pepper
2 cloves garlic, finely minced
1-1/4 cups water
1 package parmesan couscous, 5.9 ounce box
2 cups fresh baby spinach
1 cup cherry tomatoes
1/3 cup freshly grated parmesan cheese
Optional: extra virgin olive oil for drizzling
I like to drizzle a little extra virgin olive oil on my Parmesan Chicken Couscous before topping it with grated parmesan cheese and toasted walnuts. It's the perfect finishing touch!
What is Couscous?
Couscous is very similar to pasta. In fact, couscous is made from the same semolina flour that pasta is made from. Of course, they have very different textures. The individual grains cook up fluffy, almost like a rice. The small grains of semolina cook quickly and can easily be adapted to a wide range of dishes. It's the perfect substitute for rice or pasta. One of the things I like about couscous is that it's so easy to make. It's not as fussy as rice can sometimes be, so you have a fast, no fail option that takes almost no effort.
3 Types of Couscous:
Moroccan Couscous – this couscous has the smallest grain and cooks quickly. It's also the type of couscous that is usually referred to in recipes. In fact, this recipe for Parmesan Chicken Couscous uses Moroccan Couscous. If your recipe doesn't mention a particular type of couscous, this is probably the one it's referring to.
Israeli Couscous – this type of couscous is larger than the Moroccan couscous and requires a longer cooking time. This type of couscous is often steamed instead of simply adding it into a boiling liquid.
Lebanese Couscous – the grain of this couscous is larger than the Israeli couscous and takes much longer to cook.
Note: In this recipe I typically use Near East Parmesan Couscous Mix, but you could just as easily use plain couscous. I'd recommend substituting chicken broth for the water and adding 1/4 cup grated parmesan cheese when you stir in the couscous. Of course, you could also skip the chicken, but then it wouldn't be Parmesan Chicken Couscous, would it? But it would still be delicious!
Want to make this Chicken Couscous Vegetarian?
It's easy to change this recipe into a wonderful vegetable couscous. Simply use a vegetable stock or broth in place of the water and omit the chicken. Yum!
More of Our Favorite Recipes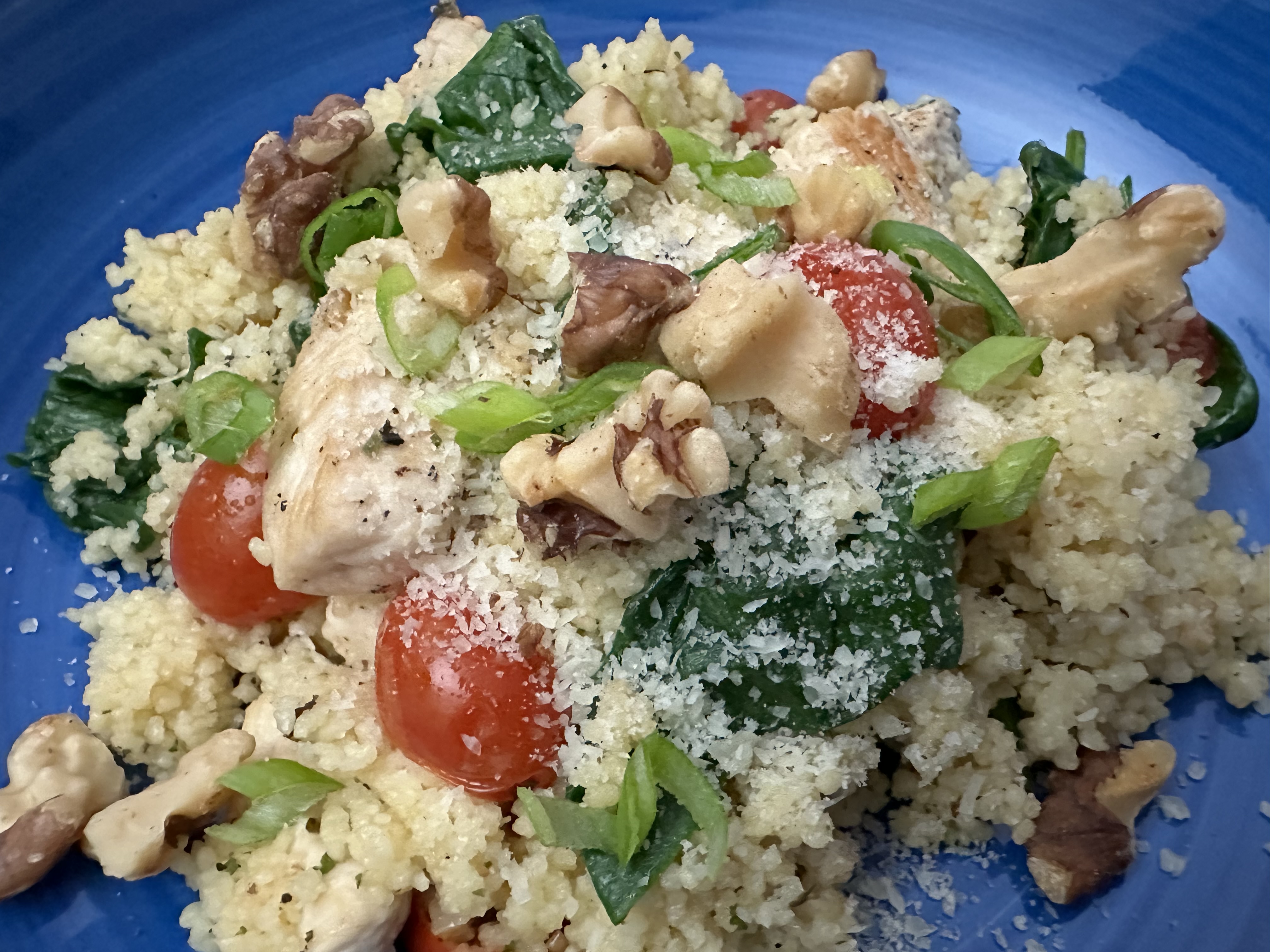 Ingredients
1/2

cup

walnuts

,

halves

4

tsp

olive oil

,

divided

1

large

chicken breast

,

cut into 1" cubes

salt & pepper

2

cloves

garlic

,

finely minced

1-1/4

cups

water

1

package parmesan couscous

,

5.9 ounce box

2

cups

fresh baby spinach

1

cup

cherry tomatoes

1/3

cup

parmesan cheese

,

grated
Directions
Toast Walnuts
Heat a large skillet or sauté pan over medium-high heat. Do not add oil. Add the walnuts to the hot pan, spreading them into a single layer. Cook 4-5 minutes, stirring frequently, just until the nuts begin to brown; watch carefully.

Transfer the walnuts to a sheet pan or platter to cool. Make sure the nuts remain in a single layer as they cool. Roughly chop.
Cook Chicken Breast
Heat a medium-size saucepan over medium heat with 2 tsp of olive oil. Lightly season cubed chicken with salt and pepper and add to hot pan along with the minced garlic. Sauté just until chicken begins to brown and is no longer pink on the inside. An internal temperature of 165° F. (74° C.)

Remove chicken to a plate. Cover with foil and let rest.
Couscous
In the same pan you cooked the chicken and garlic, add water, remaining 2 tsp olive oil, the seasoning packet from the box of Parmesan Couscous, baby spinach, and cherry tomatoes. Bring to a boil.

Stir in couscous and chicken. Cover, remove from heat. Let sit for 5 minutes.

Fluff gently with fork and serve. Top with toasted walnuts and grated parmesan cheese.