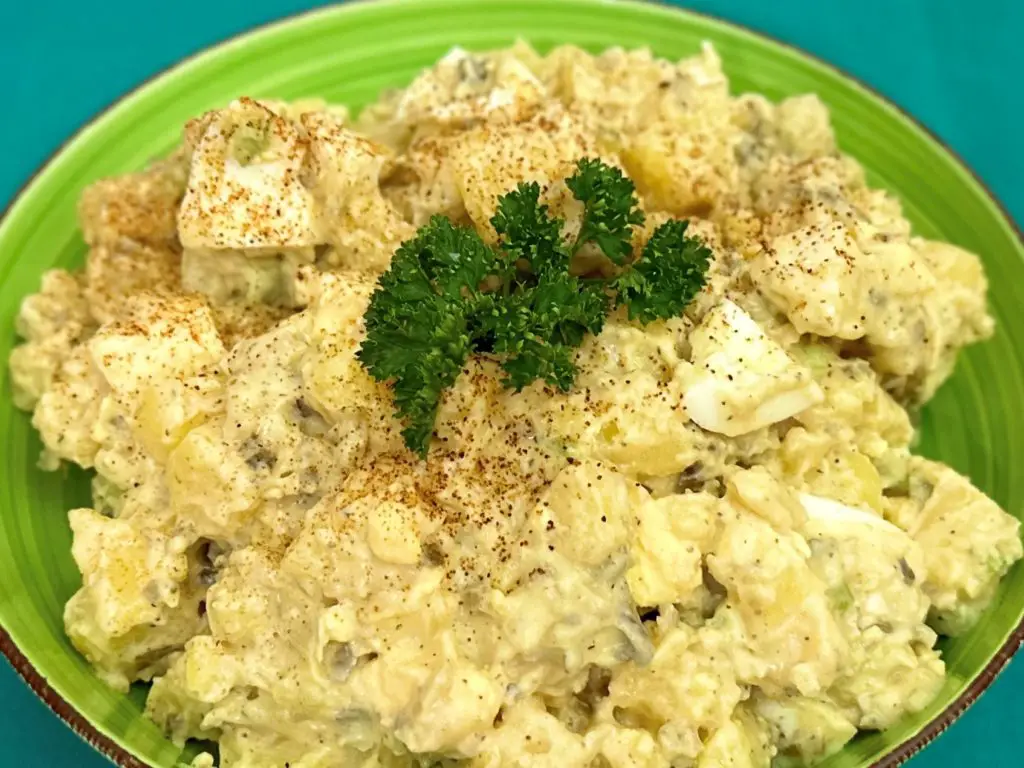 Spicy Cajun Potato Salad
There's your grandma's potato salad, which is definitely still a good option, then there's this creamy Spicy Cajun Potato Salad. Don't worry, it's not too spicy, but if you want it mild, no problem! Just add less of the cajun seasoning.
A great potato salad is something that can make or break your cookout, picnic, or potluck. Honestly, I love any kind of potato salad and fondly remember watching my mom cut potatoes and eggs for her potato salad. The large chunks combined with that creamy mayo-mustard sauce was simply delicious. She didn't put pickles in hers, but some people definitely do. There are many varieties, so don't be afraid to experiment. In the meantime, I think you're going to love this creamy, spicy, Cajun style potato salad.
What You'll Need for this Spicy Cajun Potato Salad:
Yukon Gold potatoes
Kosher salt
sweet onion, such as a Vidalia
celery
mayonnaise (or Miracle Whip)
sweet relish
yellow mustard
Cajun seasoning
black pepper
hard boiled eggs
parsley
paprika (I like to used smoked paprika)
Choose the Right Potato
There are literally thousands of different potato varieties, so how do you know which one is the best choice for what you're cooking? A lot comes down to what you're making. For example, one of the most popular potato varieties is the Russet. This potato is excellent for au-gratin potatoes, baked potatoes, mashed potatoes, and even a classic American potato salad.
On the other hand, there are times when you might want to choose a different variety of potato. In this recipe for Spicy Cajun Potato Salad, we use Yukon Gold potatoes. Not only because they bring a beautiful golden color to the dish, but they also hold up well during cooking and in the finished potato salad. Sometimes potatoes break down or become mushy when cooked, not something we're looking for in this potato salad. This is a common problem with Russet potatoes, especially if they are overcooked, even just a little bit.
If you're interested in learning more about various potatoes and how to use them, here's a great resource.
How to Cook Perfect Hard Boiled Eggs
Start with eggs that aren't super fresh, they'll peel easier when cooked.
Put the eggs in a pan and cover with cold water. At least 1″ of water over the top of the eggs.
Cook on high heat until the water comes to a full, rolling boil.
Remove the pan from the heat and cover. Let the eggs sit in the hot water for 10 – 15 minutes; depending on how firm you want the yolk. For potato salad, I like to let the eggs sit 15 minutes.
When the eggs are done, immediately place in a bowl of ice water.
Let eggs cool completely before peeling.
A Few of Our Favorite Recipes: