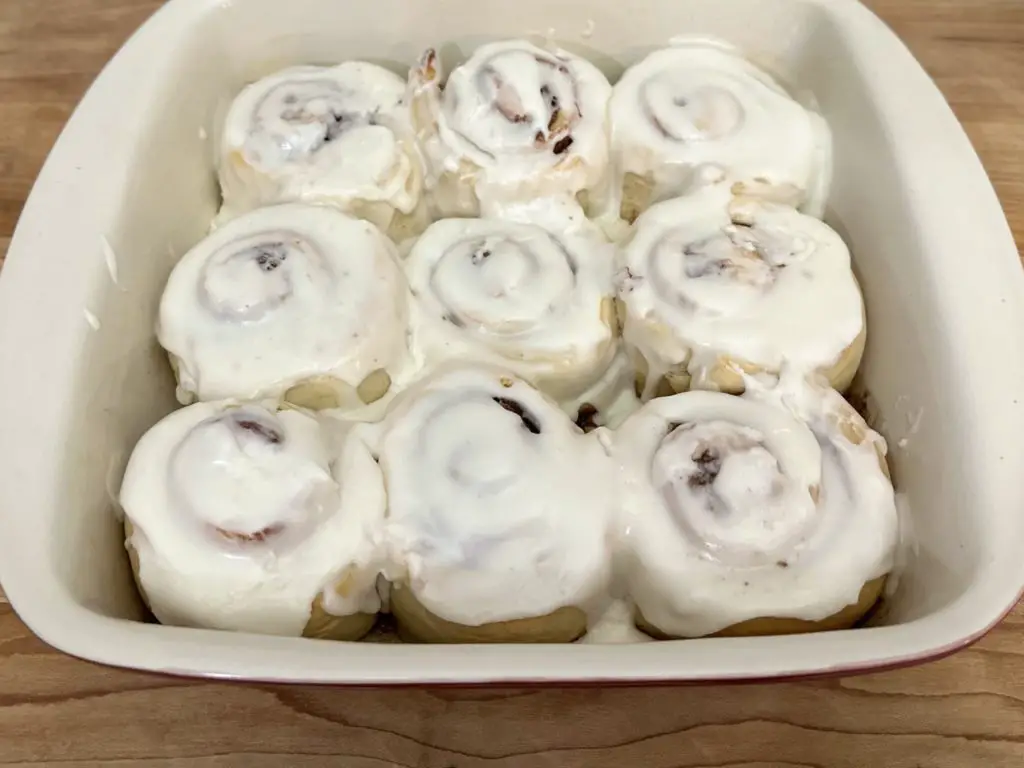 Cinnamon Rolls in a Bread Maker
Have you ever wished you could have fresh from the oven cinnamon rolls? NO – not the kind that come out of a cardboard tube, but fresh, homemade cinnamon rolls with plenty of icing and no funny ingredients. I raised 5 kids and a few little shortcuts were always appreciated and one of them was my handy-dandy Bread Maker. This is going to become your next favorite recipe!
Sometimes for a special treat I'd make cinnamon rolls on a Saturday morning. Sure, we were homeschoolers, so I guess I could have made them any day of the week. But, contrary to the common myth, homeschoolers don't generally have laid back mornings. It's hectic just like in any other family. So, baking cinnamon rolls always seemed to fall on a Saturday morning.
Fortunately, a bread maker makes more than just bread – which is undoubtedly fantastic, but you can also use it to make pizza dough, focaccia, and these delicious Cinnamon Rolls. These sweet rolls have become so popular in my family that I've passed my old breadmaker (and recipe) down to one of my daughters. I'm sure she'll make good use of it. This is my new bread maker and it's definitely and upgrade from the one I used for more than 20 years.
What You'll Need:
First up on the list for Cinnamon Rolls with a Bread Maker would be an actual Bread Maker or Bread Machine. You can use whichever term suits you.
Dough:
water
salt
butter
bread flour
dry milk powder
sugar
yeast
Filling:
Glaze:
powdered sugar (confectioners' sugar)
butter
milk
vanilla
Can You Make These Cinnamon Rolls w/o a Bread Maker?
Well, the short answer is YES. You definitely don't need to use a bread maker or bread machine to make these cinnamon rolls, but I think you'll find it so much easier if you do.
If you don't have one, or you'd rather not drag it out, here are the directions to make these cinnamon rolls by hand. This recipe calls for Active Dry Yeast but you could also use Instant Yeast. There are slight differences, but they can be used interchangeably with these directions.
Substitute milk for water and powdered milk. Warm milk to 110° to 115° F. Stir in yeast to dissolve.
In a large mixing bowl combine salt, butter, sugar, and yeast mixture. Stir in 2 cups of the flour. Beat with a mixer or work with your hands until dough is smooth. Stir in enough of the remaining flour to get a soft dough. It's okay if it's still a bit sticky.
Turn dough out onto a lightly floured work surface. Knead until smooth and elastic, about 6-8 minutes. Place dough in a greased bowl, turning once to grease the top. Cover and let rise in a warm place until doubled in size, about 1 hour.
This will take you through the process that the bread machine would have done. Pick up the directions under the sub-heading "Make the Cinnamon Rolls," and finish according to the listed directions.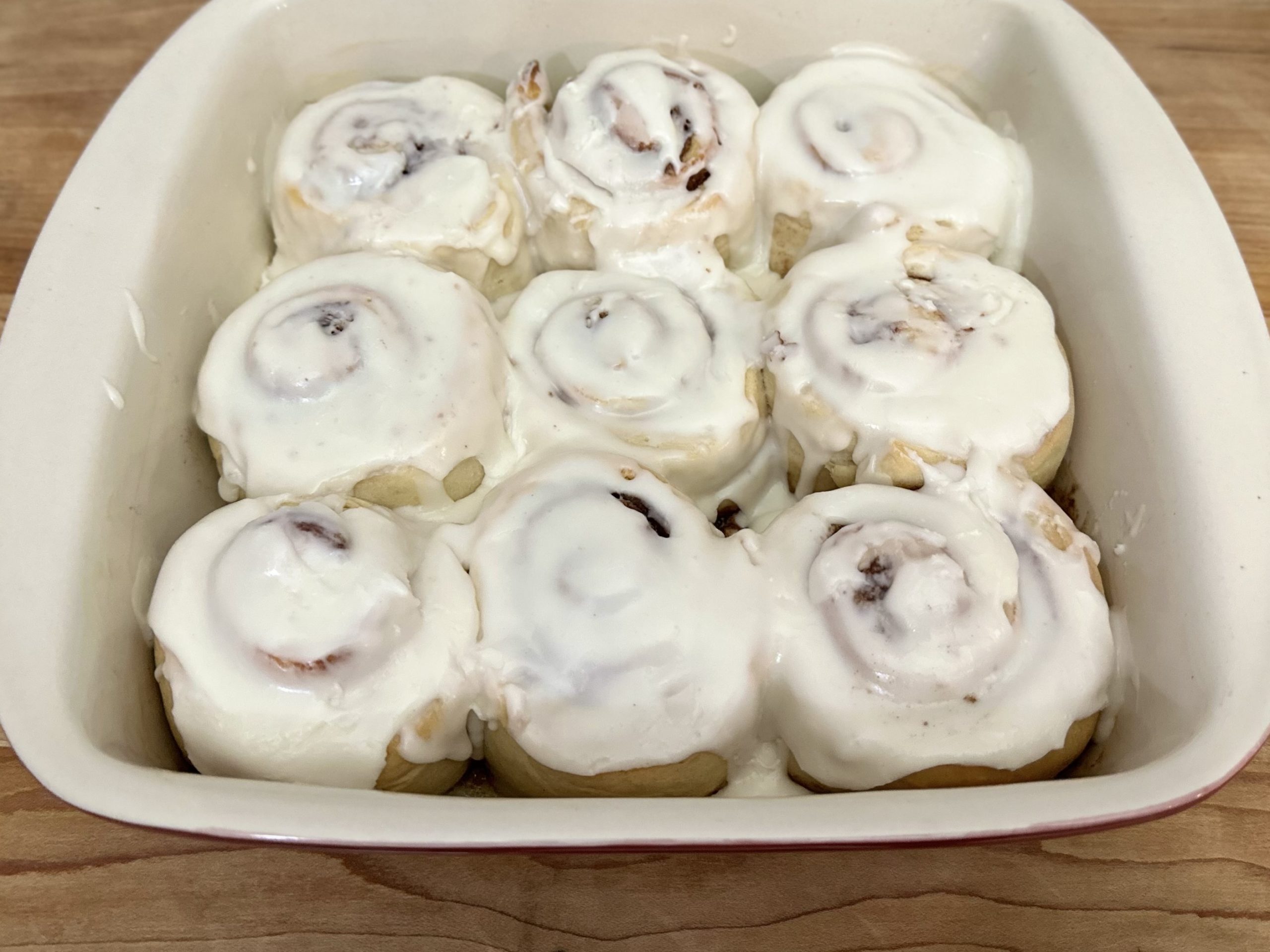 Ingredients
Dough:
7 – 9

oz.

water

,

room temperature

1-1/2

tsp.

salt

1-1/2

Tbsp.

butter

,

softened

3-1/4

cups

bread flour

1-1/2

Tbsp.

dry milk powder

1-1/2

Tbsp.

sugar

1-3/4

tsp.

active dry yeast
Filling:
2

Tbsp.

butter

,

softened

1/4

cup

sugar

2

tsp.

ground cinnamon
Glaze:
1

cup

powdered sugar

,

sifted

1

tsp.

butter

,

softened

1-2

Tbsp.

milk

3/4

tsp.

pure vanilla extract
Directions
Dough:
All ingredients should be at room temperature.

Add ingredients to pan of bread maker machine in the order given.

Set bread maker to "Dough" setting and hit START.
Make the Cinnamon Rolls:
When bread machine signals the end of the dough cycle, press STOP. Remove dough from bread pan.

Grease a 9" x 9" x 2" square pan; set aside.

Roll dough on a lightly floured bread board into a 15" x 9" rectangle. Spread the 2 Tbsp. softened butter evenly over the dough.

Combine 1/4 cup sugar and 2 tsps. cinnamon in a small bowl. Sprinkle this mixture evenly over the buttered dough.

Working from one of the long edges, roll dough tightly. Pinch seam and roll dough so you have a log 15" long, seam side down. It's okay to manipulate the log to make it shorter and consistent in circumference. The dough will be very easy to work with.

Cut the dough log into 9 equal slices, about 1-1/2 inches wide. A small serrated knife works well for this. Place the rolls evenly in the greased baking pan. Cover and let rise about 40 minutes or until the rolls have doubled in size.
Preheat Oven to 375°
Bake cinnamon rolls in preheated oven for 25 to 30 minutes, just until lightly golden brown. Remove pan from oven and place on a wire cooling rack for 10 minutes.
Prepare the Glaze:
Combine powdered sugar, butter, milk and vanilla in a small bowl. Stir until smooth and creamy. Add a drop or two of milk to reach the desired consistency.

Spread glaze evenly over the warm rolls.
Some of Our Other Favorite Recipes: