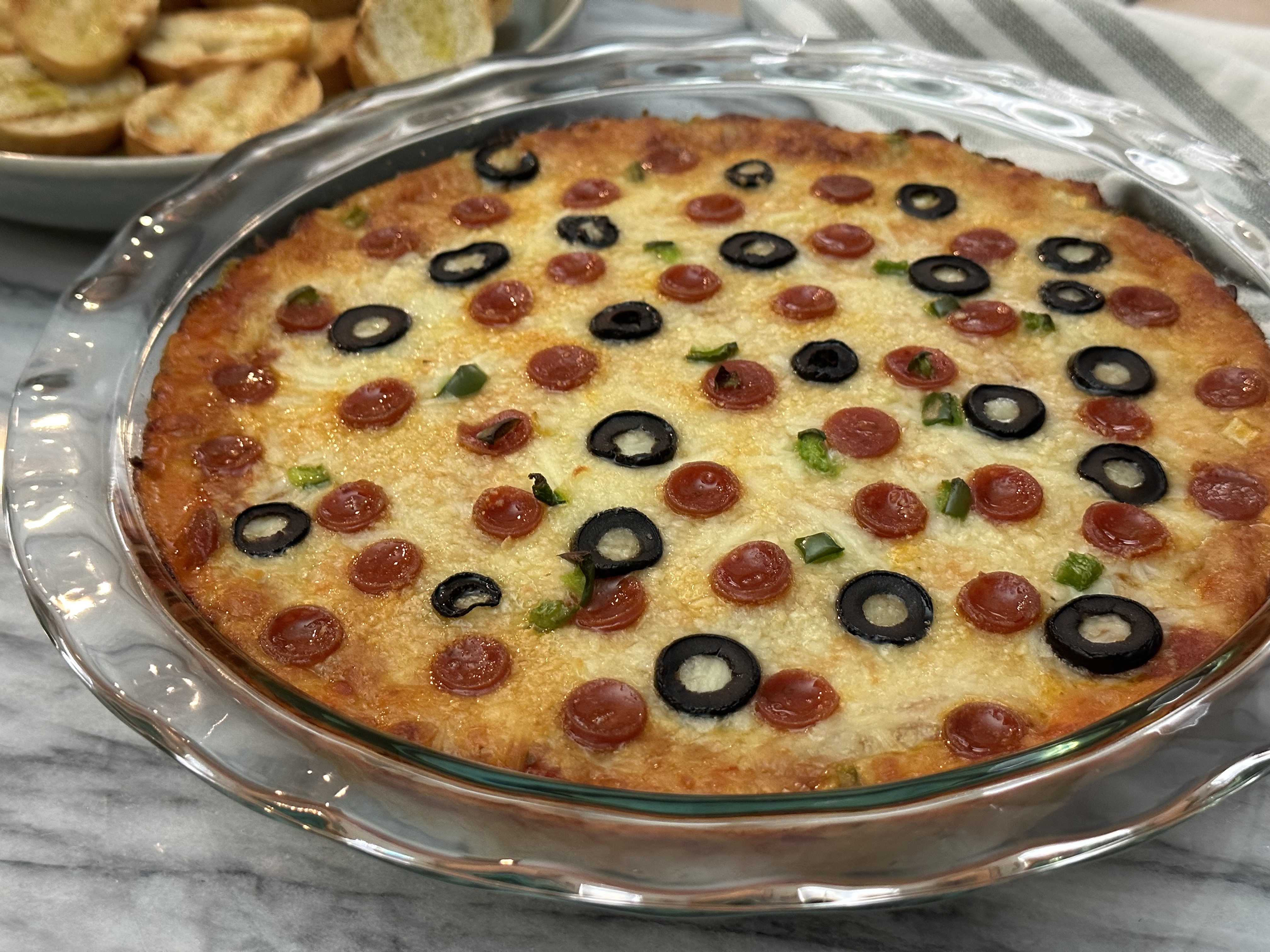 Hot Pizza Dip – something delicious for your get-togethers!
Hot Pizza Dip
This dip is so easy to make, and yet so incredibly delicious!!! With ooey, gooey, melty cheese and tons of flavor, it's going to become your new favorite appetizer or snack! It's perfect for casual get-togethers or for no absolutely no reason; after all — who doesn't love pizza?! Looking for something easy to serve for game day? This Hot Pizza Dip is it! You can use whatever toppings you like, it's super versatile.
I like to serve this pizza dip with toasted baguette slices. Simply cut the baguette diagonally across the loaf into slices about 1/2″ thick. Place bread slices in a single layer on a baking sheet and bake in an oven preheated to 400° F. for 5 to 10 minutes; just until they start to show a tiny bit of color and are nicely toasted.
Deep Dish Pie Pan
This recipe for Hot Pizza Dip uses a deep dish pie pan. This type of pie pan is usually about 9″ – 10″ in diameter and about 2″ deep. Whereas, a standard pie pan is typically 1″ – 1-1/2″ deep. You're going to need the extra capacity for this recipe. Of course, in a pinch, you could also use a similar size round or square casserole dish.
What You'll Need:
cream cheese
grated parmesan cheese
Italian seasoning
Pizza sauce or Marinara
Mozzarella cheese
black olives
green pepper
red onion
tortilla chips, toasted baguette slices, scoops (Fritos or Tostitos)
Toppings – Make it Your Own Hot Pizza Dip
green stuffed olives, sliced
diced fresh tomatoes
diced green onion
pineapple – don't judge!
ground sausage
mushrooms
artichoke hearts
diced ham
bacon
diced jalepenos
The Ins and Outs of Parmesan Cheese
Other Ways to Make Hot Pizza Dip
If you're in a hurry, you can make this dip in a microwave safe casserole dish. Assemble, layering according to the directions. Microwave until cheese starts to melt, about 2 – 3 minutes, depending on your microwave. Let dip sit for a couple of minutes before serving. Let's be honest, it won't have that luscious, lightly browned, melty cheese, but it's definitely still delicious!
I've made this dip in a slow cooker and it's just as tasty! Just combine everything in the slow cooker and cook on high for about an hour. Make sure everything is hot and the cheese is melted and it's ready to serve.
Some of our Favorite Recipes: