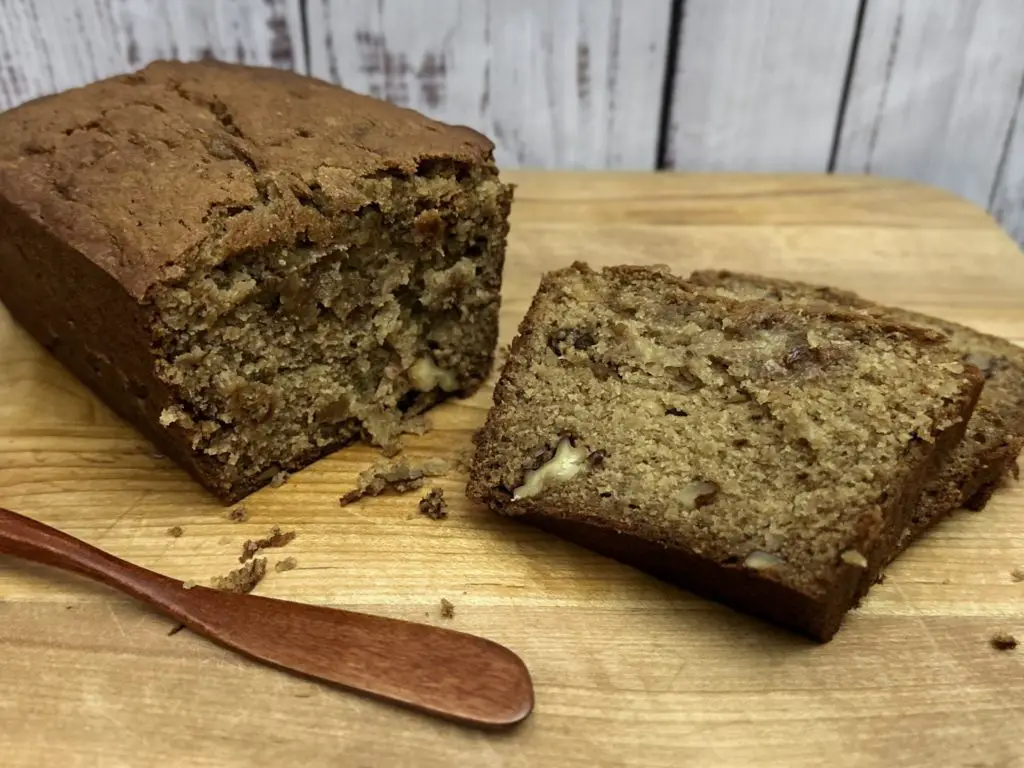 The Absolute Best Banana Walnut Bread
This Banana Walnut Bread is incredibly moist with lots of banana flavor. It's so easy to make but the waiting is definitely a challenge. It cooks for about 1 hour and then there's the cooling time. Of course, banana bread is better on day 2, but let's be serious, who actually waits that long? Nope. I'm digging in before it's done cooling.
I don't know if this is just a weird thing with my family, but I grew up in a home where we slathered our banana bread with peanut butter. I hope I'm not the only one that does this. If you haven't tried it, this is the perfect banana walnut bread to pair with some creamy peanut butter!
What You'll Need for Banana Walnut Bread:
all-purpose flour
baking soda
salt
cinnamon
butter
dark brown sugar
eggs
applesauce
vanilla
very ripe bananas
walnuts or pecans, optional
Fresh or Frozen Bananas
It's not unusual for me to find that I have bananas on the counter and they're ripening way too fast for me to eat them before they go bad. If I don't have time to use them in a recipe, like this yummy Banana Walnut Bread, then I simply freeze the bananas for later use.
How to freeze Bananas:
You can freeze bananas either whole or in chunks. Peel the bananas and place in a single layer on a baking sheet. Freeze the whole bananas or banana slices, then transfer to a plastic storage bag. Be sure to label the bag and include the date. These bananas are perfect for smoothies! If you want to make banana bread or use the bananas in baked goods, thaw and mash.
Of course, you can also just mash the bananas before you freeze them and they'll be ready when you need them – this is my favorite way to deal with those ripening bananas! This recipe for Banana Walnut Bread calls for 4 large bananas, which is about 2 cups mashed. So, I mash the bananas and put 2 cups into a baggie, squeeze out all the air, label, date, and mark the quantity on the baggie. So convenient!
Some Fun Variations:
Substitute pecans for the chopped walnuts, or skip the nuts altogether.
Add chocolate chips, either milk chocolate or semi-sweet.
Use Greek yogurt or sour cream in place of the applesauce
Pan Size Matters:
This Banana Walnut Bread is best when it's baked in a standard size loaf pan 8.5″ x 4.5″ x 2.75″. If you choose a pan that's too small, you'll likely end up with a mess in your oven when the batter overflows the pan. On the other hand, if the pan is too large, your bread will spread out, be flat, and overcook. Neither scenario is good and neither will result in the moist wonderful bread you're looking for. If you want to learn more about pan sizes here's a great resource.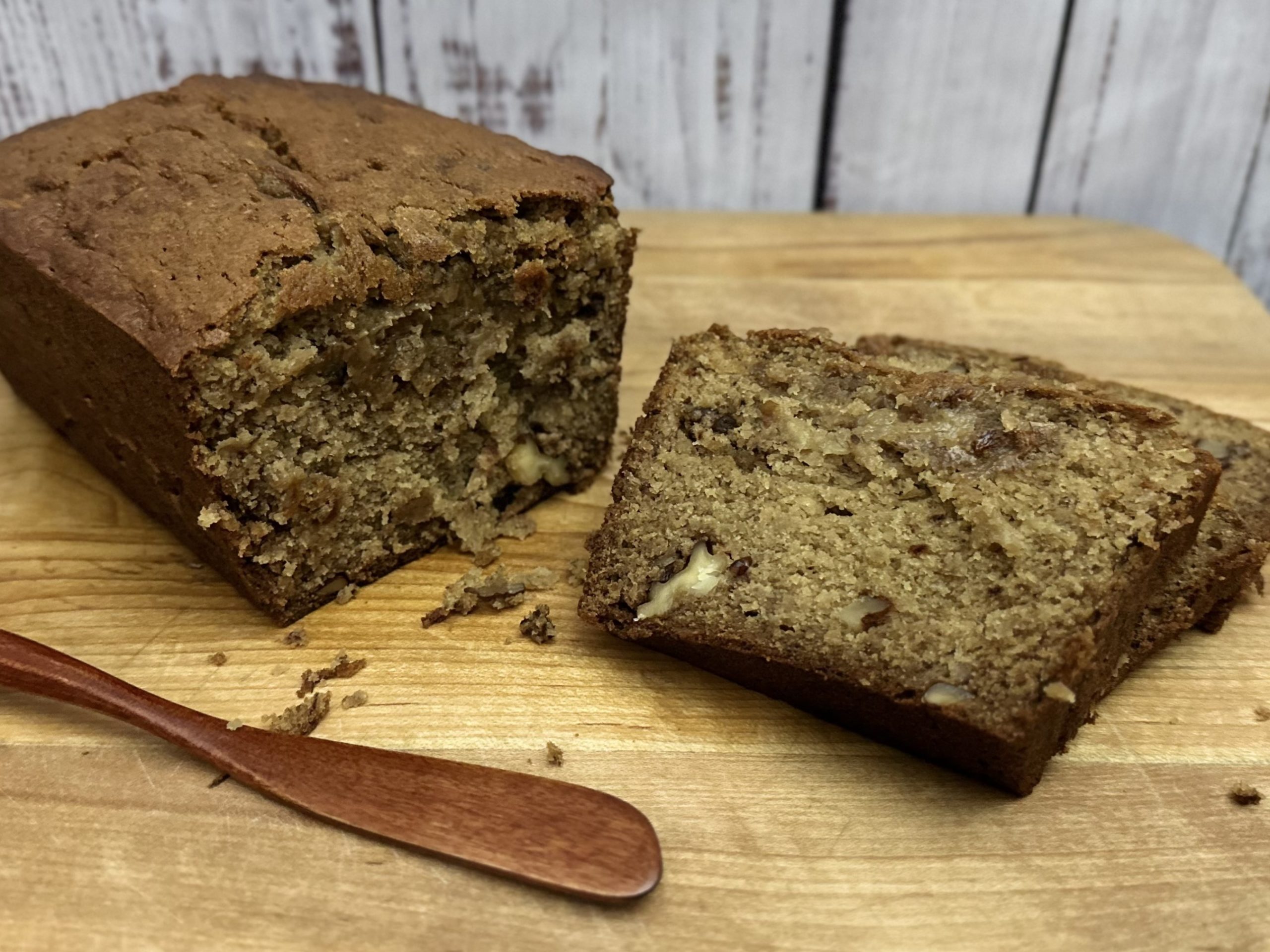 Ingredients
2

cups

flour

,

all-purpose

1

tsp

baking soda

1/4

tsp

salt

1/4

tsp

cinnamon

1/2

cup

butter

,

softened

3/4

cup

dark brown sugar

2

eggs

,

large, room temperature

1/4

cup

applesauce

1

tsp

pure vanilla extract

4

bananas

,

large, very ripe

3/4

cup

walnuts

,

optional
Directions
Grease a standard size loaf pan (9"x5"). Set aside.
In a medium bowl whisk together the flour, baking soda, salt, and cinnamon. Set aside.

With a stand or handheld mixer, beat the softened butter and brown sugar on high speed until smooth, about 2-3 minutes. Beat eggs in, one at a time; beating well after each addition. Add applesauce and beat until well incorporated. Add the mashed banana and vanilla, beating just until combined.

With the electric mixer on low, slowly add dry ingredients. Continue mixing just until combined being careful to not over-mix. Fold in nuts, optional.

Pour the batter into a prepared bread pan. Bake in center of oven for 55-60 minutes. If the top is browning too fast, lightly lay a piece of foil over the top of the pan. When a toothpick inserted into the center of the loaf comes out clean, with only a few crumbs, it's ready to take out of the oven. Make sure to keep an eye on the banana bread during the last 10 minutes or so of baking time. Every oven is different and you definitely don't want this bread to overbake!

Remove from oven and allow to cool 60 minutes, in the pan, on a wire rack. When the hour is up, remove the banana bread from the pan and place back on wire rack to finish cooling.
Some of Our Favorite Recipes: