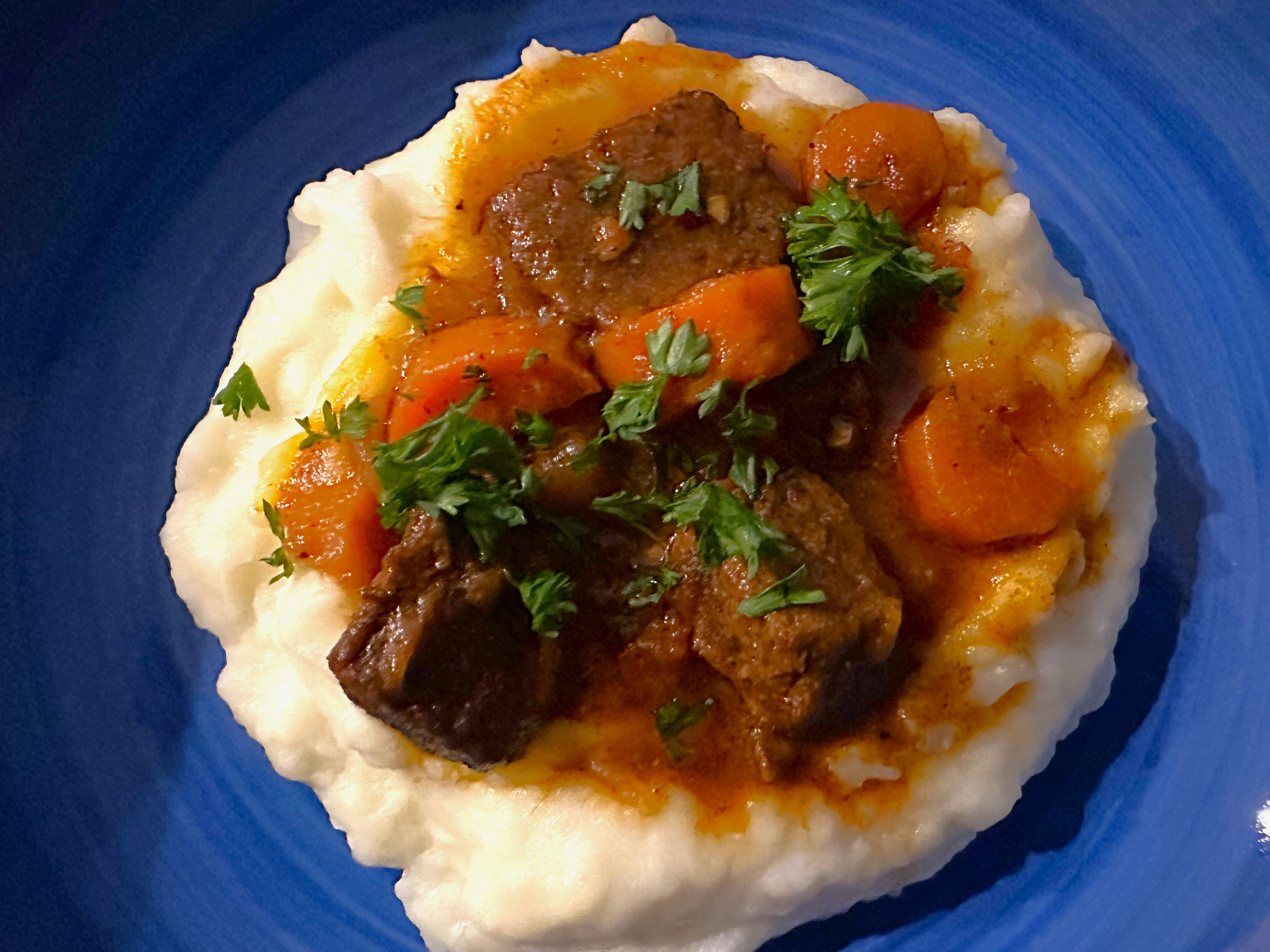 Ancho Chile Beef Stew – Another Instant Pot Favorite!
Ancho Chile Beef Stew is an incredible twist on the classic American beef stew. This stew features juicy, fall-apart-tender, chunks of beef as well as onion, carrots, and an amazing tomato, ancho chile sauce that brings it all together. The ancho chile adds a smoky flavor with just a touch of heat, perfect for this beef stew recipe. Best of all, it's made right in your Instant Pot! It doesn't get much easier than that!
What's the Difference? Chili vs. Chile
Before we get into the recipe, you'll notice that chili/chile is spelled differently in different places. There's actually a good reason for this. According to Merriam-Webster, in the culinary world there can be very specific uses for each spelling.
"…chile is in its designation for the powdered form of dried chili peppers. Gastronomes will tell you that chili powder (with an "i") usually implies that the powder consists of ground-up dried chili peppers mixed with a blend of other spices, whereas chile powder (with an "e") is reserved for a pure powder of dried chili peppers only."

Merriam-Webster
What You'll Need
Please don't reach for your regular chili powder, the Ancho Chile Powder used in this recipe is a game changer. Try to find it if you can. Trust me, it's worth it!!
2 lbs. beef chuck or stew meat
Ancho Chile Powder
cumin
salt
black pepper
olive oil
onion
garlic
tomato paste
Rotel, diced Tomatoes & Green Chilies
carrots
cilantro or parsley for garnish, optional
How is Ancho Chile Powder Different than Regular Chili Powder?
Most chili powders you buy in the store are a blend of one or more types of chile peppers as well as cumin, salt, pepper, and oregano. It's a blend of spices you'd typically use when making a pot of chili. On the other hand, Ancho chile powder is simply a pulverized, dried ancho chile. It adds a wonderful sweet, smoky flavor to salsas, marinades, moles, and other Mexican and Southwestern dishes.
An ancho chile is a poblano pepper that is left to ripen until it turns a beautiful dark red color. The pepper is then smoked, dried, and pulverized into a powder that can add amazing flavor to chicken, beef, soups, sauces, and this yummy Ancho Chile Beef Stew.
Your Instant Pot is the Perfect Tool for this Recipe
There are several methods you can use to cook a delicious beef stew; of course, the stove-top and oven have always been popular. Unfortunately, both of these methods can result in beef that is tough and chewy. Not what you're looking for. That's where the Instant Pot comes in.
You can sear the beef, add the rest of the ingredients and turn your Instant Pot to the pressure cook setting. When you cook beef under pressure, the tough strands of connective tissue dissolve and break down into collagen. You get tender, juicy beef in a fraction of the time it would take you to cook it on the stove or in the oven. Best of all, it means your instant pot can make this melt-in-your mouth Ancho Chile Beef stew using only one pot! That's a win no matter how you count it.
Learn How to Use Your Instant Pot for Best Results.
More Great Recipes to Try: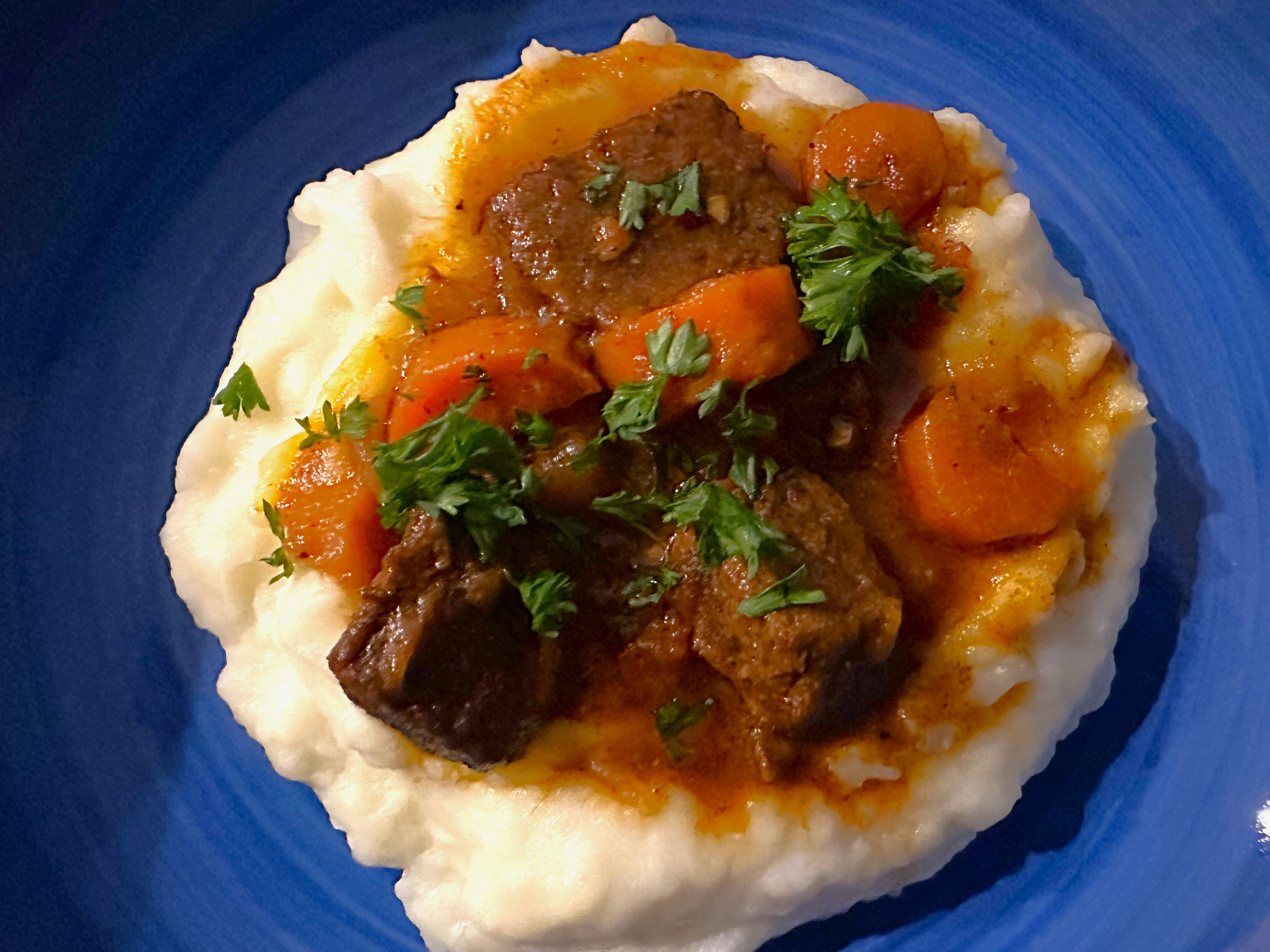 Ingredients
2

lb.

beef chuck

,

cut into 1" pieces

1

tbsp.

ancho chile powder

2

tsp

cumin

1

tsp

salt

1/2

tsp

black pepper

,

or more to taste

1/4

cup

olive oil

,

+ extra if needed

1

onion

,

cut into 6 wedges

2 – 3

cloves garlic

,

minced

1

6 oz can

tomato paste

1

10 oz can

Rotel

,

diced tomatoes & green chilies

1

lb.

carrots

,

peeled and cut into 1" chunks

fresh cilantro or parsley

,

chopped, for garnish
Directions
In a small bowl, combine ancho chile powder and cumin. Add beef to a large bowl, season with salt, pepper; add the ancho chile powder/cumin mixture. Toss the beef until evenly coated.

Add about 3 Tbsp. of the olive oil to the inner cooking pot of the Instant Pot. Set to sauté (high or more, depending on the model you're using). When pot and oil are hot, add about half of the beef in a single layer, don't crowd. Let beef chunks cook for 4-5 minutes before turning. When beef is browned on both sides, remove to a plate. Repeat with remaining beef chunks; remove to plate when done.

Add remaining tablespoon of oil to the pot. Add onion and cook until softened, about 3 – 5 minutes, scraping up any browned bits from the bottom of the pot with a wooden spoon. Stir in the minced garlic; cook about 1 minute, just until it starts to soften. Don't brown. Add the tomato paste to the onion and garlic; stir to coat. Cook about 1 minute.

Add the Rotel tomatoes & green chilies, carrots, cooked beef chunks, and any juices on the plate. Add 1 cup of water, stir to combine. Lock the Instant Pot lid, (make sure the steam valve is set to the "seal" position.

Set Instant Pot to pressure cook on high (or more, depending on model) for 30 minutes. When the 30 minutes are up, use quick release to vent the Instant Pot. Unlock lid and remove from base, being careful to open away from you as there may be some residual steam left in pot.

Serve over noodles or mashed potatoes. Garnish with chopped parsley, if desired.