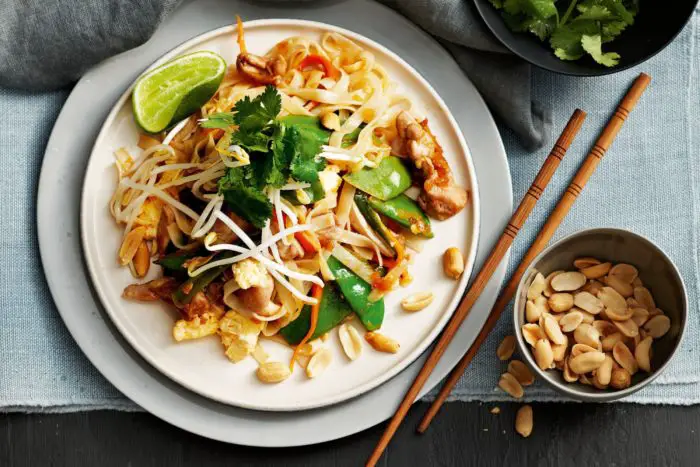 Authentic Pad Thai
Thai food is extremely popular, and for good reason. Thai recipes are generally very easy to make, they're packed with flavor, and they provide an inexpensive and satisfying meal. One of the most popular Thai dishes is the amazingly simple Pad Thai. Here is an authentic Pad Thai recipe that anyone can make at home, just be sure to do all of your prep work before you begin cooking. Once you start the cooking process, everything goes very quickly. In this traditional Pad Thai recipe, I am using chicken; however, you can easily substitute tofu or simply leave it out if you want to create a vegetarian dish.
Ingredients:
8 oz rice noodles, they should be the flat type that is about 1/8″ to 1/4″ wide
1/2 lb chicken breast or thigh, sliced across the grain
5 cloves garlic, minced
1 – 2 fresh red chilies, minced (depending on how hot you like your Pad Thai), optional
3 cups bean sprouts, rinsed in cold water and drained
3 green (spring) onions, sliced
1/2 cup fresh cilantro, roughly chopped
1/3 cup roughly chopped peanuts or cashews
1/4 to 1/3 cups chicken stock, as needed
1/8 tsp ground white pepper
vegetable or canola oil for stir-frying
lime wedges for garnish
Marinade for chicken:
1 tsp corn starch
3 Tbsp soy sauce
Pad Thai Sauce:
3-1/2 tsp tamarind paste
1/3 cup hot water
3 Tbsp fish sauce, plus more to finish the dish
2 – 4 tsp chili sauce, such as Sriracha Hot Chili Sauce
4-1/2 Tbsp brown sugar
Prepare Rice Noodles: Fill a large pot with water and bring to a boil. Remove from heat and add the rice noodles. Allow the noodles to soak in the hot water until they are somewhat soft, but still have a fairly firm texture inside. You will be stir-frying the noodles later, so you do not want to over-cook them in this step. When the noodles are done, drain them in a colander and rinse gently with cold running water. Set aside.
Marinate Chicken: In a medium sized bowl add the sliced chicken. In a small bowl combine the marinade ingredients: 1 tsp corn starch and 3 tbsp soy sauce, mix well. Pour marinade over chicken and stir to thoroughly coat. Set aside.
Prepare Pad Thai Sauce: In a small bowl or cup, combine all the ingredients for the Pad Thai Sauce. Stir the sauce well to be sure that all of the tamarind paste and sugar is completely dissolved. Set aside.
Heat a large frying pan or wok over medium high heat. Add 1 to 2 tbsp of oil, together with the minced garlic and chilies. Stir fry for about 30 seconds. Add the chicken and its marinade to the pan and continue cooking for another 30 to 60 seconds. As the pan becomes dry, add chicken stock, 1 to 2 tablespoons at a time. Continue stir-frying for 6 to 8 minutes until the chicken is fully cooked, adding chicken stock a little at a time, as needed.
Add the rice noodles and stir fry for 1 to 2 minutes. Use two spatulas, spoons, or tongs to lift the noodles and turn them gently, being careful to not break the noodles. If the pan starts to get too dry, pull everything to one side and add a little more oil. Do not add more chicken stock at this point because it will make the noodles too soggy.
Add the rinsed bean sprouts, then sprinkle in white pepper. Continue stir frying for another 60 seconds, until the rice noodles are cooked. Keep using a gentle tossing action to prevent the noodles from breaking. You want the noodles to not be crunchy on the inside, but they should still be chewy and have some resistance when you bite down on them.
Add a little more fish sauce, about 1 Tbsp, toss to combine. Taste for seasoning and adjust as necessary.
To Serve: Gently transfer noodles to a serving platter. Top with cilantro, chopped nuts, and spring onions. Serve with lime wedges.
Preparation time: 20 minute(s)
Cooking time: 12 minute(s)
Number of servings (yield): 2
5 :  ★★★★★ 32 review(s)
Notes:
Assemble and prep all of your ingredients prior to heating your wok or fry pan. Once you start stir-frying, you will not have time to stop and prep the next ingredient. Authentic Pad Thai is a wonderful dish that can be adapted to suit your own tastes. For example, I sometimes add sliced red bell pepper or snow peas to our Pad Thai. Experiment to see what you like.
Tamarind paste is an essential ingredient in many Asian, African, and Indian dishes and is available in Asian markets as well as some larger supermarkets.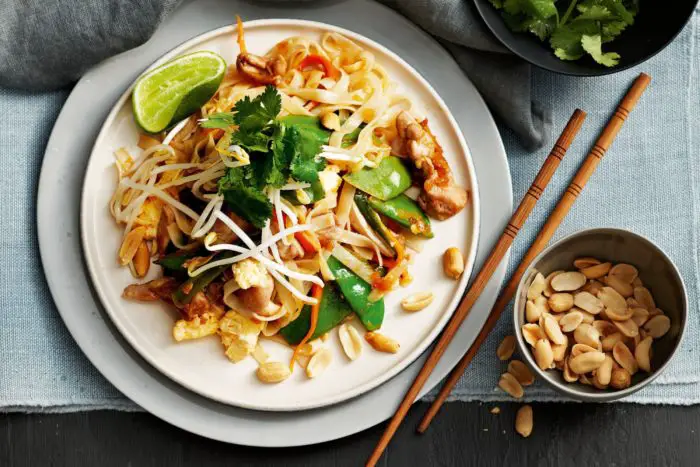 Traditional Pad Thai is simple and delicious!
Here is a great video showing how to make authentic Pad Thai.
Authentic Style Pad Thai

,