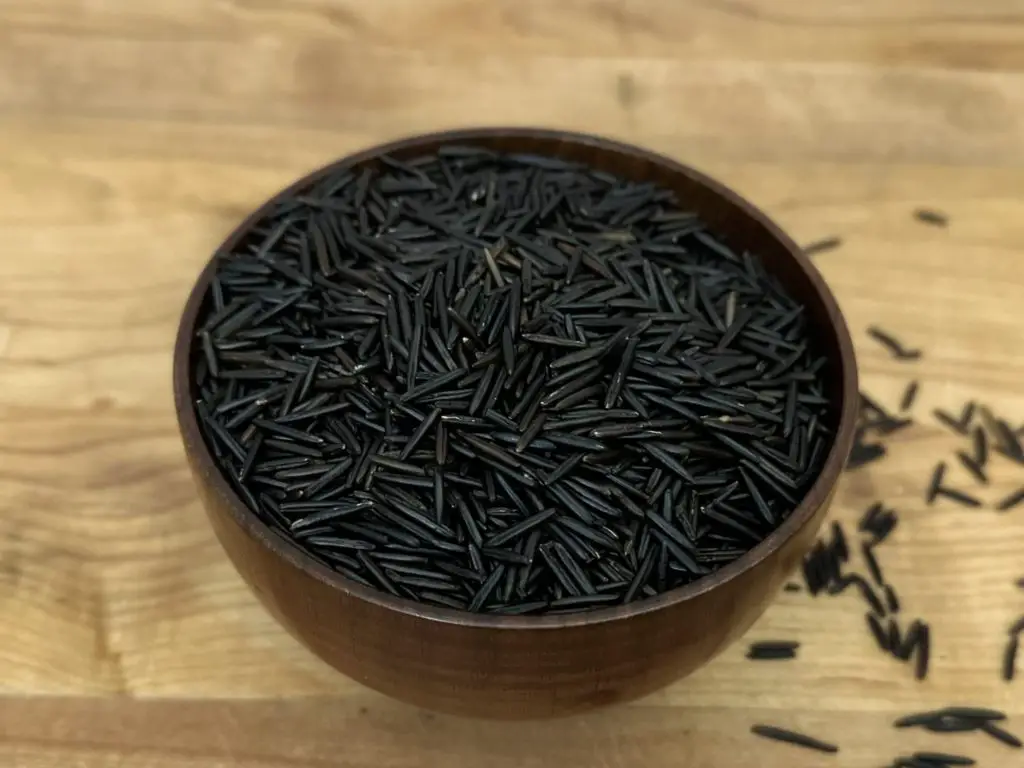 Learn How to Cook Wild Rice
It's easy to cook wild rice, but it is a bit different than white or brown rice. First things first, did you know that wild rice isn't really rice? That's right; it's actually a type of grass (genus Zizania). The grain is harvested and can be cooked using various methods (we'll get to that in a minute). The grains of wild rice have an outer shell or seed coat that is pleasantly chewy while the inner part of the grain is tender. Overall, wild rice tends to have a very unique texture and a nutty, vegetal taste that is perfect all on its own or in a wide range of dishes. I've listed a few of our favorites down below.
How to Choose the Right Wild Rice
When you start shopping for wild rice, you'll likely find that you have numerous options from which to choose. There are many factors to consider when choosing the right wild rice to meet your cooking needs as well as your budget. Natural vs. blackened? Cultivated or hand-harvested? Wood parched vs. gas parched? It all seems so confusing, but I'm going to make it easy for you.
Blackened wild rice is the same grain that is harvested in natural wild rice. The difference is in the processing. Blackened wild rice is left wet for a few days which results in the black color as well as hardening of the seed coat. Both blackened wild rice and natural wild rice can be either wood parched or gas parched. Natural wild rice is dried and parched without the blackening process. Parching is the heating and toasting of the grain, traditionally using wood for the heat source. This method of parching imparts a smoky flavor to the wild rice.
While the very best wild rice you can get is natural, hand-harvested, and wood parched; expect to pay almost twice as much for this type of wild rice. It is also much harder to source since most grocery stores carry only the blackened wild rice. For most applications, especially if you're not a wild rice connoisseur, a good quality blackened wild rice will be perfectly suitable. It's still going to be delicious! But hey, if you want to splurge, go all out and try some of the natural, wood parched, hand-harvested wild rice. It's wonderful!
Blackened wild rice is wild rice that has undergone a very specific process and should not be confused with black rice, also known as forbidden rice. That is something entirely different.
What You Should Know About Cooking Wild Rice
Cooking wild rice might seem a little intimidating, but don't worry. It's very easy. One of the most important things to keep in mind is that cooking times are just approximations. There are a lot of things that can affect the amount of water you'll need as well as how long your wild rice will need to cook.
For example, blackened wild rice will need more time to cook than natural wild rice, but the age of the wild rice as well as how it was parched will also have an effect on cooking times. Err on the side of too much water rather than not enough; it's not unusual to pour off a little excess water after cooking the wild rice. Don't rely solely on listed cooking times, instead always try the rice to determine if it's done to your liking.
Regardless of which type of wild rice you choose it's important to always rinse it well under cool running water before cooking; a fine metal sieve works perfect for this step. If you're wondering how much to cook, here's a basic ratio: 1 cup of uncooked wild rice will typically yield 3-4 cups of cooked wild rice.
How to Cook Wild Rice on the Stovetop
Wild rice takes a considerable amount of time to cook, but cooking it on the stovetop is very easy. This method is similar to how white or brown rice is typically cooked. Simply combine 4 cups water or broth and 1 cup rinsed wild rice in a 2 quart saucepan with tight fitting lid. Bring to a full boil. Reduce heat to low and cover. Simmer for 45 to 60 minutes, stirring occasionally. When wild rice is tender, drain any excess liquid and fluff with a fork.
Slow Cooker Method
A slow cooker will take several hours to thoroughly cook wild rice, but it's an easy, hands-off method that can be very convenient. Simply add rinsed wild rice and 3 cups of water or broth to the slow cooker. You can also add other ingredients, such as diced onions, carrots, peppers or sliced mushrooms as well as any seasonings.
Cover the slow cooker and cook on low about 4 – 6 hours until the wild rice is tender. Drain off excess water if necessary. Gently fluff with fork.
My Favorite Method: Instant Pot
Using an Instant Pot to cook wild rice is definitely one of my favorite methods. It's my go-to way to cook wild rice because it takes far less time to get the grains beautifully tender and it requires the least amount of attention from me.
Combine 1 cup of rinsed wild rice with 1-1/2 cups of water or broth in the cooking pot of the Instant Pot. Place the lid on the Instant Pot, making sure it's set to the "seal" position. Set to pressure cook on high for 35 minutes. When time is up, use the quick release method to release steam. Carefully remove the Instant Pot lid, some steam could still escape; open away from you. Use a fork to fluff the wild rice. Always perfectly cooked!
Cook in the Microwave
I'm not a huge fan of using a microwave to cook wild rice – or just about anything else. I tend to use the microwave to warm leftovers or heat water for tea, but – that's just me. If you like the convenience of cooking in your microwave here are some simple steps to help you achieve the perfect texture.
In a microwave safe dish with a cover, combine 3 cups water or broth with 1 cup of wild rice. Cover and microwave for 10 minutes at 100% power. Cook wild rice an additional 20 minutes at 50% power. Let sit for 15 minutes. Toss cooked wild rice with fork and taste for doneness. If it's still a bit too chewy, microwave in 2 minute increments until tender. Make sure there is always liquid in the dish when microwaving, any extra liquid can be drained off before serving.
Can You Bake Wild Rice?
Yep, it's so easy to bake wild rice and then add it to casseroles and other baked dishes. Not only will you be able to incorporate the wonderful flavor and nutrition of this grain (seed), but baking it makes it an almost total hands-off addition to your meal.
To bake: Add 2 cups of boiling water or broth to a 1-1/2 to 2 quart casserole dish with a tight fitting lid. Stir in 1 cup of wild rice. Cover and bake in preheated 350° F oven for one hour. Check the rice and add more water or broth, if necessary. Fluff with fork, cover and put back in the oven to cook for approximately 30 more minutes or until the grains of wild rice are tender.
Some of Our Favorite Wild Rice Recipes