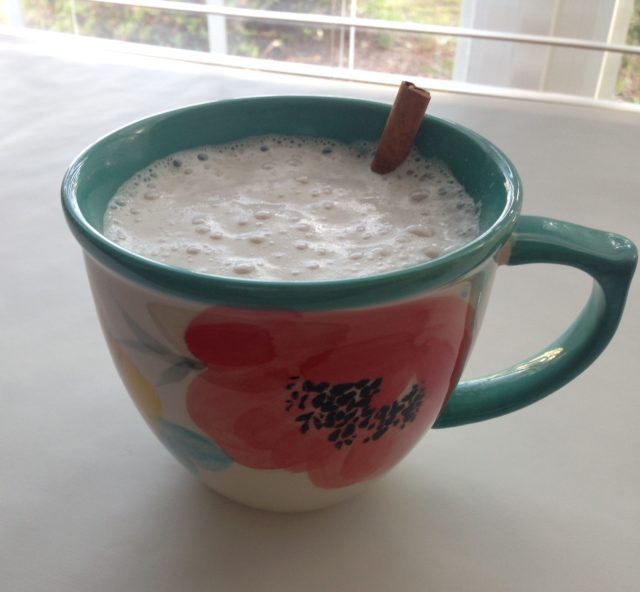 Atole
Atole is a warm beverage that is popular in Mexico and throughout Latin America. It is typically flavored with vanilla and cinnamon and thickened with masa. Traditionally, atole is sweetened with piloncillo, a Mexican brown cone sugar, but dark brown sugar makes an adequate substitute if you can not find the piloncillo. This is one of the easiest Mexican recipes and is perfect for breakfast or to relax at the end of a long day. Try it topped with pureed fruit or stir in a few small pieces of Mexican chocolate.
Ingredients:
1-3/4 c water
3/4 c milk
1/4 c masa (Maseca brand is very popular)
1 cinnamon stick or 1-1/2 tsp ground cinnamon
2-1/2 Tbsp piloncillo (Mexican brown cone sugar)
2 tsp pure vanilla extract
Directions:
In a heavy saucepan add the water and milk; whisk in the masa until the mixture has no lumps.
Add the cinnamon and piloncillo and bring to a boil, stirring constantly. Do not let the mixture scorch.
Let mixture boil for two or three minutes to thicken, stirring constantly.
Remove from heat. Pour through fine sieve. Stir in vanilla.
Serve warm in heavy mugs. Pureed fruit is delicious served on top of the atole or try adding a few small pieces of Mexican chocolate for a special treat.
Preparation time: 5 minute(s)
Cooking time: 10 minute(s)
Number of servings (yield): 2 cups
5 :  ★★★★★ 21 review(s)
Microformatting by hRecipe.
Traditional Mexican Recipe for Atole
Maseca and piloncillo are traditional ingredients used in making atole.
Traditional products for an authentic taste.
Maizena Flavored Atoles, Vanilla, 1.6-Ounce (Pack of 48)

Fecula de Maiz para Preparar. Atole Fortificado. Sabor Vanilla.

Flour made from ground, dried corn. Ideal to make masa harina (dough) for tortillas, sopes and empanadas. Maseca Instant Corn Masa Mix is a product from…

Piloncillo Cone Brown Sugar 8 oz

Piloncillo Cone Brown Sugar 8 oz

Ibarra Mexican Chocolate, 18.6 oz

Ibarra sweet chocolate laced with cinnamon and covered in coarse sugar. A Novamex product. MEXICAN CHOCOLATE Serve your Mexican Chocolate with churros…

Americans have at last discovered Mexico's passion for exciting food. We've fallen in love with the great Mexican combination of rich, earthy flavors…

Le Creuset Stoneware 12-Ounce Mug, Cobalt

Made from the same high quality stoneware as all Le Creuset products its high temperature firing and multi-layer glaze doesn't absorb odors or flavors…
Atole

,