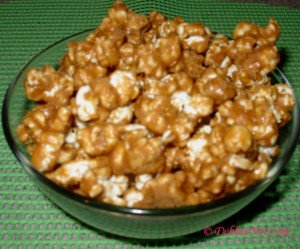 Sweet and Crunchy Caramel Corn
Caramel Corn
This caramel corn recipe is the perfect balance of sweet and crunchy. Once you get started, you won't want to stop!
Ingredients:
1 c butter
2 c packed brown sugar
1 tsp salt
1/2 c light corn syrup
1 tsp baking soda
6 quarts popcorn
Directions:
Preheat oven to 200 F.

Combine butter, brown sugar, salt and corn syrup in a heavy pan. Bring to a boil over medium heat and boil 5 minutes.
Remove from heat; add baking soda and stir until well combined.
Place popcorn in a large roaster pan; pour caramel over popcorn and toss to coat well.
Bake for 1 hour, stirring every 15 minutes.
Let caramel corn cool and store in an airtight container.
Preparation time: 10 minute(s)
Cooking time: 1 hour(s)
5 :  ★★★★★ 1 review(s)
Microformatting by hRecipe.
Caramel Corn

,