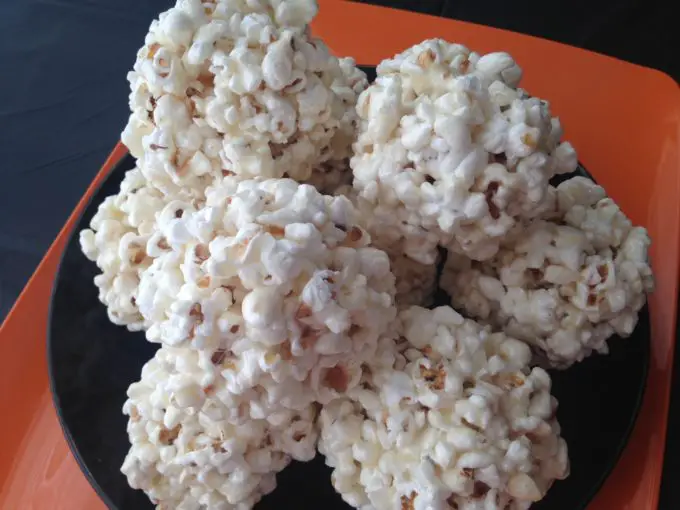 Popcorn Balls
Sweet and crunchy popcorn balls that are just perfect. These do not turn out rock-hard like some popcorn balls; instead, they are a nice crisp, yet tender, combination of sweet and salty. The perfect blend of flavor that will be a hit with everyone.
Ingredients:
5 quarts of popped popcorn, plain or salted
2-3/4 c powdered sugar
1 c marshmallows
3/4 c light corn syrup
1/4 c butter or margerine
2 tsp cold water
2 tsp vanilla extract
Directions:
In a heavy sauce pan combine the powdered sugar, marshmallows, corn syrup, butter and water. Bring to a full boil over medium heat, stirring constantly. Remove from heat and stir in vanilla extract.
Place popcorn in a large bowl. You will need something with plenty of working room, so it will need to be fairly large. Carefully pour hot syrup over popcorn and stir with a wood or heat-resistant plastic spoon. Be very careful, syrup is extremely hot. Be sure all kernels are wll coated.
Butter hands and form popcorn into balls about the size of a baseball. You want to work fast enough that you finish the balls before the syrup cools. These popcorn balls do not set up real stiff, so you will have some fexibility in getting your popcorn balls formed.
Wrap individual popcorn balls in plastic wrap, cellophane or place in zip-lock bags. For a festive touch you can use colored cellophane or plastic wrap; close with a twist tie. Store at room temperature.
Preparation time: 10 minute(s)
Cooking time: 10 minute(s)
5 :  ★★★★★ 236 review(s)
When you make your own popcorn balls, you'll be able to enjoy the yummy goodness of fresh popcorn and candy coating. Store-bought popcorn balls are generally very hard, and don't have much flavor. Make these for holidays (simply tint the glaze before you pour it on the popcorn), enjoy as a snack, or make them for Halloween. Any time of the year is a great time to enjoy these tasty little treats!
Popcorn Balls

,