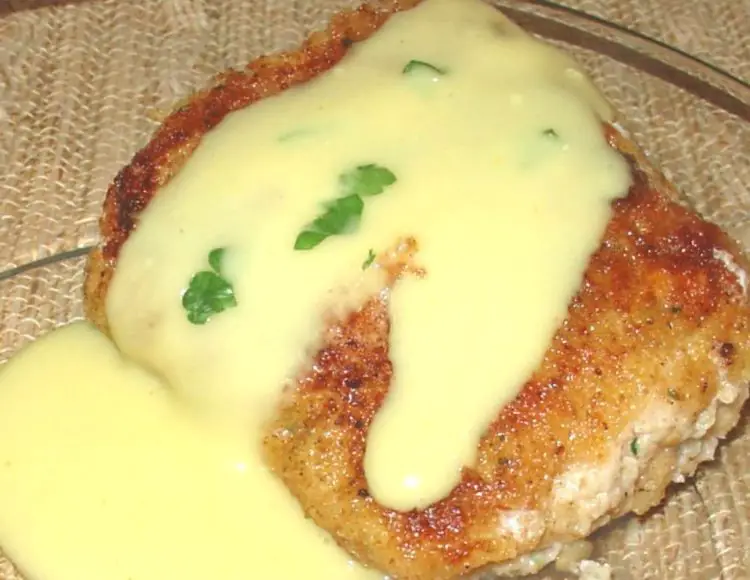 Cod Loin with Hollandaise
The cod loin is the best part of the fillet and this recipe certainly does it justice. Cod recipes, like most fish recipes, are generally quick and easy. The only extra step in this version is the addition of some creamy hollandaise sauce. Trust me, this extra step is definitely worth the effort, so don't skip the sauce – it is the perfect complement to the fish. Cod loin with hollandaise sauce is easy; you can make the hollandaise sauce and keep it warm while you prepare the fish.
Ingredients:
4 cod loins
1 egg, beaten
3/4 cup Italian bread crumbs
1/2 cup flour
2 tsp seasoned salt
2 to 3 Tbsp butter
1 recipe Hollandaise sauce
Directions:
Prepare the hollandaise sauce and keep over warm water in a double boiler until ready to use.
In three separate shallow bowls, place beaten egg, Italian bread crumbs, and flour mixed with the seasoned salt.
Dip fish into the seasoned flour mixture, coating both sides. Follow with a dip in the beaten egg (allow excess egg to run off). Then dip the entire cod loin in the Italian bread crumbs to coat evenly on all sides.
Preheat a large skillet over medium, until pan is hot. Add butter to melt. Gently place cod loins in pan and cook until golden brown, about 3 to 4 minutes per side. Fish should flake easily when done and have an internal temperature of 145° F.
Serve fish immediately and top with hollandaise sauce.
Preparation time: 5 minute(s) – not including the hollandaise sauce
Cooking time: 10 minute(s)
Number of servings (yield): 4
5 :  ★★★★★ 18 review(s)
Notes: Arrange your seasoned flour, egg and bread crumbs to make breading the fish as easy as possible. Try to use one hand for the flour and bread crumbs and the other hand for the egg wash, this will help keep your fingers from getting too messy, and it will make it easier to keep the breading on the fish.
Bread the cod loins and immediately saute in melted butter. If you leave the breading on the fish too long, it will start to get soggy.
Cod Loin with Hollandaise

,