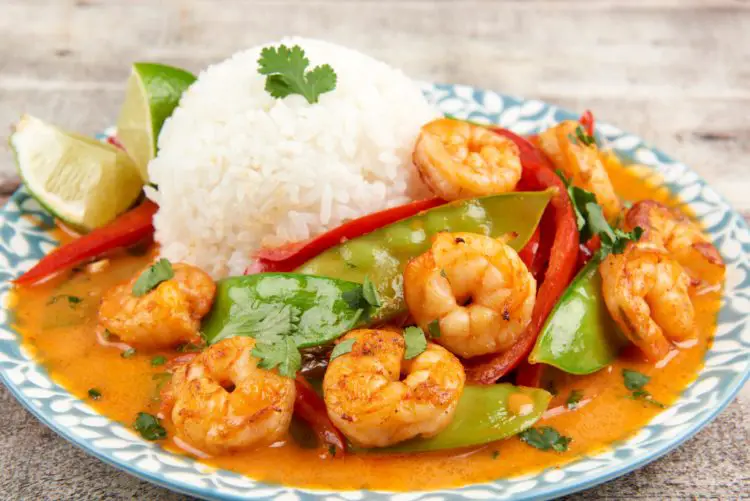 If you love Thai food, this simple Thai Curry Shrimp is an excellent recipe to get you started cooking Thai dishes at home. It's super easy, and it always turns out great. You can easily control the amount of heat by adding more or less of the red curry paste. Like any shrimp stir fry, be sure that you have all of your ingredients prepped ahead of time, so they're ready to add when you need them. Once you start cooking, this dish comes together quickly.


Ingredients:
2 tsp canola or vegetable oil
1/2 cup chopped onion
2 cloves garlic, finely minced
1″ piece of fresh ginger, grated
1/4 to 1/2 tsp red curry paste
1 tsp sugar
12 oz large shrimp, peeled and deveined
1/3 cup coconut milk
2 tsp fish sauce
2 green onions, sliced thinly on the bias
1 Tbsp chopped fresh basil
Directions:
Heat a large skillet over medium-high to high heat. You want the pan to get very hot, but not smoking.
Heat the oil briefly in the hot pan. Add the onion, garlic, ginger, and red curry paste and sauté for one minute, stirring frequently.
Stir in the sugar and sauté for another 15 seconds.
Add shrimp and sauté for about 3 minutes until the shrimp is just cooked through, stirring frequently.
Add the coconut milk and fish sauce and heat through, about 15 to 30 seconds.
Remove from heat and immediately stir in the sliced green onions and chopped basil.
Serve immediately with a side of hot white rice.
Notes: Whenever you are making any type of stir fry dish, it's important to have all of your ingredients prepped and ready to go. A little time prepping ensures great results every time. Additionally, because you can prep ahead of time, you can have everything done the night before, and you'll have dinner on the table in a matter of minutes.
There's plenty of room for flexibility with this dish. If you want to add pea pods or red pepper, simply saute the with the onion and garlic. Other additions, such as baby corn or mushrooms would also be delicious.
Preparation time: 15 minute(s)
Cooking time: 5 minute(s)
Number of servings (yield): 2
5 :  ★★★★★ 38 review(s)
Thai Curry Shrimp

,