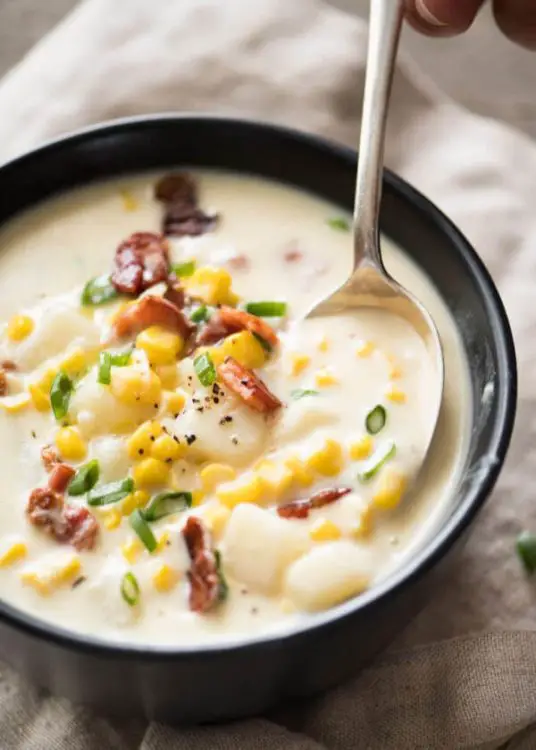 Corn Chowder
A hearty bowl of creamy corn chowder is the perfect way to warm up on those cold winter days. It's loaded with potatoes and corn all combined in a yummy cream base. You'll love how quick and easy it is to make; in fact, it's so simple you can make it for a weeknight dinner or for lunch on the weekend. Just add a tossed salad and some dinner rolls and you'll have a quick and easy meal on the table in almost no time.
Ingredients:
1/2 lb bacon
1 onion, diced
2 cloves garlic, minced
1/4 cup flour
6 cup vegetable stock
1 cup heavy cream
1 cup half-and-half
2 medium potatoes, peeled and diced
2 lbs frozen corn kernels
1 can creamed corn
kosher salt, to taste
ground white pepper, to taste
chopped green onion or chives, for garnish
Directions:
In a large pot, over medium heat, cook the bacon until it's crisp. Drain on paper towels; crumble. Set aside to serve along with the corn soup.
Reserve about 2 Tbsp of the bacon drippings in the bottom of the pot. Heat over medium heat, add the diced onion and cook for about 6 minutes, stir in minced garlic and continue cooking until the onions are translucent and soft; be careful not to overcook the garlic.
Sprinkle flour over the onions and garlic and stir to coat. Cook for 1 minute over medium heat, stirring frequently.
Add vegetable stock and bring to a rapid boil. Add the cream, half-and-half, and diced potatoes; bring back up to a rapid boil and continue boiling for about 8 minutes. Stir frequently.
Add the frozen corn, canned creamed corn, salt and pepper to taste. Simmer 12 to 14 minutes until the corn is tender. Stir occasionally to keep chowder from sticking to the bottom of the pot.
Serve in soup bowls with crumbled bacon sprinkled on top.
Preparation time: 15 minute(s)
Cooking time: 30 minute(s)
Number of servings (yield): 8
5 :  ★★★★★ 78 review(s)
Corn Chowder

,