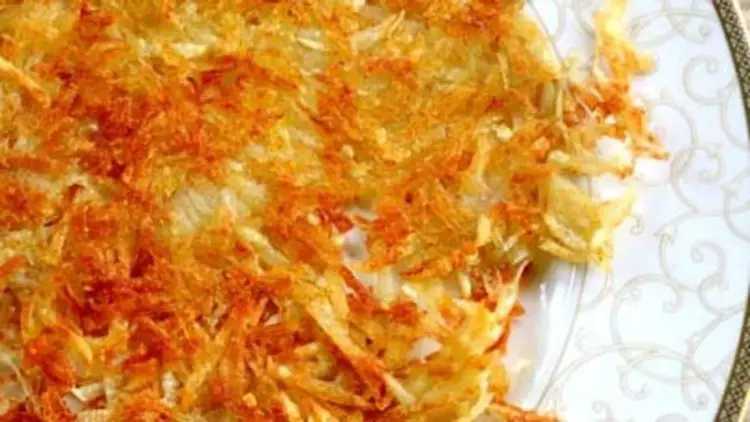 Crispy Hash Browns
The secret to crispy hash browns is to remove the starch, and make sure the potatoes are dry. Follow the simple directions and you'll get wonderfully crispy hash browns every time! I hate hash browns that are soggy, so I have spent a great deal of time perfecting the technique for these crispy potatoes. A little seasoning with salt and pepper is all they need.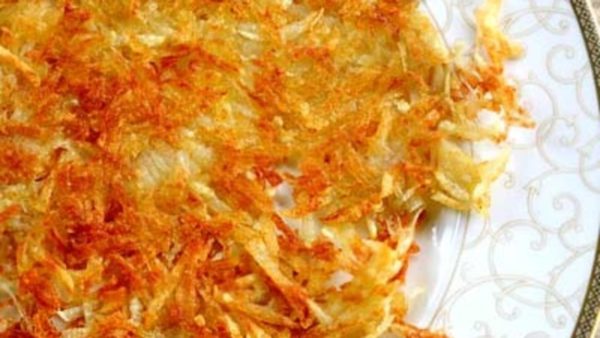 1

lb

Russet baking potatoes

3

Tbsp

canola oil

salt and pepper, to taste
1

lb

Russet baking potatoes

3

Tbsp

canola oil

salt and pepper, to taste
Peel and grate the potatoes. Use a box grater or a food processor fitted with a shredding disc. Place the shredded potatoes in a large bowl of cold water. Swish the potatoes around in the water, then drain. Rinse and drain again. It's important to remove some of the starch so your hash browns don't get gummy and taste like raw potatoes in the middle.

Place the drained potatoes in a large colander. Squeeze out as much water as possible. Toss them around in the colander, and squeeze some more. Really work at removing as much water as you can. Next, lie a couple of clean, lint-free dishcloths on the counter. Put your dried, shredded potatoes on the towels and roll up. Push down on the roll and remove the last little bits of moisture. This really is going to make a big difference!

In a large, non-stick fry pan, heat the oil over medium heat until it begins to shimmer. Add the potatoes and spread into an even layer. Sprinkle with a little salt and pepper. Cook for a few minutes. Lift one side up a little to check for doneness. If the potatoes are nicely golden brown, give them a flip. Cook the other side until it is crispy and golden brown. Serve hot.
Cooking Tip:
Use a wide spatula to turn the potatoes all at once. If you prefer, cut the potatoes into sections and turn each section individually.