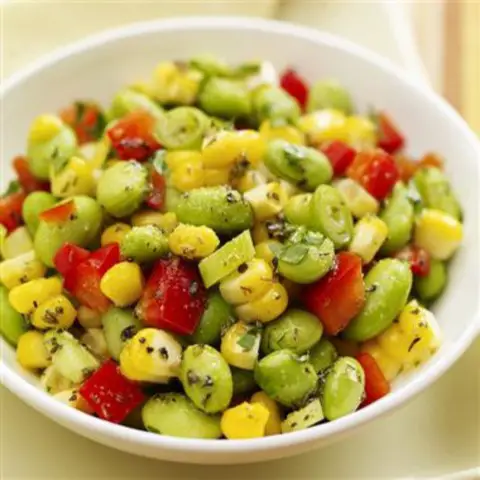 Edamame Salad
This roasted edamame salad is perfect as a side dish or even as a healthy meal all on its own. The edamame, corn and tomatoes are roasted to intensify their flavors, then a little balsamic vinegar is added for a perfect touch. A healthy and nutritious salad the entire family will enjoy.
Ingredients:
12 ounces shelled edamame, fresh or frozen (about 2 cups)
1/2 cup fresh corn kernels (frozen will do when fresh isn't available)
1/4 cup finely diced red onion
2 cloves garlic, finely diced
4 tsp olive oil, divided
1 cup fresh tomatoes, chopped
Kosher salt
Freshly ground black pepper
1/4 cup chopped fresh basil leaves
1/4 cup roughly chopped dried cranberries
1 Tbsp balsamic vinegar
dash cayenne
Directions:
Preheat oven to 400° F.
In a medium bowl combine the edamame, fresh corn kernels, onion, and garlic. Add 1 Tbsp of the olive oil, salt (3/4 tsp) and pepper (1/4 tsp), and toss to thoroughly mix (use your hands and work gently). Spread evenly on sheet pan.
Place tomatoes in a small bowl, drizzle with 1 tsp olive oil and season with salt and pepper. Spread evenly on another sheet pan.
Roast the vegetables in the preheated oven for 10 to 15 minutes, just until the edamame begins to brown.
Place the roasted vegetables in a bowl and refrigerate for at least 30 minutes.
When the roasted vegetables have chilled, add the chopped basil leaves, cranberries, balsamic vinegar and cayenne, toss gently to combine. Again, this works best if you just use your hands to gently lift and turn. You don't want to crush any of the vegetables.
Taste for seasoning and adjust if necessary.
Serve at room temperature or chilled.
Preparation time: 10 minute(s)
Cooking time: 15 minute(s)
Chill time: 30 minute(s)
Number of servings (yield): 4
5 :  ★★★★★ 47 review(s)
How to Make Edamame Salad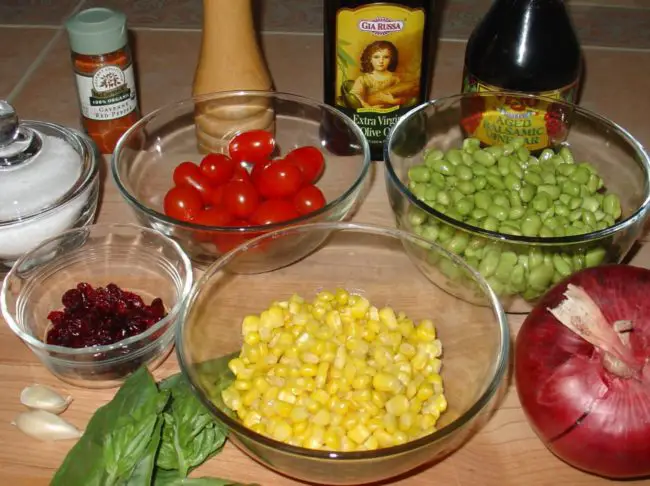 Ingredients for Edamame Salad
Gather all the ingredients. This is a salad, so you want to choose only the freshest ingredients for the best flavor.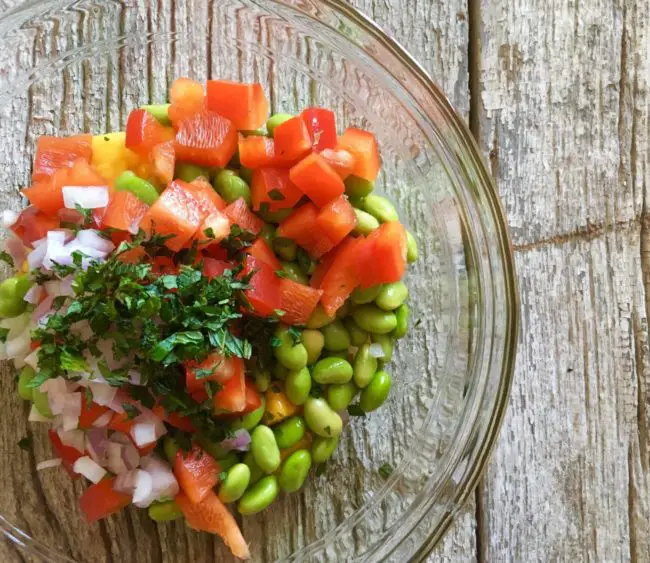 Roast, then cool the vegetables. Toss with the remaining ingredients.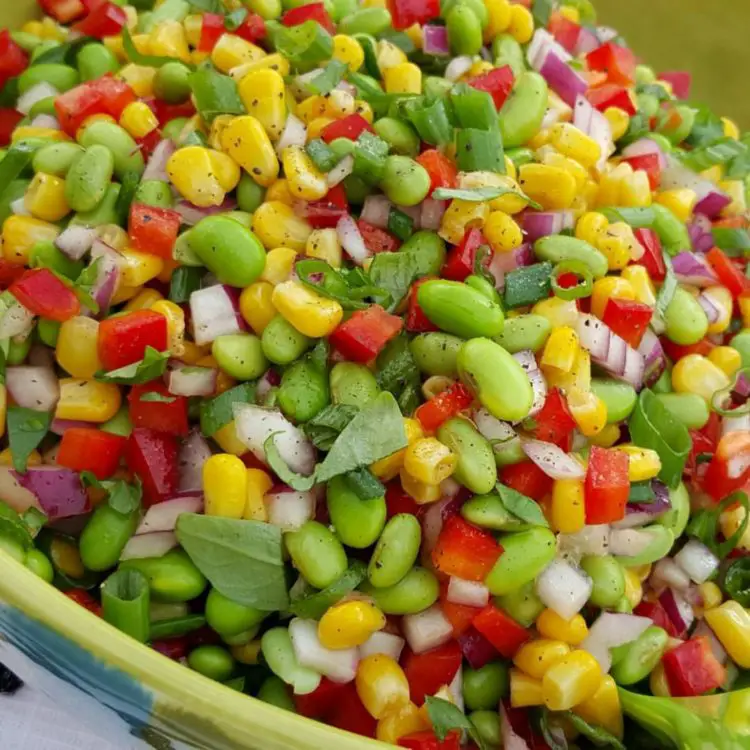 Serve at room temperature or chill before serving.
Edamame Salad

,