Fresh Fruit Kabobs
Recipe: Fresh Fruit Kabobs
Summary: Assorted fresh fruits served on a bamboo skewer with a yogurt dip.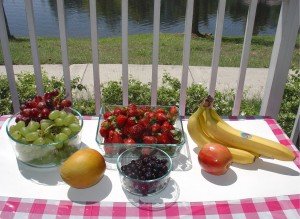 Fresh Fruit   
Ingredients:
 Assorted fresh fruit
Fresh lemon juice or Fruit Fresh*
Bamboo Skewers
Yogurt for dipping, optional 

Directions:
 Prepare fruit into bite size pieces. Apples and bananas may begin turning brown from oxidation; they should be sprinkled with lemon juice or Fruit Fresh. Also, hard fruits such as apples tend to split when skewered, so keep the pieces big enough to accommodate the skewer. Arrange fruit on bamboo skewers in an attractive pattern. Serve with your favorite yogurt for dipping, if desired. 

Quick Notes:
*Fruit Fresh is a powdered ascorbic acid blend that can be sprinkled on fresh produce to prevent browning. It's great for fruit salads, kabobs or fruit platters. 
Cooking time (duration): 10 minutes
Diet (other): Low calorie, Reduced fat, Raw
Meal type: Snack
My rating: 5 Stars:  ★★★★★ 1 review(s)        
Fresh Fruit Kabobs

,