Homemade Fajita Seasoning Mix
Making your own fajita seasoning mix is so easy! You're going to wonder why you ever used those little store-bought packages. With some basic spices that you probably already have in your pantry, you'll be able to make your own delicious homemade fajita seasoning mix. Not only will your own mix taste a whole lot better, but you'll also be able to eliminate all those fillers and ingredients that you can't even pronounce.
Of course, you can use this fajita seasoning mix when you make homemade fajitas; but, it's also great on quesadillas, tacos, and even hamburgers. This homemade seasoning mix can be used to kick up the flavor in many of your family's favorite dishes. For example, one of my family's favorites is Chicken Fajita Pasta; it's amazing, especially when I make it with our own seasoning mix.
Forget the store-bought stuff and avoid the sodium and artificial ingredients. Make up a batch or two of our homemade fajita seasoning mix and you'll have it ready when you need it. Use it to season chicken, beef, or even pasta. Delicious!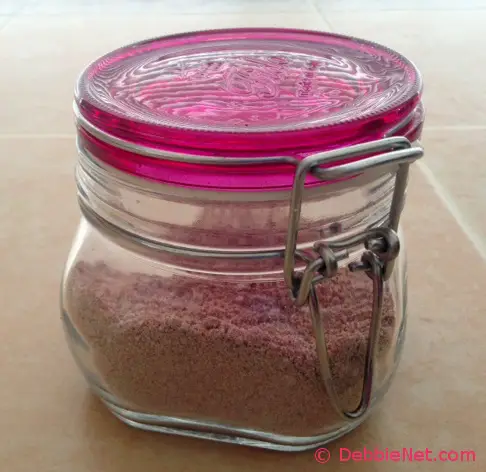 Ingredients:
2 tablespoons cornstarch
1-1/2 tablespoons chili powder
2 teaspoons salt
2 teaspoons paprika
2 teaspoons sugar
1 teaspoon onion powder
1 teaspoon garlic powder
3/4 to 1 teaspoon cayenne pepper (depending on how hot your like your fajitas)
1 teaspoon ground cumin
Instructions:
Mix together the cornstarch, spices and sugar until well combined. Store in an air tight container.

Use to season chicken, beef or pork.
http://debbienet.com/homemade-fajita-seasoning-mix/
Fajita Seasoning Mix
I always make 4 or 5 batches at one time, and store it in an air tight glass container in my pantry. We use this seasoning mix as an easy way to season meat, fish, veggies, and even our yummy breakfast potatoes. It's a handy, versatile seasoning that can help you give your favorite dishes that extra boost of flavor.
I started making my own fajita seasoning because I like to avoid artificial ingredients. It's nice to have this spice mix on hand for fast fajitas. I also like the fact that I can easily control the sodium and heat to suit my family's preferences. A great way to add flavor without going overboard on sodium is to use a variety of spices in your cooking.
I love these Bormioli Rocco square jars. They're almost too pretty to hide in the pantry!
Homemade Fajita Seasoning Mix

,