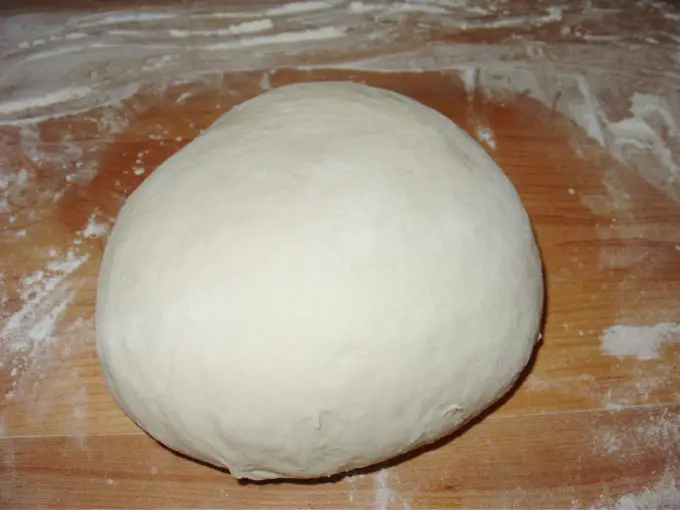 Perfect Homemade Pizza Dough
Friday night is family night at our house and making our own pizzas is one of our favorite weekly traditions. This pizza dough recipe is quick and easy to make, and the results are always perfect. Just remember to use bread flour if you want a nice crispy crust. To make life even easier, this pizza dough can be mixed in a stand mixer.
Ingredients:
1 pkg active dry yeast (.25 oz) or 2-1/4 tsp if you're using yeast from a jar
1 tsp sugar
1-1/2 c warm water (110° F)
3-1/2 to 4 c bread flour
2 tsp kosher salt
2 Tbsp olive oil (plus an additional 2 tsp for the bowl)
Directions:
In a small bowl combine warm water and sugar, stir in yeast and let sit for about 10 minutes, just until it gets slightly foamy.
In the large bowl of an electric mixer combine bread flour and salt. With the mixer running, slowly pour in the proofed yeast mixture and olive oil. Beat until dough pulls away from the sides of the bowl and forms a ball. If the dough seems sticky, add more flour 1 tbsp at a time until the dough comes together in a ball. If the dough is too dry, sprinkle 1 tbsp of water over the dough and mix until a ball forms.
Turn dough out onto a lightly floured board and knead a few times until it is smooth.
In a large bowl, add the remaining 2 tsp of olive oil and coat bottom and sides. Add the dough and turn to coat, flipping the ball of dough over to ensure the top is oiled. Cover bowl loosely with a lightly oiled piece of plastic wrap. Drape with clean kitchen towel and place in a warm, draft-free location for about 1 hour or until doubled in size.
Lightly flour a bread board or clean counter and turn the dough out. Divide into two equal pieces and cover each with a kitchen towel or plastic wrap. Let rest for about 10 minutes.
Makes 2 (14-inch) pizzas
Preparation time: 15 minute(s)
Inactive time: 1 hour(s) 10 minute(s)
Total time: 1 hour(s) 25 minute(s)
5 :  ★★★★★ 21 review(s)
How to Make Pizza Dough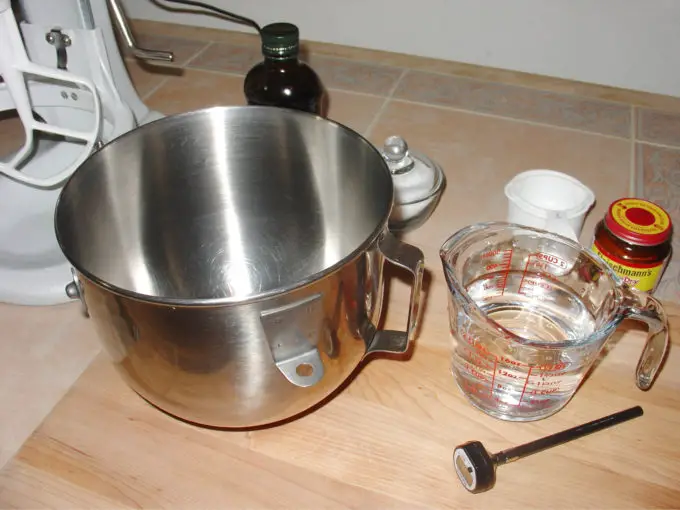 Making great pizza dough is easy, and it requires only a few basic ingredients.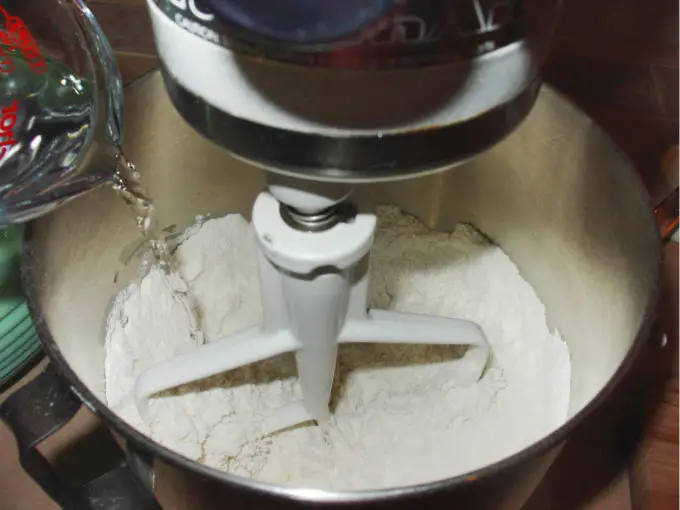 Combine the bread flour and salt in the bowl of an electric mixer. Slowly add the warm water, sugar and yeast mixture (proofed yeast).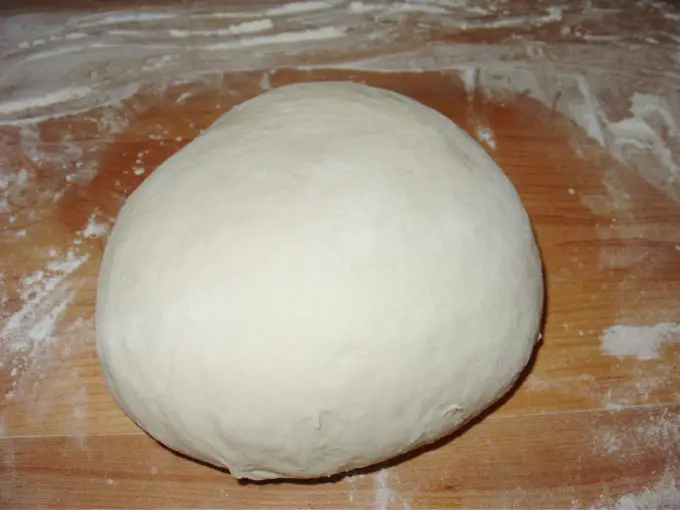 Beat dough until it comes together in a ball. Turn out onto a lightly floured board and knead until the dough is smooth and elastic.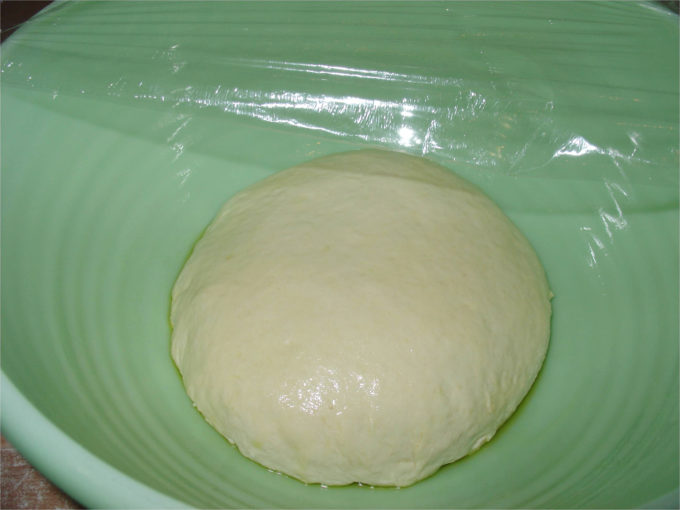 Lightly oil a large bowl with the 2 tsp of olive oil. Place the dough into the bowl and turn to coat. Cover with lightly oiled plastic wrap and drape a clean dish towel over the top. Let the dough rise until doubled in size, about an hour.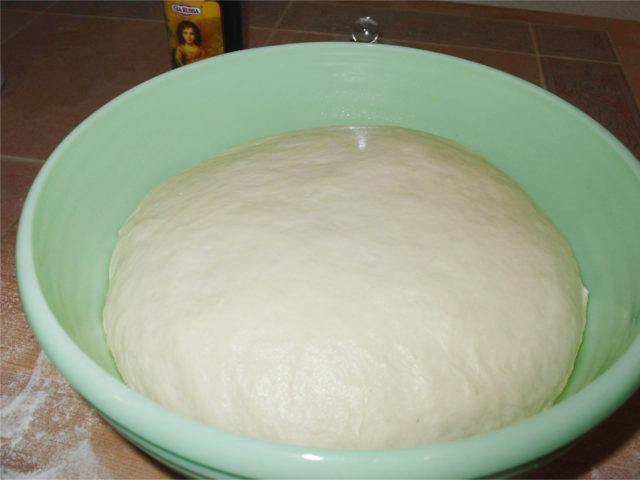 When the dough has doubled in size, turn out onto lightly floured board. Knead a couple of times and divide into two pieces. Cover each piece lightly with plastic wrap, or flip the bowl over to cover them; let sit for about 10 minutes.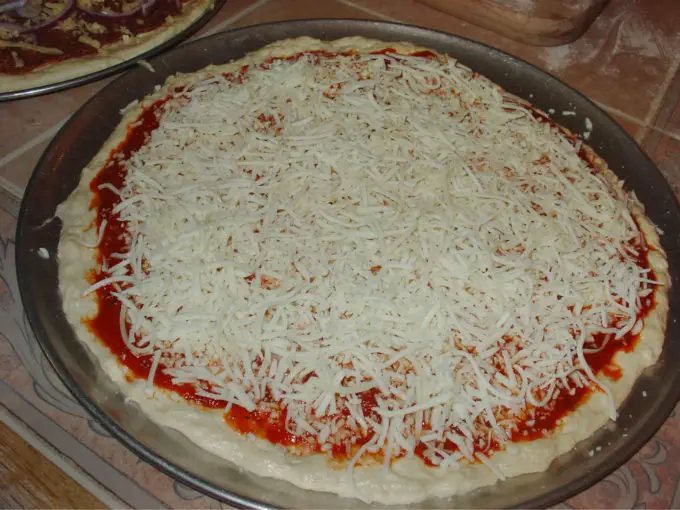 Roll or press each piece of dough into 14″ round. Top with your favorite ingredients and Bake in a 400° F oven for about 15 minutes, until the crust is golden brown and cheese has melted.
Make Your Own Pizza Creations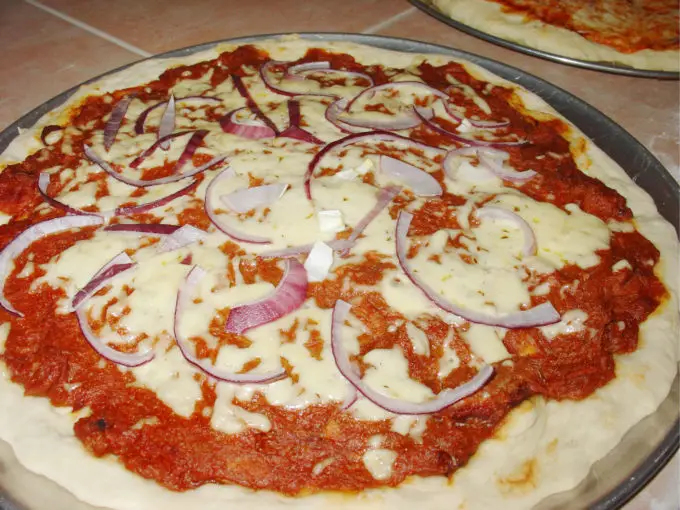 BBQ pizza, top pizza dough with BBQ pulled pork, smoked Gouda cheese, and some sliced red onions.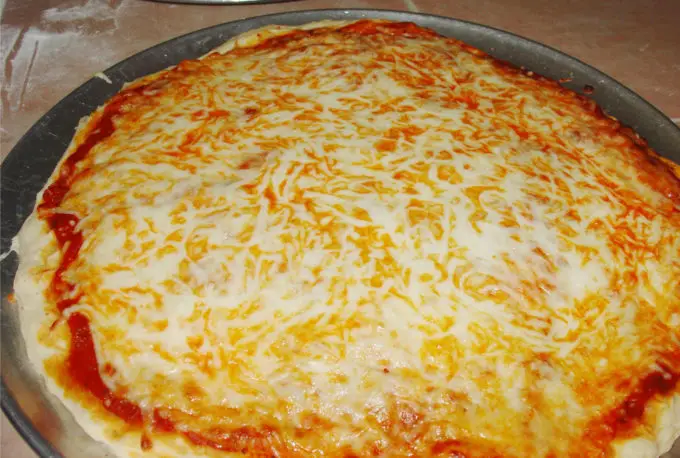 We like to use several types of cheese on our pizza, but you can get as creative or simple as you prefer.
Perfect Pizza Dough

,