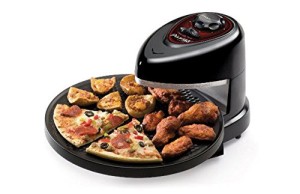 If you make pizzas at home or even if you just warm up leftover takeout pizza, the Presto Pizza Pizzazz is incredible! In fact, this handy little device will cook much more than pizza. Perfectly reheat potato skins, chicken wings and many other items. No need to worry about them getting soggy, they'll be hot, crisp and delicious in a matter of minutes.
You can also bake frozen chicken nuggets, cookies, fish fillets, egg rolls and so much more! I've got 2 teenage boys and 3 pre-teens, and this is the perfect solution for all their snacking! Frozen pizzas turn out wonderful as do pizza rolls, nuggets and even hot dogs and snacks. Best of all, it's so easy to use, the kids pretty much take care of it on their own.
I'm not one to go for a lot of gadgets, especially if it simply replicates something I can do in my own oven, but this is really one little device I wouldn't want to do without. I got my Pizza Pizzazz as a gift from my sister-in-law, it's up there with one of the best gifts I've ever received. Seriously! My kids want to take it on vacation with us!
There are a number of advantages to using the Pizza Pizzazz over your home oven. Some great features:
Rotating tray turns continuously to assure even baking.

Top and bottom heating elements bake foods from both sides. Heating elements are separately controlled, allowing you to select top, bottom, or both elements for perfect results every time.

Timer signals end of cooking time and automatically turns off heating elements.

Saves as much as 60% in energy compared to a conventional oven.

Removable nonstick baking pan is easy to clean and store.
Review –
This 1,235-watt countertop oven makes pizza in about half the time required by a conventional oven. You don't need to preheat it–it begins rotating and baking the moment you plug it in. There are independently controlled top and bottom heating elements, so all types (frozen or fresh) and sizes (7 to 12 inches) of pizza can be custom baked. With a rising-crust pizza, for example, you should run the lower heating element for 10-12 minutes before turning on the top element. For a crisper crust, bake the pizza with both heating elements, then finish it off with a few minutes of bottom-only heating. For extra cooking time on your toppings, leave the top element on a little longer. A timer with automatic shutoff lets you set cooking times precisely, and a cooking-time guide for various pizza types is printed on the pizza maker. For safety, the appliance shuts off automatically if it overheats. With the 13-1/4-inch-diameter baking pan in place, the pizza maker is 13-1/4 inches wide, 9-1/2 inches high, and 17-1/2 inches deep. (The baking pan can be removed for more compact storage.) It carries a two-year warranty against defects.