When I was growing up I always loved spending time with my grandma. And like any good Swedish grandma, she liked to feed me. I remember spending winter mornings in front of the fireplace with these puffed pancakes baking in the oven. The smell was delicious and the fire was so cozy I could have stayed there forever.       
Grandma has been gone from us for many years, but her memory and many of her delicious recipes live on. Here's one that has become a family favorite for my kids.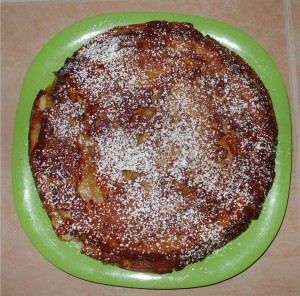 Puffed Swedish Pancake
Makes 6 Servings      
You need a heavy oven-proof skillet for these puffed pancakes. Just like my grandmother, I use a heavy cast iron skillet, but any heavy pan should work.     
Ingredients:
Apple Topping:     
2 apples, peeled, cored and thinly sliced (I prefer Braeburn or Roma, but any good cooking apple works nicely)   
1/3 cup sugar   
1 T butter   
1 tsp. fresh lemon juice   
Dash salt   
Pancake: 
1 cup flour
2 T sugar
¾ tsp salt
2 cups milk
3 eggs       
Toppings: 
Confectioner's sugar
Whipped cream       
Directions:    
Preheat oven to 375 ° F.        
Cook the apples in your cast iron skillet with the sugar, butter lemon juice and salt until they have softened and most of the liquid has evaporated.       
 
While the apples are cooking prepare the pancake batter:  
1. Sift the flour, sugar and salt together into a large bowl.  2. In a small bowl whisk together the milk and eggs. 3. Pour the egg mixture into the flour mixture and whisk until smooth.    
When the apples are finished cooking, pour the pancake batter directly over the hot apples being careful to completely cover. Place the skillet into the preheated oven and bake for about 30 minutes until puffed and golden.    
Remove the puffed pancake from the oven and invert onto a serving platter*. Sprinkle with confectioner's sugar. Cut into wedges to serve and top with whipped cream.      
* To invert the pancake: place the serving platter upside down on top of the cast iron skillet. Using heavy hot pan holders grab opposite sides of the pan holding the platter tightly over the pancake. Quickly turn everything upside down and lift the skillet off slowly, using a table knife to loosen any spot that might be sticking a little.       
Variations:
You can also make this using bacon instead of apples. Place a tablespoon of bacon drippings in the bottom of the pan, heat over medium-high and add crumbled bacon pieces. Pour pancake batter over the bacon and bake in preheated oven for 30 minutes or until puffed and golden brown.
Puffed Swedish Pancake

,