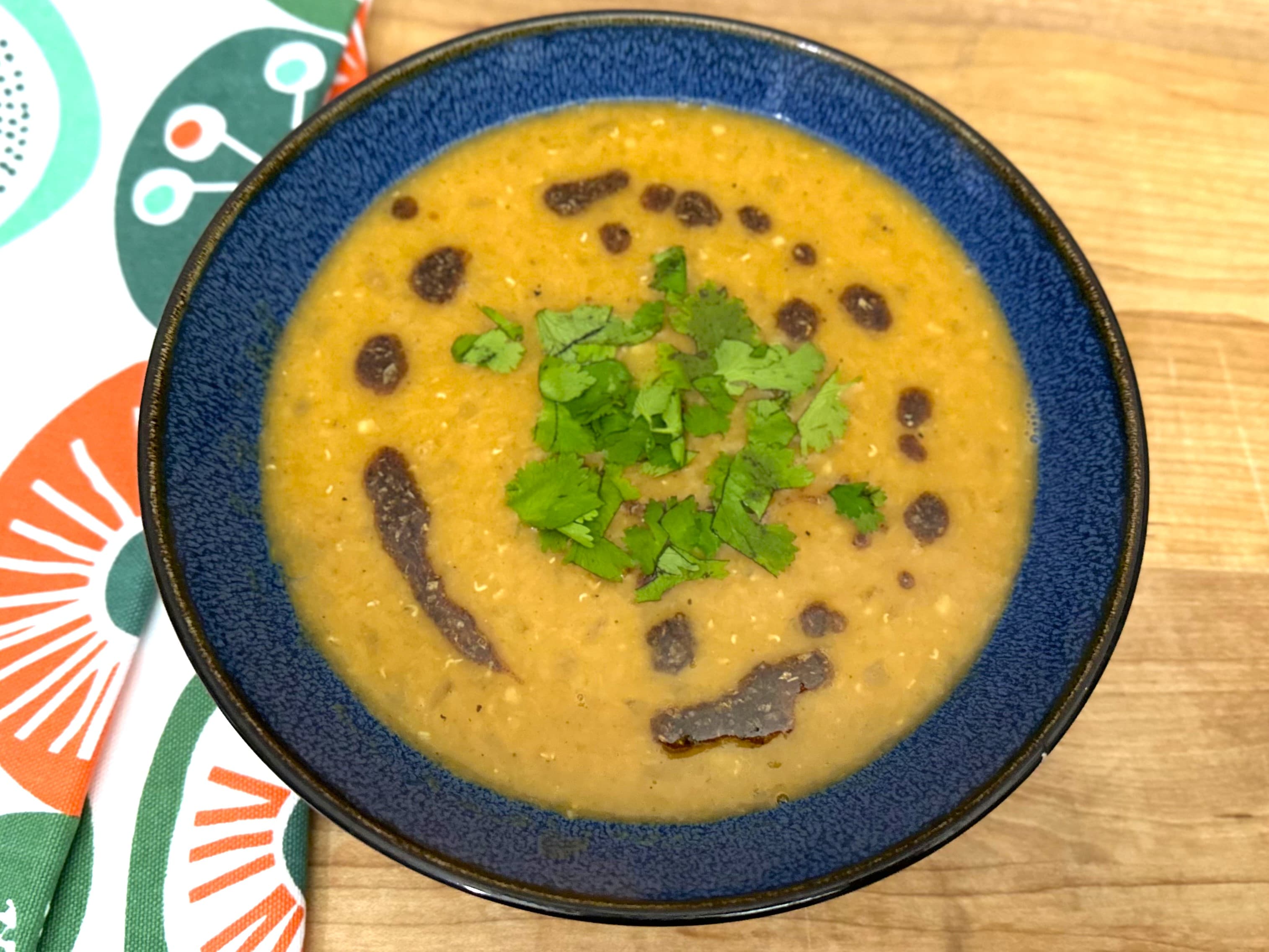 When you make a purchase through our links, we may earn a commission from Amazon. For more information about our affiliate policy click here.
Red Lentil Soup
I love this Red Lentil Soup served with a salad. It's my perfect lunch or dinner. Of course, those who know me also know that I like to kick it up with a bit of heat, but you definitely can keep it as mild as you like. The red lentils have a mild, sweet flavor and cook up very quickly. They also break down giving the soup a nice, thickened texture.
What You'll Need to Make Red Lentil Soup:
butter
onion
salt
black pepper
coriander
cumin
ginger
cinnamon
cayenne
tomato paste
garlic
chicken broth
water
red lentils
freshly squeezed lemon juice
harissa paste, optional
fresh cilantro for the garnish
dried mint
paprika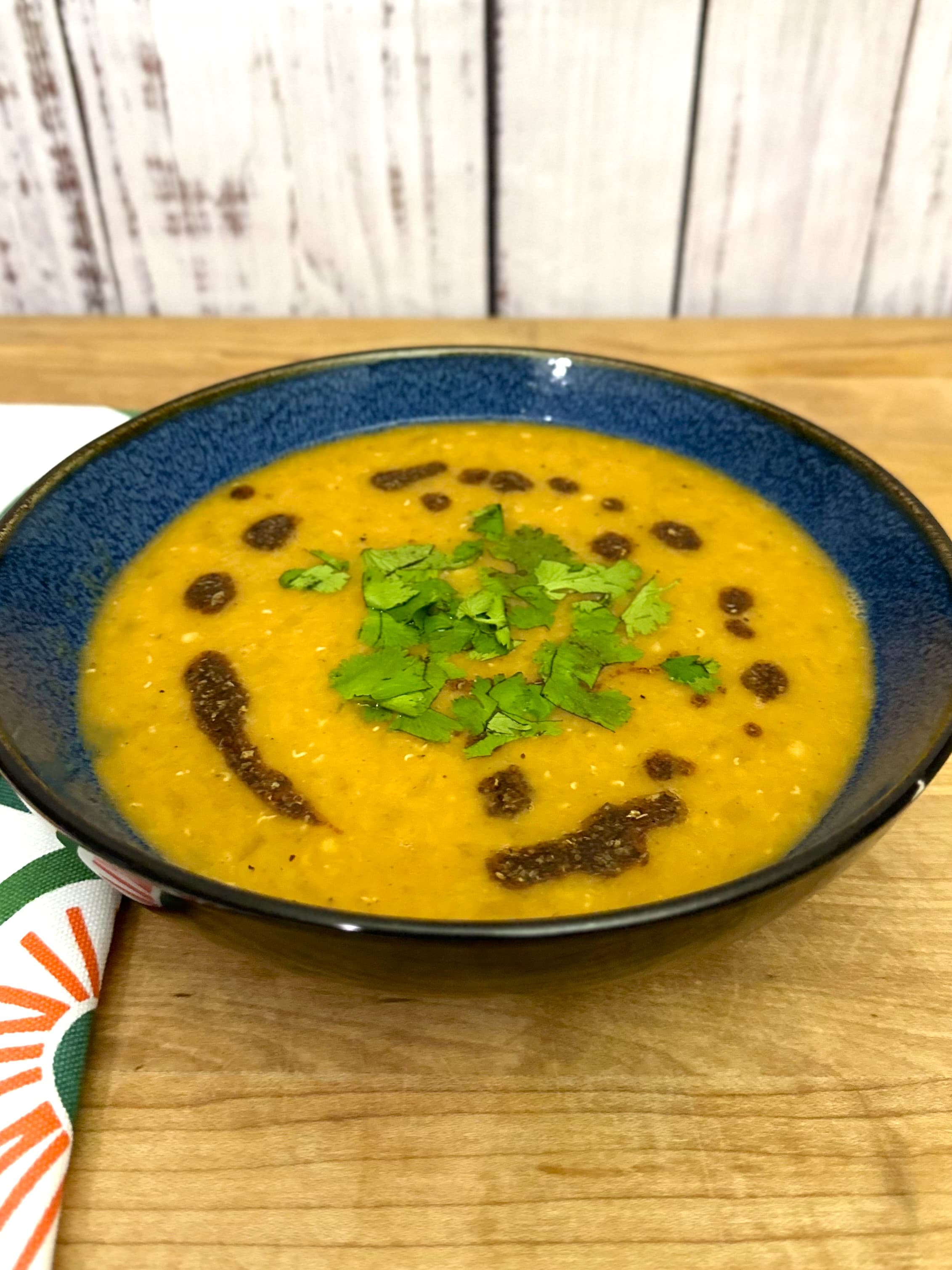 Health Benefits of Lentils
If you're not already eating lentils, you might want to reconsider giving them a try. They can provide a number of excellent health benefits, such as reducing your risk of heart disease, cancer, obesity, and chronic diseases like diabetes. It's easy to incorporate lentils into your diet when you enjoy dishes like this yummy Red Lentil Soup.
How to Make Red Lentil Soup Vegan or Vegetarian
Whether you're vegan or vegetarian, it's very easy to make this Red Lentil Soup meet your dietary preferences. For example, instead of using the chicken broth, simply substitute your favorite vegetable broth. When cooking the onions, substitute olive oil, avocado oil, or sunflower oil for the butter. And, when switching up ingredients for the spiced butter drizzle, use a neutral oil or vegan butter thinned with a little oil. It's that simple!
What is Harissa Paste?
If you've never used harissa paste (paid link), you're in for a very special treat and this Red Lentil Soup is the perfect way to sample its wonderful flavor. Harissa paste is a condiment used in a lot of North African cooking and it adds a very unique, complex flavor as well as some heat.
Harissa paste is a blend of roasted red peppers, garlic, cumin, coriander, olive oil, and a variety of other herbs and spices. I like to add harissa to this soup as well as other soups and stews. It's also great in a dipping sauce, marinade, and so much more. Try it, you'll be using it on everything!
A word of caution: harissa paste can be a bit spicy for some, so add a little, taste, then decide if you want to add more. It's always easier to add more than to face a soup that your family won't eat. In fact, you might want to just serve the harissa on the side and let everyone add to their own preference.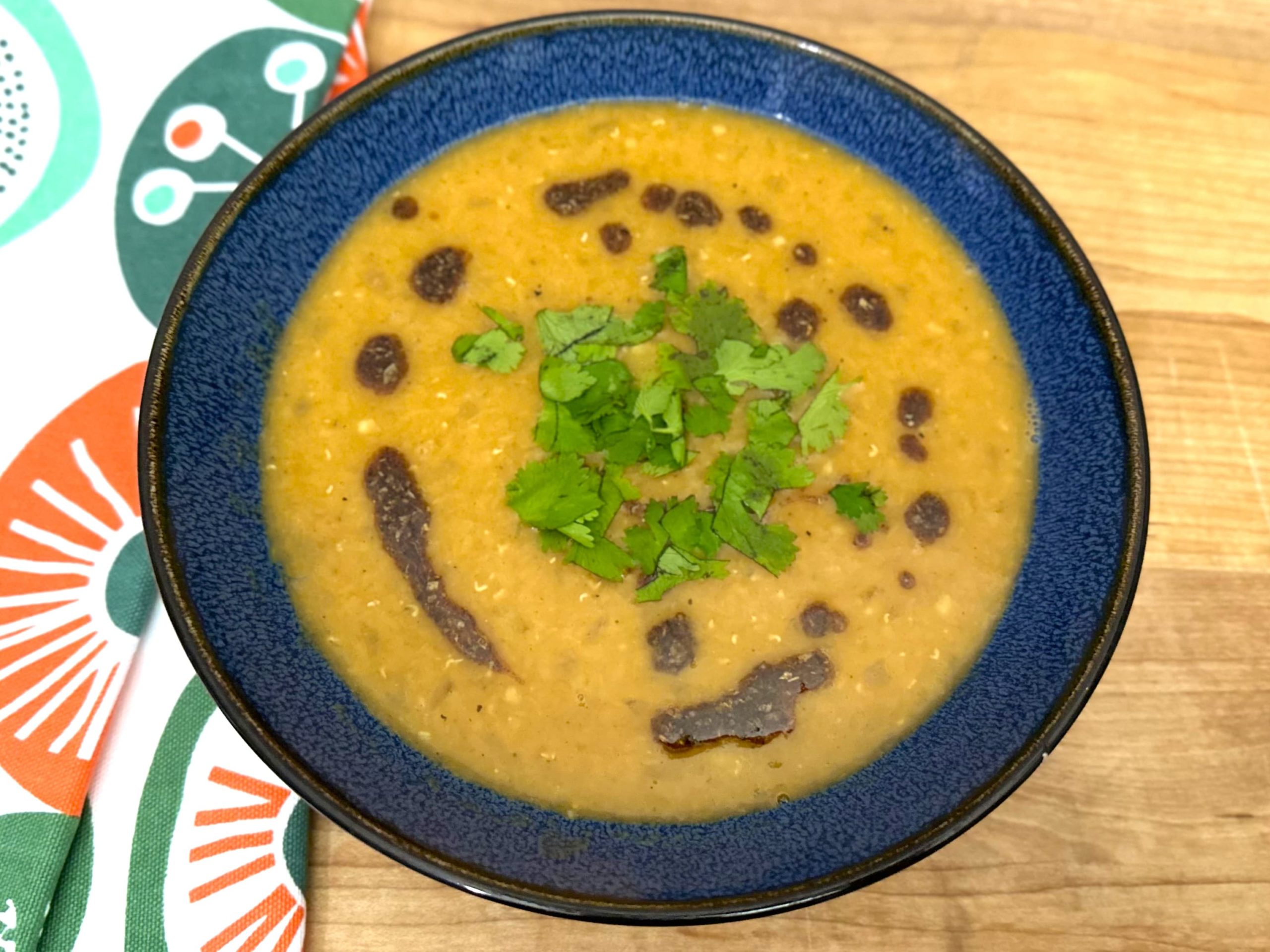 Ingredients
2

Tbsp.

butter

,

unsalted

1

onion

,

minced

1

tsp.

salt

1/4

tsp.

black pepper

,

ground

3/4

tsp.

coriander

,

ground

3/4

tsp.

cumin

,

ground

1/2

tsp.

ginger

,

ground

1/8

tsp.

cinnamon

,

ground

1/8

tsp.

cayenne

1

Tbsp.

tomato paste

2

cloves

garlic

,

minced

4

cups

chicken broth

2

cups

water

1-1/2

cups

red lentils

2

Tbsp.

lemon juice

,

freshly squeezed

harissa paste

,

to taste, optional

1/4

cup

cilantro

,

fresh, roughly chopped, for garnish
Spiced Butter Drizzle
2

Tbsp.

butter

,

unsalted

1-1/2

tsp.

mint

,

dried

1

tsp.

paprika
Directions
In a Dutch oven or large skillet, over medium heat, melt butter. Add minced onion and salt, cook about 5 minutes until onions are softened, but not browned.

Stir in the black pepper, coriander, cumin, ginger, cinnamon, and cayenne. Cook and stir for about 2 minutes to bloom the spices.

Stir in tomato paste and minced garlic. Cook for 1 minute, stirring frequently.

Add chicken broth, water, and lentils; heat to rapid simmer, stirring frequently. Simmer about 15 minutes, until lentils are soft and starting to break down; continue stirring frequently. Stir in lemon juice.

Whisk soup with a wire whisk to break down lentils and create a thicker soup. There will still be some lentils and small pieces that will give the soup texture.
Spiced Butter Drizzle
Melt 2 tablespoons unsalted butter in a small saucepan. Take off heat. Stir in dried mint and paprika.
To serve:
Top soup with a drizzle of the spiced butter and some chopped cilantro.
Some of Our Favorite Recipes