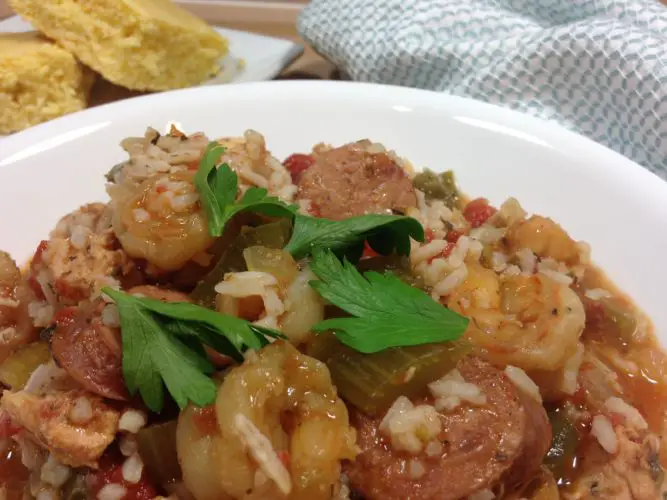 Easy Slow Cooker Jambalaya
This slow cooker jambalaya comes together quickly; then it's just a matter of letting the slow cooker do its magic. Authentic flavor with the bonus of slow cooker convenience. This is a dish that you'll come back to time after time. It's definitely a family favorite in our house!
The Best Slow Cooker Jambalaya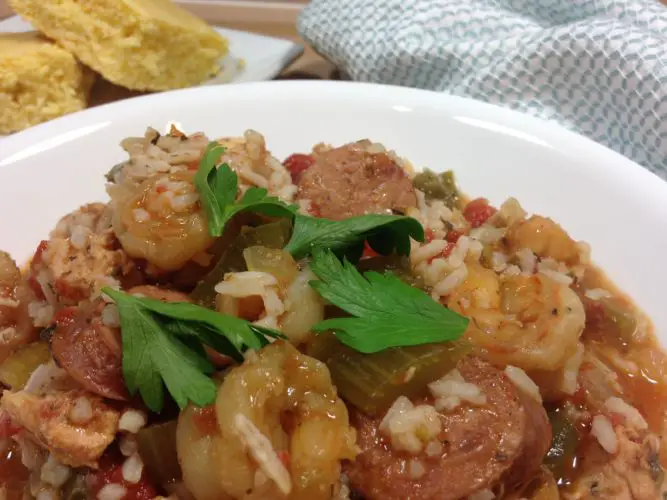 Amazing Slow Cooker Jambalaya is easy to make and takes most of the work out of preparing this flavorful dish.
Ingredients:
1 pound boneless, skinless, chicken breasts - cut into 1 inch pieces
1 pound andouille sausage, sliced - about 1/2" thick
1 - 28 ounce can diced tomatoes (with juice)
1 large onion, chopped
1 large green bell pepper, chopped
1 cup celery, chopped
1 cup chicken broth
2 teaspoons dried oregano
2 teaspoons dried parsley
2 teaspoons Cajun seasoning
1/2 teaspoon dried thyme
1/2 teaspoon cayenne pepper
1 pound frozen, shrimp - peeled, deveined, and cooked
Instructions:
In a slow cooker, add the chicken, diced tomatoes with juice, onion, green pepper, celery, and chicken broth. Stir in the oregano, dried parsley, Cajun seasoning, thyme, and cayenne pepper. Stir to combine. Cover slow cooker and cook on Low 7 to 8 hours, or on High 3 to 4 hours. Cook shrimp and stir into jambalaya during the last 30 minutes of cooking time.
Stir in cooked white rice during the last few minutes or serve the rice in a bowl and top with the Slow Cooker Jambalaya.
http://debbienet.com/best-slow-cooker-jambalaya/
Notes:
I use a traditional Andouille sausage, but you can substitute just about any sausage you like.
Andouille sausage adds a bit of heat, so I usually use 1/2 teaspoon of cayenne pepper. If you're substituting another type of sausage, or you like your Jambalaya with a bit more heat, simply increase the cayenne pepper to 1 teaspoon.
How to Make Amazing Slow Cooker Jambalaya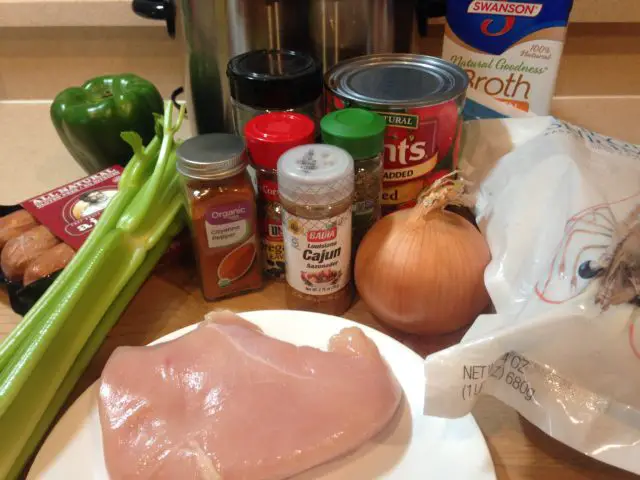 Assemble the ingredients for this easy Slow Cooker Jambalaya.
Gather the ingredients. Cut the chicken into bite size pieces, about 1″ x 1″. If you prefer, you can use chicken thighs rather than the boneless, skinless chicken breasts. Next, put everything except the shrimp into the slow cooker. Stir gently to combine. Cook 7 – 8 hours on Low or 3 – 4 hours on High.
If you're using precooked, frozen shrimp, you can add them during the last 30 minutes of cooking. If you're cooking your own shrimp, defrost, peel and devein the shrimp, then rinse and pat dry. Season the shrimp with Old Bay or a little Cajun seasoning. Heat 1/2 tablespoon of olive oil and 1/2 tablespoon of butter in a skillet over medium heat. Add the shrimp and cook about 2 minutes on each side. Stir the shrimp into the Slow Cooker Jambalaya during the last 15 minutes or so of the cooking time.
The Jambalaya will have a flavorful broth. Usually Jambalaya has rice in it, which will certainly help to absorb much of the liquid. You definitely want to serve this Jambalaya with white rice! You can either stir the rice into your gumbo during the last few minutes of cooking or serve the rice in a bowl, and top it with the Jambalaya. Delicious!
The Best Slow Cooker Jambalaya

,