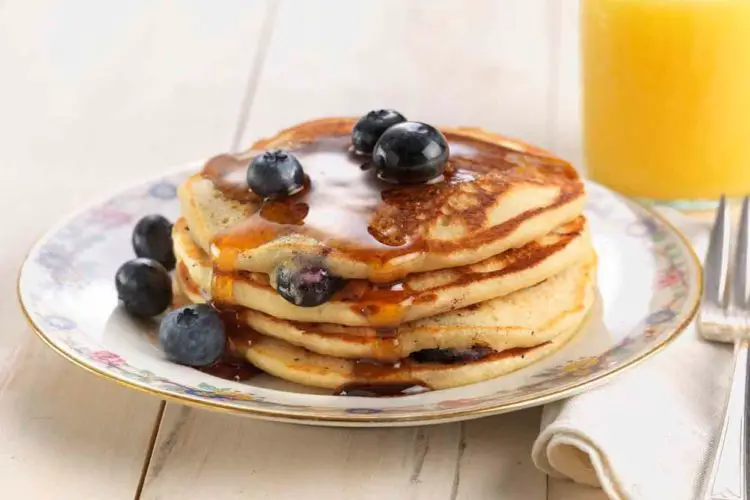 Blueberry Pancakes
When blueberry season rolls around, we've been known to have these luscious pancakes several times each week. But, that doesn't mean we only get to enjoy them for a couple of short months, because we do like any good blueberry lover would do — we stock up! Yep, we freeze blueberries by the buckets. We love them in cobbler, jam, muffins, and, of course, these yummy blueberry pancakes. So, even if it's not blueberry season or you don't have access to pick your own blueberries, you can make these beautiful pancakes using frozen berries. Don't worry, they're every bit as good as the pancakes made from fresh berries! If you're a huge blueberry fan (like me), you might even want to serve them with a warm blueberry compote on top. Remember, blueberries are a superfood, don't be afraid to indulge!
Ingredients:
1-1/4 cup flour
1 Tbsp baking powder
1 Tbsp sugar
1/2 tsp salt
1 egg
1 cup milk
1 Tbsp butter, melted
1 cup fresh blueberries or frozen blueberries, thawed
Directions:
Sift together the flour, baking powder, sugar, and salt into a large bowl. Beat the egg and milk together in a small bowl. Stir the milk and egg mixture into the flour mixture; then, stir in the melted butter. Gently fold in the blueberries. Set the mixture aside for one hour to rest.
Lightly oil a heavy frying pan or griddle and warm it over medium-high heat. For each pancake, pour approximately 1/4 cup of the batter into the hot pan or griddle. When the top of the pancake is covered with small bubbles over most of its surface and its just about completely set, gently flip it over. Pancakes should be lightly browned on both sides. Serve hot with butter, syrup or blueberry compote.
Preparation time: 10 minute(s)
Inactive time: 60 minute(s)
Cooking time: 10 minute(s)
Number of servings (yield): 6
5 :  ★★★★★ 83 review(s)
Blueberry Pancakes

,