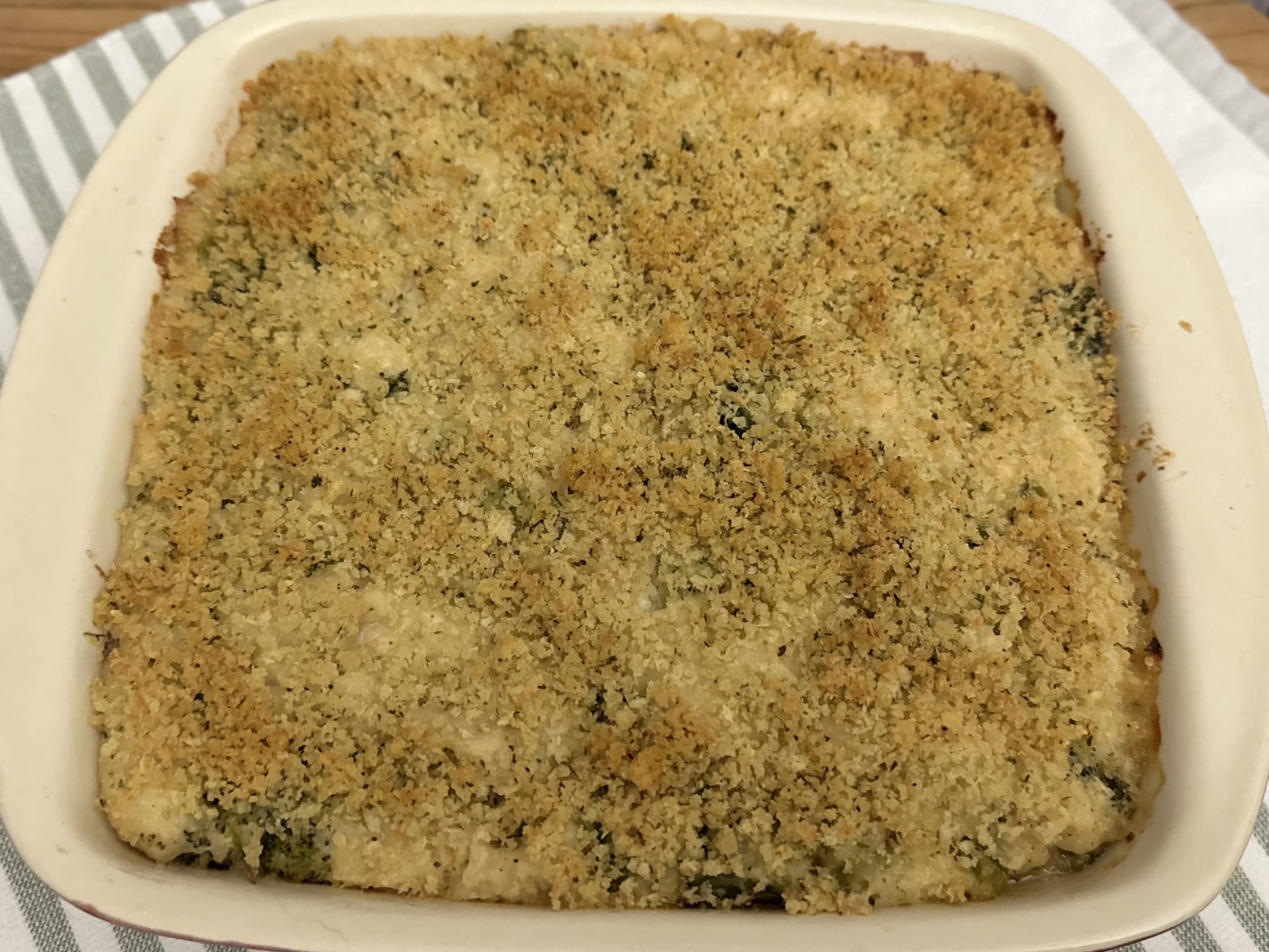 Chicken Broccoli Rice Casserole
When you want a no-fuss, easy dish to get on the table, this Chicken Broccoli Rice Casserole is perfect. The whole family will love it, and best of all, it takes very little effort. A delicious dinner that offers comfort food at its best.
This dish can easily be made in a Dutch oven or other dish that can be used on the stovetop as well as in the oven. I really like to serve this casserole in a 9″ square casserole dish. I think it makes a wonderful presentation. The only down-side is that most casserole dishes don't come with an oven-proof cover. So even though this recipe for Chicken Broccoli Rice Casserole calls for the dish to be covered when you first put it in the oven, a piece of aluminum foil does the trick just fine.
If your casserole dish is ceramic or not for use on the stove-top, simply cook the onions and garlic on the stove with a small sauté pan, then transfer to your preferred casserole dish and continue with the recipe.
What are Chicken Cutlets?
This Chicken Broccoli Rice Casserole uses boneless, skinless, chicken cutlets which are simply chicken breasts that have been sliced in half horizontally so they are much thinner than a whole breast. The cutlets are often pounded with a meat mallet to make them even thinner and will also ensure they have an even thickness.
The advantage of using a chicken cutlet is that it cooks much faster than a whole chicken breast. For example, in this recipe, if you used a whole chicken breast, it would never cook in the amount of time listed in the recipe and your rice would likely be dry and overcooked if you left it in the oven until the chicken was cooked through. Just stick with the cutlets and you'll be enjoying juicy chicken in no time!
Tips for Chicken Broccoli Rice Casserole
Use Chicken Cutlets or cut chicken into 1″ chunks before adding to the rice mixture.
Season chicken with salt & pepper or season salt.
If you like mushrooms, sauté 8 ounces of sliced mushrooms with the onion and garlic mixture.
Blanch the broccoli if you're using larger pieces or you don't like any bite or resistance in your broccoli. The broccoli florets will cook in the rice mixture for about 20 minutes.
I like to use fancy shredded cheese, it's finer than just plain shredded and it is super easy to stir in and melts quickly.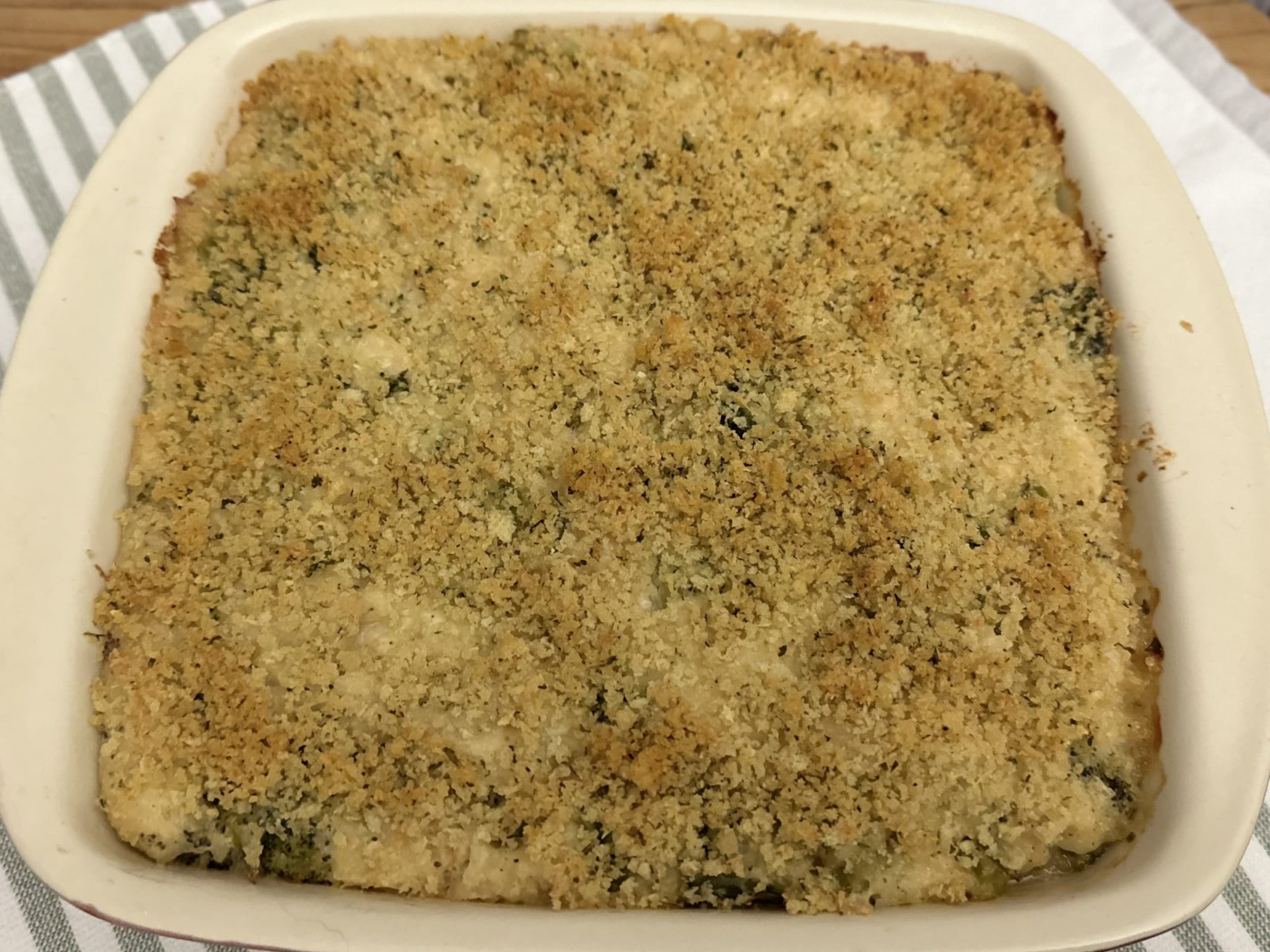 Ingredients
1

lb.

chicken cutlets

,

boneless, skinless

salt & pepper

,

to season chicken cutlets

3

Tbsp.

olive oil

1

onion

,

yellow, diced

2

cloves

garlic

,

minced

1

cup

rice

,

white, long-gain

2

cups

chicken broth

1

cup

half-and-half

1/2

tsp.

dry mustard

1/4

tsp.

cayenne pepper

1

head

broccoli

,

trimmed and cut into bite size florets

8

oz.

shredded cheese

,

Mexican blend or Cheddar

1/2

cup

Panko bread crumbs

2

Tbsp.

Parmesan cheese

,

finely grated
Directions
Preheat Oven to 350° F.
Season both sides of the chicken cutlets with salt and pepper.

Over medium heat, in a Dutch oven or oven-proof skillet, add 1 Tbsp. of olive oil. When the oil begins to shimmer, add the onion; cook stirring occasionally until it begins to soften. Stir in minced garlic and cook until aromatic; do not let the garlic brown.

Add rice to the onion garlic mixture and stir to coat. Stir in the chicken broth, half-and-half, 1/2 tsp. salt (or a bit more to taste), dry mustard, and cayenne pepper. Cover and cook in preheated oven for 20 minutes.

Remove rice from oven; stir. Add the broccoli, and cheese; stir until cheese is melted and evenly distributed. Add chicken cutlets and stir. Smooth top as evenly as possible.

Combine the Panko bread crumbs and remaining 2 Tbsp. of olive oil; stir in Parmesan cheese. Sprinkle mixture over the top of the casserole. Put back in the oven (uncovered) and bake until bubbly, rice is tender, and top is golden brown; about 20 minutes.

For a crunchier topping, broil for 2 – 5 minutes. Cool 5 minutes before serving.
Some of Our Other Favorite Recipes: