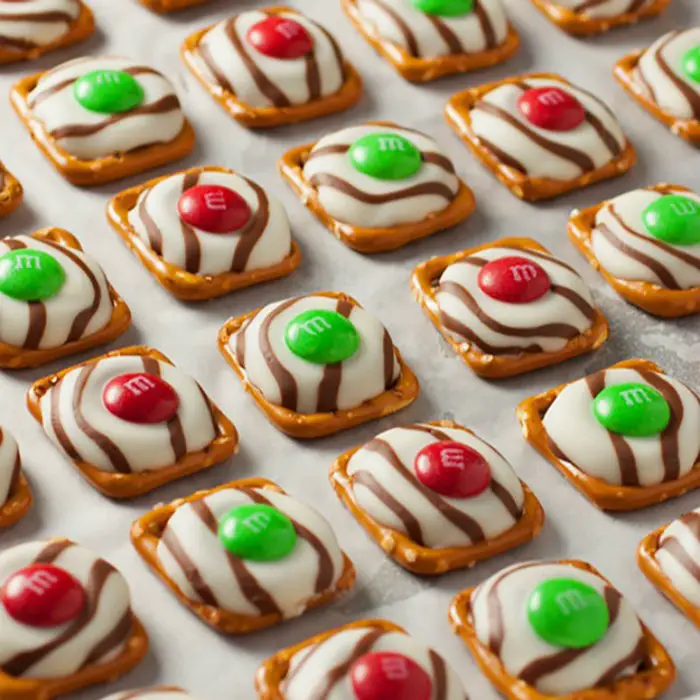 Christmas Pretzel Hugs
These adorable Christmas Pretzel Hugs are as quick and easy to make as they are beautiful. They'll look perfect on your holiday table or wrap them up for a wonderful gift for someone special. During the holidays there's always something that seems to pop up at the last minute. These little treats are the perfect solution. Of course, the Christmas season is the perfect time to get in the kitchen with the kids. They'll love helping to make these yummy little treats.
A little sweet with a hint of salty makes these adorable Christmas Pretzel Hugs almost addictive. This quick little treat will also look beautiful on any holiday cookie platter. They're incredibly quick and easy to make. A perfect project to do with the little ones!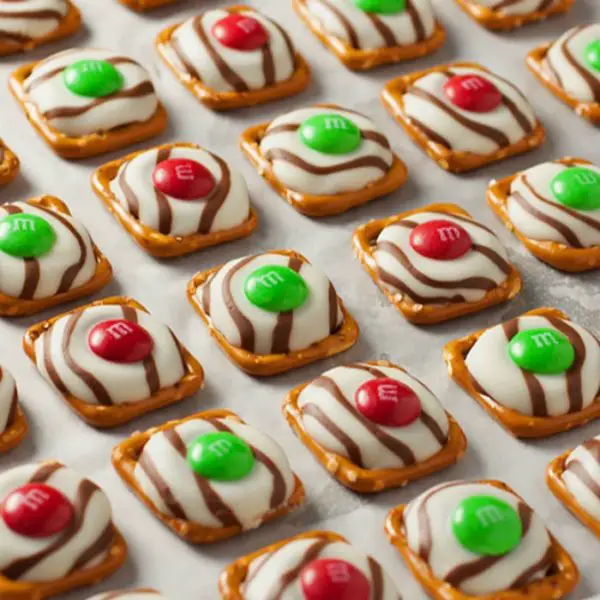 1

bag

Hershey's Hugs

1

10 oz bag

Pretzel Snaps, plain

1

bag

M&Ms, Christmas colors (red and green)
1

bag

Hershey's Hugs

1

10 oz bag

Pretzel Snaps, plain

1

bag

M&Ms, Christmas colors (red and green)
Line a sheet pan with a Silpat or foil. Arrange the Pretzel Snaps on the pan so they don't touch; leave about 1/2" space between the pretzels.

Unwrap the Hershey's Hugs and place one in the center of each pretzel. Place the sheet pan in the preheated oven for about 3 minutes; just until the Hugs start to melt. Keep a close eye on them, this will happen quickly. Make sure you catch them just as they melt, but still have their shape; you don't want a liquid mess, just softened chocolate.

Remove the sheet pan from the oven and immediately press an M&M on the top of each hug. Press down gently. Let the Christmas Pretzel Hugs cool before removing from pan. You can leave them on a kitchen counter to cool or place the sheet pan in the refrigerator to speed up the cooling process.
This simple recipe is super easy to adapt. Instead of using the Hershey's Hugs, you could use your favorite type of Hershey's Kiss. Adapt these for the season or occasion by choosing different colored M&Ms or get creative and sprinkle the tops with some chopped nuts, or peppermint sticks. You could even use holiday sprinkles. Just make sure you add any decorations while the chocolate is still soft and melty.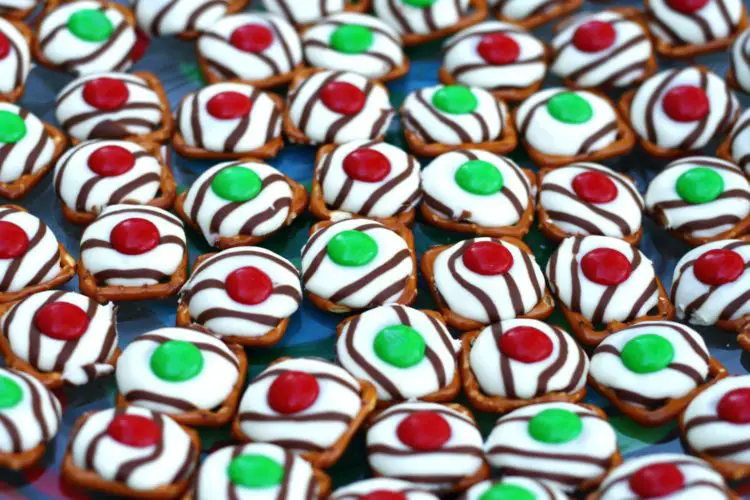 Christmas Pretzel Hugs

,