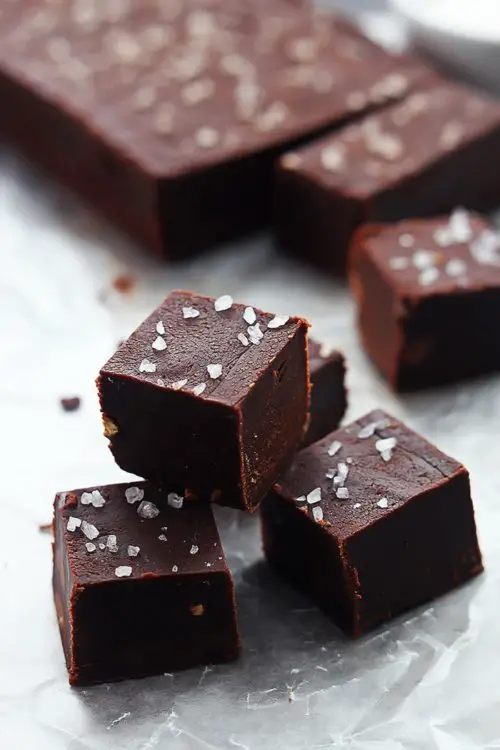 Easy Chocolate Fudge
When you're craving chocolate, this fudge is just the thing! It's quick and easy – in fact, it's so easy, even the kids can make it. Hey, what's better than letting the kids make the treats for family movie night? Of course, chocolate fudge is perfect for holidays, gifts, and as a yummy treat to have on hand when you just need a yummy nibble of something rich and delectable.
Quick and Easy Chocolate Fudge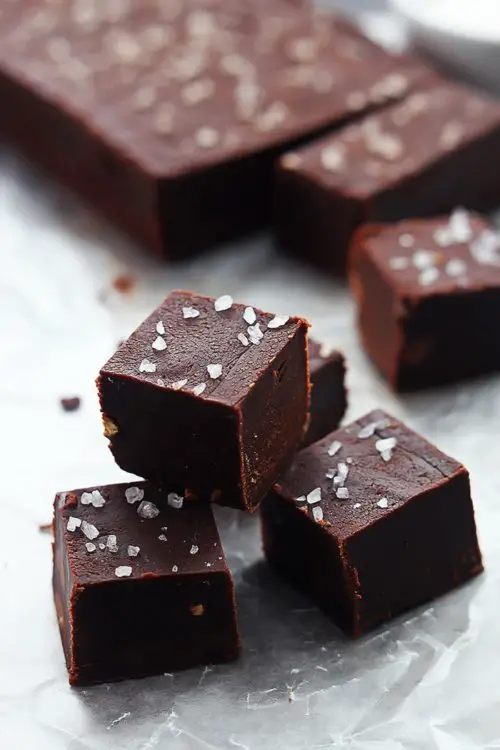 Ingredients:
3 cups milk chocolate chips (not semi-sweet)
1 - 14 ounce can sweetened condensed milk
Instructions:
Prepare an 8" x 8" square pan by lining it with foil, then coat the foil with a nonstick spray.

Place the milk chocolate chips in a medium size glass bowl. Pour the sweetened condensed milk over the chips, and stir to coat.
Microwave on high for 1 minute. Stir to combine; it should be a very smooth consistency. If the chocolate chips aren't completely melted, give them a few more seconds in the microwave, and stir again.
Pour the fudge mixture into the prepared pan. Smooth top as much as possible. Let the fudge cool until set.
http://debbienet.com/easy-chocolate-fudge/
Notes:  If you want to add walnuts, roughly chop about 1/2 to 1 cup of nuts and stir into the fudge mixture before pouring it into the prepared pan.
We like to top our fudge with a sprinkling of sea salt, but during the holidays, some crushed peppermint sticks will make this the perfect treat for your buffet or Christmas gift giving.
This recipe for chocolate fudge is definitely simple, but it tastes amazing. Nobody will believe how easy it is — of course, you don't have to tell them either! It's every bit as delicious as those long cooking fudge recipes that have you standing at the stove waiting for the sugar to reach the right temperature. Avoid the hassle, and give this recipe a try. I promise, you're going to love it!
Double Decker Fudge
If you love the taste of peanut butter and chocolate — and who doesn't? You'll love this layered peanut butter and chocolate fudge. It's so simple. Make our creamy Peanut Butter Fudge, and pout it on top of a pan of chocolate fudge. What could be easier?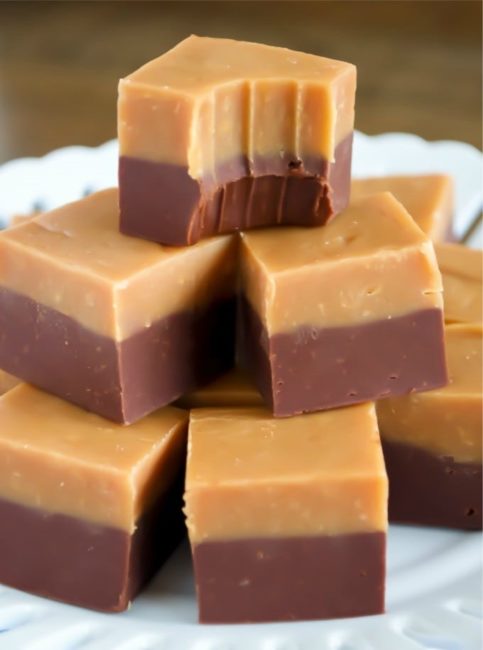 Double Decker Fudge for the chocolate – peanut butter lover in all of us.
We usually use creamy peanut butter to make our Peanut Butter Fudge, but you could also use chunky. As an alternative, you can sprinkle some chopped peanuts on the top before the fudge sets. So many options, and they're all delicious!
Quick and Easy Chocolate Fudge

,