Classic Hummus
Classic Middle Eastern Hummus made with chickpeas (garbanzos) with a touch of garlic and lemon. Delicious with assorted veggies, pita chips or pretzels.
Ingredients:
2 cups garbanzo beans, drained (reserve liquid)
3 Tbsp. Tahini (pureed roasted sesame seeds)
1/4 cup fresh lemon juice
1 tsp. salt
2 cloves garlic, cut into quarters
1 Tbsp. olive oil (plus extra to drizzle on top)
1/8 tsp. paprika
1 tsp. minced fresh parsley
Directions:
Drain garbanzos, reserving the liquid. Place them in a food processor or blender along with the tahini, fresh lemon juice, salt, and garlic. Process until smooth and creamy. Add enough of the reserved liquid from the drained garbanzos to bring the mixture to a nice dip consistency. Transfer the hummus to a serving dish.
Lightly drizzle extra virgin olive oil on top of the hummus. Sprinkle with a dash of paprika and the minced fresh parsley.
Serve with pita chips or an assortment of fresh vegetables.
5 :  ★★★★★ 31 review(s)
Microformatting by hRecipe.
How to Make a Classic Hummus
Hummus has certainly gained a great deal of attention in recent years. This delicious dip has been popular in many cultures for centuries; however, it is now making a huge presence in the U.S. You can find pre-made hummus in just about any grocery store — of course, it doesn't taste anything like the flavor of a fresh hummus you make at home. Additionally, hummus is a popular snack item as well as a great addition to a buffet or appetizer tray.
This classic hummus recipe is quick and easy to make. Simply puree the garbanzo beans, lemon juice, tahini, salt, garlic, and olive oil together. Once you have a nice consistency, scoop it into a bowl, and top with paprika and parsley. Drizzle with olive oil and it's ready to serve with crackers, pretzels, or an assortment of vegetables.
Of course, you can use this hummus as a starting point for your own creations. Try adding chopped olives, a little cayenne pepper, or even some chopped artichoke hearts.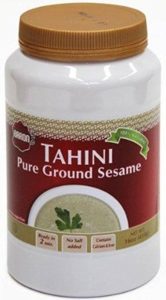 Classic Hummus

,