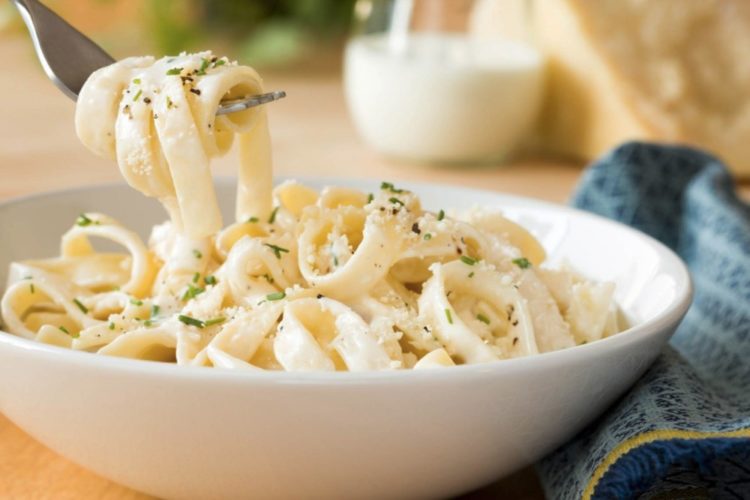 Fettuccine Alfredo
Smooth and creamy alfredo sauce served over ribbons of perfectly cooked fettuccine is a dish that will impress your family and friends. Everyone will think that you've spent hours in the kitchen, but it's actually a very quick and easy dish to prepare. Cook the fettuccine until its al dente, toss with the alfredo sauce, and top it with a little more Parmigiano Reggiano and you've got a dish that is fast enough for a weekday dinner, and fancy enough for special occasions.
Ingredients
18 oz pkg. dry Fettuccine
1 cup (2 sticks) unsalted butter
3 large garlic cloves, minced
1-1/2 cup heavy cream
3/4 cup freshly grated Romano cheese
3/4 cup freshly grated Parmesan cheese
salt and pepper to taste
Directions
Bring a large pot of salted water to a full boil. Add the fettuccine and cook until al dente, about 10 minutes. Drain, saving some of the pasta water.
In a large pan melt butter with minced garlic; do not brown the garlic, just cook it in the butter to draw out some of the flavor. Add cream and gently warm over low heat. Stir in both types of cheese; stir to melt and incorporate well into the butter. Continue cooking over low heat until the alfredo sauce becomes smooth and slightly thickened. Add salt and pepper to taste.
Add drained pasta to sauce and toss well to thoroughly coat. If the sauce seems too thick, add some of the reserved pasta water. Serve immediately with some extra grated Parmesan cheese.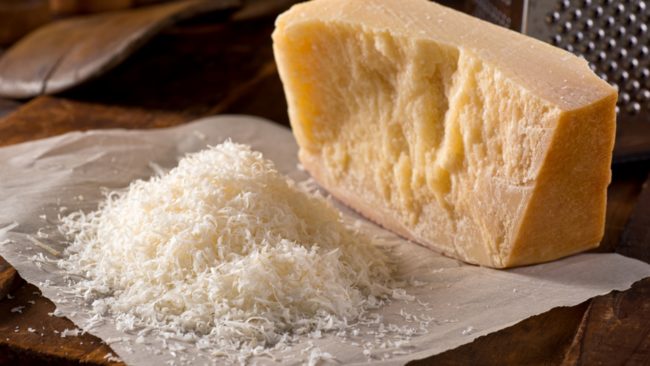 Don't be tempted to reach for that plastic container of Parmesan cheese. Quality Parmesan and Romano cheese will make a big difference in this dish.
Variations
This dish is extremely versatile and can easily be adapted for a variety of dishes:
Use another type of pasta in place of the fettuccine; we like to use penne sometimes.
Stir in some cooked chicken breast pieces, broccoli florets, or peas for a complete meal.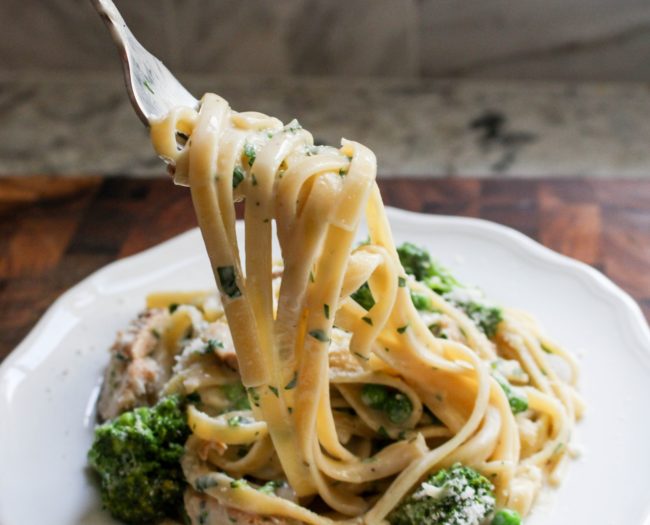 Fettuccine Alfredo with Chicken and Broccoli
Cooking time (duration): 30 minutes
My rating: 5 Stars: ★★★★★ 72 review(s)
Fettuccine Alfredo

,