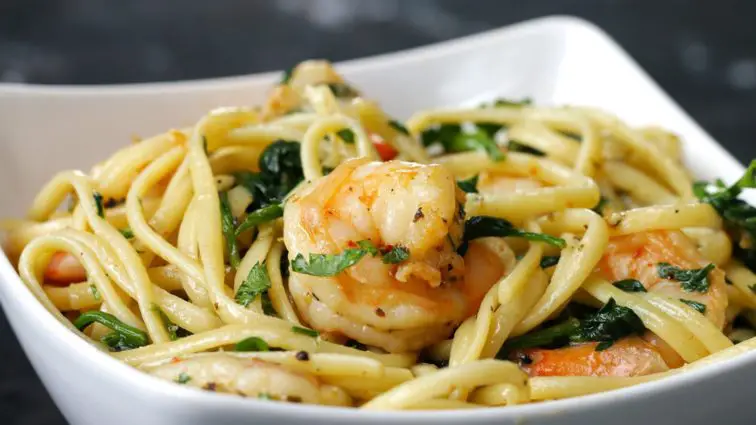 Garlic and Shrimp Pasta
A garlic and shrimp pasta that is quick and easy to prepare. In less than 30 minutes, you can have a delicious meal on the table that tastes like you've been cooking for hours.
Ingredients:
1 lb medium shrimp, peeled and deveined
1 lb pasta (spaghetti or angel hair)
1/2 c good quality olive oil
4 – 6 cloves garlic, minced
1 c freshly grated Parmesan cheese (preferably Parmigiano Reggiano)
1/2 c freshly grated Pecorino Romano cheese
1/2 tsp crushed red pepper flakes (optional)
2 Tbsp fresh parsley, chopped
salt and pepper to taste
Directions:
Cook the pasta in a large pot of boiling, salted water until al dente. Drain; reserving 1 c of the pasta water.
In a large skillet, gently heat olive oil and garlic over medium heat. Toss in shrimp and cook until shrimp turn pink and begin to curl; watch garlic carefully so that it doesn't burn.
Gently toss the cooked pasta with some Parmesan cheese, Pecorino Romano, red pepper flakes, chopped parsley, and salt and pepper to taste. Add enough of the reserved pasta water so that the pasta is not dry.
Serve with additional freshly grated Parmesan cheese.
What can be better than shrimp sizzling away with a pile of garlic? Yum!
Variations:
This dish adapts well to any number of variations. Not that it isn't absolutely perfect just the way it is, but if you're the type who likes to tweak their meals, so you always have something new. You'll have plenty of flexibility with this simple pasta dish. You could try adding some broccoli florets, or even substituting some chicken breast meat for the shrimp. You could add a variety of seafood, sausage, pork or chicken. In fact, this dish would also make an excellent vegetarian dish by simply eliminating the shrimp altogether. Who says you need meat when you've got garlic and pasta?
Garlic and Shrimp Pasta

,