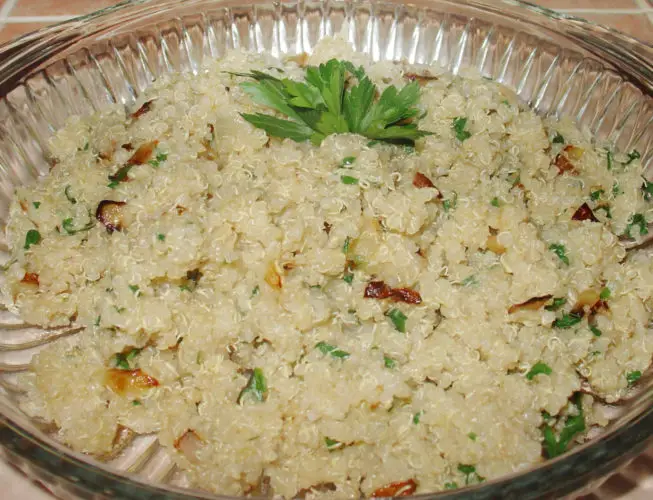 Quinoa Pilaf
Technically quinoa is a seed and not a grain, but it can easily be substituted for a grain in many dishes. Quinoa has a wonderful texture and mild flavor. It is also rich in essential vitamins and minerals, including iron, potassium, and protein. This is one of my favorite quinoa recipes, it is delicious, nutritious, and simple — perfect for a busy mom.
Ingredients:
2 cups chicken broth (use vegetable broth if you want a vegetarian recipe)
1 cup quinoa, rinsed (use a fine sieve)
1/3 cup pine nuts
1 Tbsp olive oil
1/2 onion, chopped
1/3 cup chopped fresh basil
kosher salt, to taste
freshly ground black pepper, to taste
Directions:
In a fine mesh sieve, rinse quinoa under cold running water. Keep rinsing until the water runs clear.
In a medium sauce pan bring the chicken broth and quinoa to a boil; cover and reduce heat. Allow to simmer for 15 to 20 minutes, until all of the chicken broth has been absorbed and the quinoa is tender.
In a small, dry skillet, toast the pine nuts over medium-high heat just until they become fragrant and golden brown; stir frequently. Remove to a small bowl and set aside.
In the same skillet, heat the olive oil over medium-high heat and add the chopped onion. Cook onion until it is softened and just beginning to brown, stirring occasionally.
Fluff quinoa with a fork, stir in pine nuts, onions and chopped basil. Season with kosher salt and fresh ground pepper, to taste.
Preparation time:10 minute(s)
Cooking time:20 minute(s)
Number of servings (yield): 6
5 :  ★★★★★ 49 review(s)
Quinoa Pilaf is an excellent side dish with many types of meat. We especially like this dish served with our Brazilian spare ribs.
Discover the delicious dishes you can make with quinoa.
Quinoa Pilaf

,