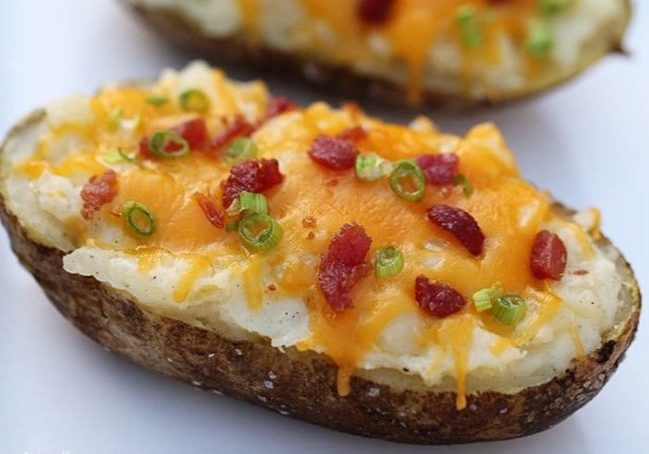 Twice Baked Potatoes
These twice baked potatoes have a nice creamy texture on the inside, with a slightly crisp exterior. Scoop out the interior and mix with milk, sour cream, butter, and seasonings. Then top with cheese and bake until they're all hot and the cheese is melty. We like to serve ours with plenty some crispy bacon and spring onions.
Ingredients:
4 large baking potatoes
8 bacon slices, cooked and crumbled
1/2 cup sour cream
1/4 to 1/2 cup milk, just enough to get the right consistency
4 Tbstp butter
1/2 tsp kosher salt
1/8 tsp freshly ground black pepper
1 cup shredded cheddar cheese, divided
4 green onions, sliced thin and divided
Directions:
Cook bacon until crisp, drain and crumble; then set aside.
Preheat oven to 350° F.
Bake potatoes for 45 minutes to one hour, until they are cooked through. Allow to cool for approximately 10 minutes so they are cool enough to handle.
Slice each pototo in half lengthwise; carefully scoop potato flesh out of the peel leaving about 1/8″ thickness.
In a mixer bowl combine the potato flesh, sour cream, about 1/4 cup of the milk, butter, salt, freshly ground pepper, half of the cheese (1/2 cup) and half of the onions. Mix well with a stand or hand mixer, until the potatoes are creamy. Add more milk if needed in order to get a creamy texture.
Place the potato mixture into a large gallon sized ziploc bag and seal. Snip off a corner and pipe into the potato skins.
Place filled skins on a baking sheet and top with the crumbled bacon and the remaining cheese and green onions. Bake for 15 minutes.
Preparation time: 10 minute(s)
Cooking time: 1 hour(s) 15 minutes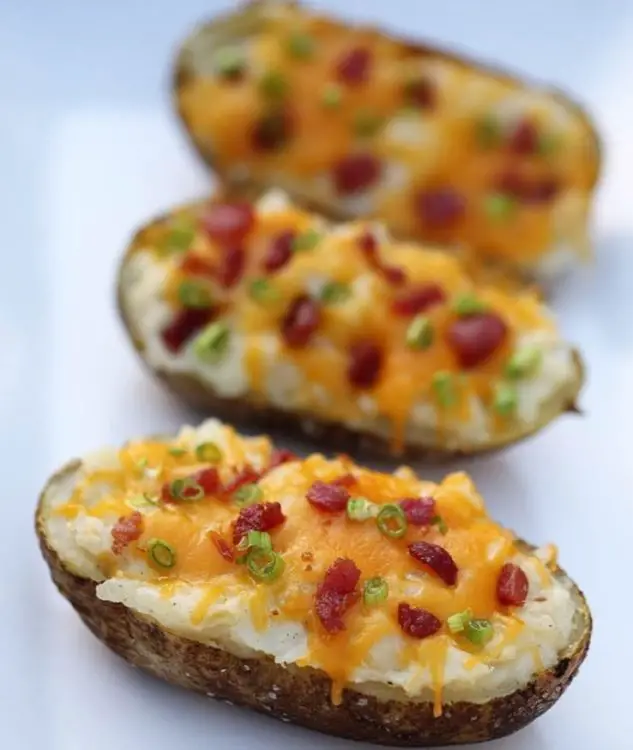 Twice baked potatoes are great for a delicious change of pace. Kick up those regular baked potatoes, and try something extra special. These twice baked potatoes are a wonderful alternative to your ordinary potatoes or rice; but, they're also delicious as a snack. Serve them with a meal or serve them on their own, either way, you'll be making these easy potatoes over and over again.
Twice Baked Potatoes

,