Old Fashioned Chocolate Fudge
Everyone loves homemade fudge and this is the perfect recipe for chocolate lovers. The double chocolate gives this old-fashioned chocolate fudge a wonderful rich flavor that's especially good with chopped walnuts. This yummy treat is always the first to go at a cookie exchange or Christmas party. In fact, it's become so popular with our friends and family that we now make numerous batches throughout the holidays to use as gifts for neighbors, teachers, or even as a hostess gift. Of course it's popular, what's not to love about chocolate fudge?
Ingredients:
2 oz Bittersweet (unsweetened) Chocolate
2 cups semi-sweet chocolate chips
1 – 14 oz can sweetened condensed milk
2-1/2 tsp pure vanilla extract
1 cup chopped walnuts or pecans, optional
Directions:
Butter an 8″ square baking pan and line with waxed paper or buttered parchment. Place bittersweet chocolate, chocolate chips and the sweetened condensed milk into the top of a double boiler. Place over water that is barely at a simmer. Stir the chocolate mixture occasionally until it is all melted. Remove from heat and add the vanilla and nuts, if using. Stir to combine well. Spread fudge in prepared baking pan and refrigerate for at least 2 hours. When the fudge has cooled, cut into squares. Store in the refrigerator, uncovered.
Preparation time: 5 minute(s)
Cooking time: 10 minute(s)
5 :  ★★★★★ 97 review(s)
How to Make Amazing Chocolate Fudge with Walnuts
Melt chocolate with sweetened condensed milk in the top of a double boiler.
Once the chocolate is melted and the mixture is smooth, remove it from the heat. Stir in the chopped walnuts and vanilla, then spread in a lined 8″ x 8″ square pan. Cool until set. Cut into serving pieces.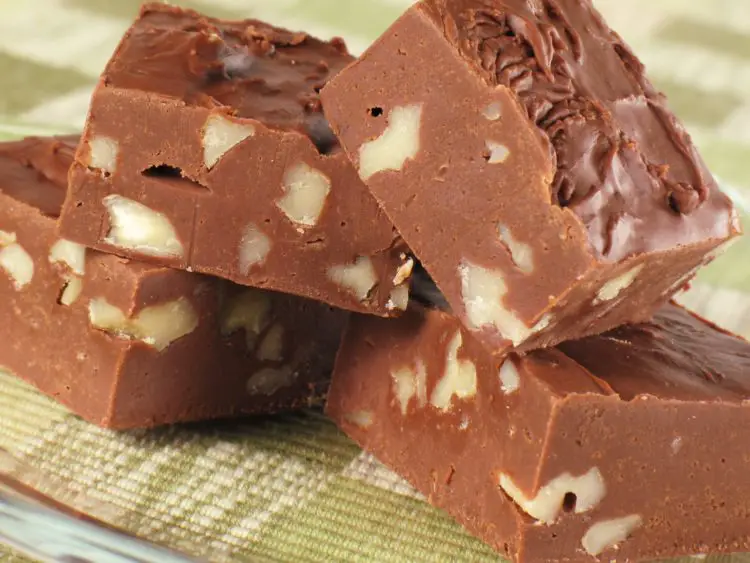 Quick and easy homemade chocolate fudge.
Store, uncovered, in the refrigerator for up to two weeks. Trust me, it will never last that long!
Chocolate Fudge

,