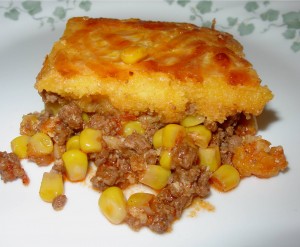 Hamburger Corn Pie
This is one of those super easy casserole recipes that you can put together in a hurry. There are a lot of quick hamburger recipes, but this is an old classic that is always a crowd pleaser. Bake it in a casserole or baking dish and you have a great presentation that is perfect for buffets, family dinners or a pot luck.
Ingredients:
1 lb. hamburger
1/4 lb bulk pork sausage
1 small onion, chopped
1 clove garlic, minced
1 – 16 oz can whole tomatoes (with liquid)
1 – 16 oz can whole kernel corn, drained
1 T chili powder
1-1/2 tsp salt
2 eggs, well beaten
1 c cornmeal
1 c milk
1 c shredded cheddar cheese (4 oz)
 

Directions:
Preheat oven to 350° F.
In a large pot combine hamburger, pork sausage, onion and garlic, cook over medium heat, breaking up meat, until onions are tender and meat is browned. Drain.
Add tomatoes (with liquid), drained corn, chili powder and salt. Stir well, breaking up the tomoatoes and heat until mixture comes to a boil.
Pour into an ungreased 2 qt casserole, or 12″ x 7-1/2″ x 2″ baking dish.
In a small bowl, beat eggs well. Add cornmeal and milk and whisk until thoroughly combined. Pour over meat mixture in baking dish.
Top casserole with shredded cheese.
Bake for 35 minutes, until top is nicely browned.
 

Preparation time: 15 minute(s)
Cooking time: 35 minute(s)
Number of servings (yield): 8
5 :  ★★★★★ 23 review(s)
Microformatting by hRecipe.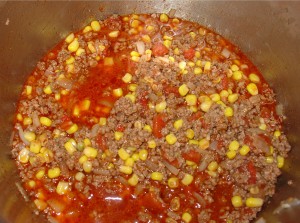 Brown hamburger and sausage with onion and garlic.
Add whole tomatoes, corn and seasonings. Bring to a boil, breaking up the tomatoes as the mixture cooks.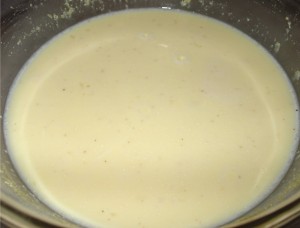 Mix cornmeal with beaten eggs and milk to make casserole topping.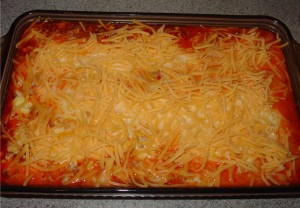 Pour hot meat mixture into bottom of ungreased baking dish. Pour the cornmeal mixture evenly over the top of the meat. Top with shredded cheddar cheese.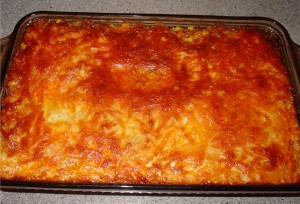 Bake about 30 minutes until the top is nicely browned.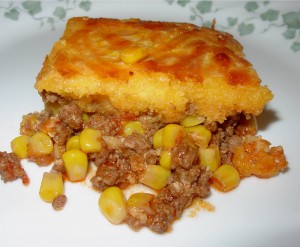 A quick and easy dinner that even the kids will enjoy!