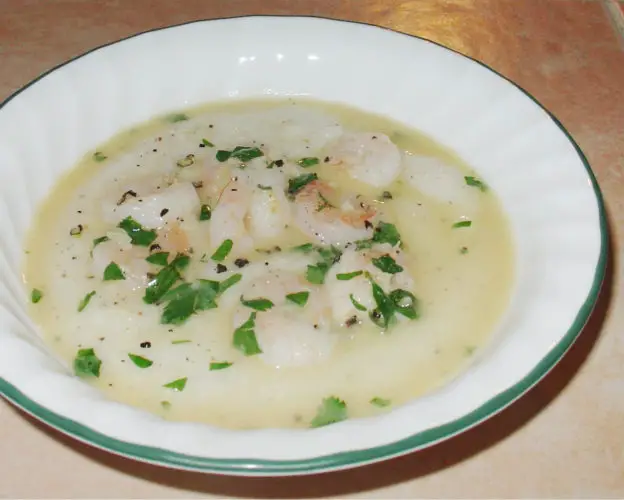 Shrimp and Grits with Lemon – Garlic Sauce
These smooth and creamy grits are flavored with real Parmesan cheese, then topped with shrimp in a wonderful lemon garlic sauce. This yummy southern classic is easy to make, and you're going to love the blend of flavors. If you've never tried shrimp and grits, do yourself a favor – you'll be hooked!
Ingredients:
3-1/2 c water
3/4 c old-fashioned grits
1 tsp kosher salt
1/2 tsp freshly ground black pepper
1/4 c freshly grated Parmesan cheese
3 Tbsp unsalted butter, divided
1-1/4 lbs medium shrimp, peeled and deveined
3 garlic cloves, minced
dash of cayenne, optional
1 lemon (juice 1/2 of the lemon and cut the other half into wedges for serving)
2 Tbsp fresh parsley, chopped + extra for garnish, if desired
Directions:
In a medium saucepan, bring water to a brisk boil over high heat; slowly stir in the grits, salt, and black pepper. Reduce the heat to low; cover. Cook 15 to 20 minutes or until thickened, stirring occasionally. Remove from heat. Stir in the Parmesan cheese and 1 Tbsp of the butter; season with salt and pepper, then cover to keep the grits warm.
Rinse shrimp in cold water and pat dry. Season with kosher salt and freshly ground black pepper. Over medium high heat, melt the remaining 2 Tbsp of butter in a large skillet. Add the seasoned shrimp to the skillet along with the chopped garlic and cayenne pepper. Cook until the shrimp turn pink, about 3 or 4 minutes. Remove the skillet from the heat and immediately add 2 Tbsp of water, the lemon juice, and chopped parsley. Add the shrimp and stir to coat well; season with salt and pepper, if necessary.
In four bowls, divide the grits and top each bowl with one-quarter of the shrimp and sauce. Serve the shrimp and grits with a lemon wedge. Garnish with a little chopped parsley, if desired.
Shrimp and Grits with a Lemon Garlic Sauce

,