Homemade Pumpkin Puree
If you've never made your own homemade pumpkin puree, you're in for a wonderful treat. Canned pumpkin is certainly convenient, especially for all your fall baking; however, it certainly can't match the amazing flavor of what you can easily make in your own kitchen. Once you've tried making your own fresh pumpkin puree, you'll never go back to the canned stuff!
It might take a little more effort than opening a can, but as is usually the case when you make homemade foods, the extra work is definitely worth the effort. Of course, it's really not a big deal to make your own puree, especially with these easy step-by-step instructions. And, as an added bonus, you'll be able to scoop the seeds out of your pumpkins and enjoy some amazing roasted pumpkin seeds.
When fall rolls around, pumpkins are definitely everywhere. Why not make the most of the season and enjoy some fresh pumpkin puree? You can use this puree in a wide range of baked goods, including pumpkin cookies, pumpkin bread, pumpkin pancakes, and an abundance of other delicious treats.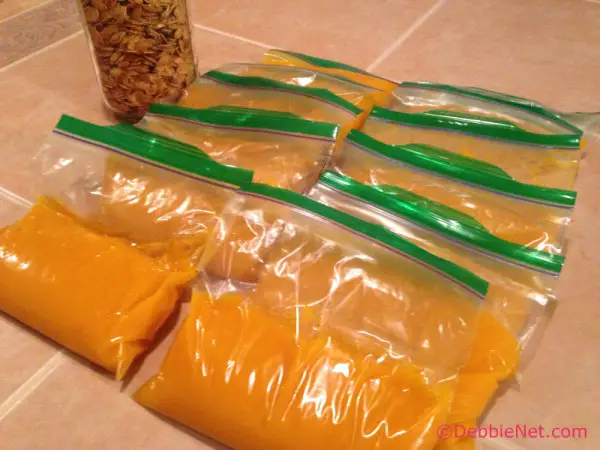 Ingredients:
Instructions:
Cut the pumpkin into large chunks. Remove the stringy pith and seeds (be sure to save the seeds to make delicious Roasted Pumpkin Seeds).
Place pumpkin into a roasting pan, skin side up. Add about 1/4" of water. Bake pumpkin in preheated oven, uncovered, for about 1 hour or until it is tender when tested with a fork.
Remove pumpkin from oven and let cool until easy to handle.
Cut away the skin. Puree pumpkin in a food processor or blender until smooth.

The pumpkin puree can be used in place of canned pumpkin in your favorite recipes.
http://debbienet.com/homemade-pumpkin-puree/
How to Make Homemade Pumpkin Puree
 Cut pumpkin into chunks. Remove seeds and pith. Place in roasting pan and bake in a preheated
300˚ F oven for about 1 hour or until pumpkin is tender.
Remove the skin from the roasted pumpkin pieces. Puree in a blender or food processor until smooth; you'll need to work in batches. Just blend a batch and pour it into a large bowl, then do another batch. Scrape down the blender jar if necessary in order to achieve a nice smooth consistency.
Use the pumpkin puree immediately or package and store in the freezer until it's needed.
Frozen pumpkin puree is best if used within 3 months.
Homemade Pumpkin Puree

,